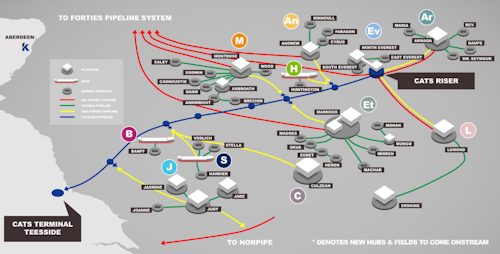 (Courtesy Kellas Midstream)
Offshore staff
PARIS – Private equity firm Antin Infrastructure Partners has agreed to sell Kellas Midstream to BlackRock's Global Energy & Power Infrastructure Funds (GEPIF III) and GIC.
Kellas Midstream owns and operates gas infrastructure in the UK central and southern North Sea comprising the Central Area Transmission System (CATS) pipeline, which transports gas from the central area to the CATS reception and processing terminal at Teesside, northeast England; the Esmond Transportation System, a subsea pipeline in the southern region that connects four producing fields to the Bacton gas terminal on the Norfolk coast; and the Humber Gathering System, a greenfield project developing offshore infrastructure for  Premier Oil's Tolmount gas field in the southern North Sea.
Antin acquired ownership of in 2014-2015 following separate deals with BG (now Shell) and BP.
Kellas Midstream went on to connect new gas fields to the system such as Stella, Caley, Shaw, Culzean, and Vorlich.
The current transaction is set to close in early 2020.
11/14/2019