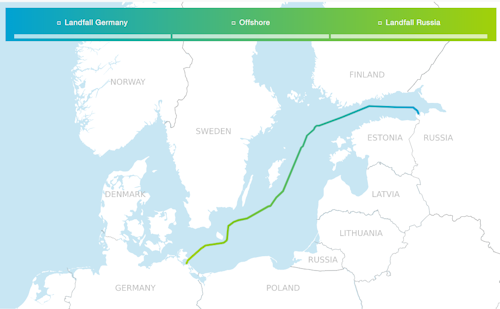 (Courtesy Nord Stream 2)
Offshore staff
ZUG, Switzerland – Construction of the twin Nord Stream 2 gas pipelines through the Baltic Sea has reached the three-quarters mark, with 1,855 km (1,152 mi) laid in Russian, Finnish, Swedish, and German waters.
Both strings have been completed in the German and Finnish sections, with pipelay continuing at present in Russian territorial waters.
At the landfalls in Germany and Russia, construction works are also advancing.
All the pipes for the new lines are concrete weight coated.
Logistics operations are nearing completion. In Hanko, Finland and Karlshamn Sweden, the last pipes were loaded out to pipelay vessels earlier this summer, while storage and logistics continuing in Kotka, Finland and Mukran, Germany.
08/27/2019