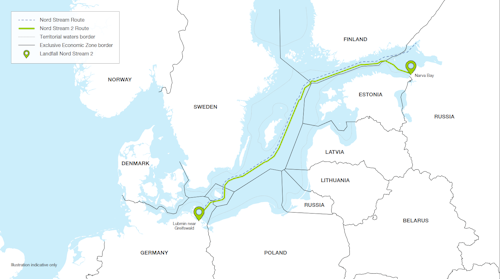 (Map courtesy Nord Stream 2 AG)
Offshore staff
KARLSHAMN, Sweden – The final section of pipe for the Nord Stream 2 project stored at the port of Karlshamn has been shipped out.
Since early October 2017, nearly 39,000 pipes for the project in the Baltic Sea have transited through the port, with close to 37,000 of those pipes delivered to the pipelay vessels working on the Swedish section of the Nord Stream 2 route.
Wasco Coating Germany managed the logistics operations in Karlshamn, with up to 140 personnel working at the port at peak.
According to Stig Holgersen, Nord Stream 2's site representative for Coating and Logistics at Karlshamn: "Trucks with heavy pipe loads had to share the quays with the port's other clients and pipes had to be washed around the clock before being shipped out to the pipelay vessels, even on the coldest winter days."
Laying of the 510-km (317-mi) long Swedish section is close to completion. One line has been completed in this section, while construction of the second line will resume on Sept. 1, with completion scheduled during October.
More than 1,700 km (1,056 mi) of the pipelines have so been constructed so far in accordance with existing permits in Germany, Sweden, Finland, and Russia.
08/12/2019