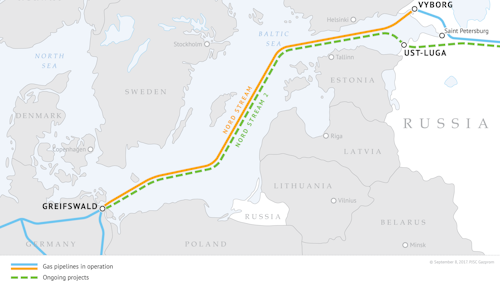 Gazprom
Offshore staff
ZUG, Switzerland – The Nord Stream 2 consortium has withdrawn its application for a route for the Nord Stream 2 gas pipeline system through Danish territorial waters south of Bornholm.
Last week it sent a formal notice letter to the Danish Energy Agency.
"We felt obliged to take this step because in more than two years since we filed this application, the former Danish government has not given any indication of coming to a decision", explained CEO Matthias Warnig.
Both Nord Stream 2 and its investors need legal certainty and protection of expectations, he added, "especially against the backdrop of the advanced construction progress in the waters of the four other countries through which the pipeline stretches."
The procedure for handling the application for the route northwest of Bornholm, which has been completed, shows that all technical and environmental prerequisites can be fulfilled, the consortium added, while the application for the route southeast of Bornholm is still being processed.
Nord Stream 2's focus is now on these two routes.
There are two further pending applications and environmental impact assessments: one for a route northwest of Bornholm submitted last August and another for a route southeast of Bornholm submitted this May.
Both routes are fully within the Danish exclusive economic zone, outside of Danish territorial waters. So, a recommendation from the Minister for Foreign Affairs is not required and the decision on the consent is only subject to a process in accordance with the United Nations Convention on the Law of the Sea, under which laying of pipes must take into account the environment and ship traffic safety.
07/02/2019