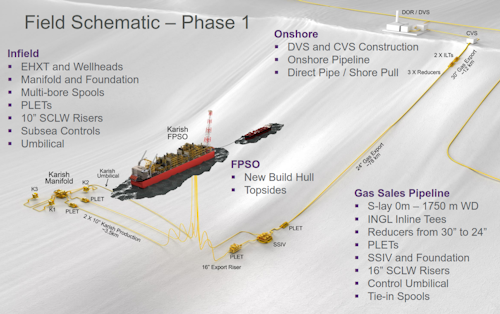 Energean Oil and Gas
Offshore staff
ATHENS, Greece – Energean Oil and Gas has signed an agreement with Israel Natural Gas Lines (INGL).
This involves the transfer of title of the near-shore and onshore part of the infrastructure that will feed gas from the Karish and Tanin FPSO offshore Israel into the country's transmission grid.
INGL will pay Energean around $102 million in accordance with milestones set forth in the agreement. 
The near shore section of the gas pipeline extends to around 10 km (6.2 mi) offshore. Energean expects the hand over to INGL to take effect soon after delivery of first gas from the Karish field in early 2021.
INGL will then be responsible for operation and maintenance of this part of the infrastructure, with Energean not liable for charges or tariffs for using its.
Mathios Rigas, CEO of Energean, said: "The infrastructure being built by Energean will enable connection of future gas discoveries to the system, further contributing to Israel's energy security and diversity of supply."
06/25/2019