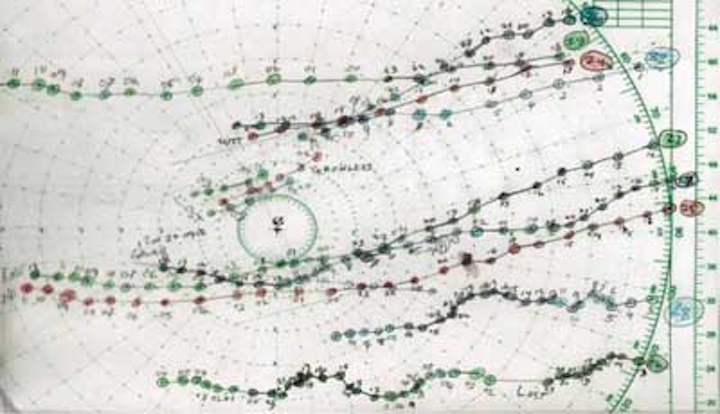 Displaying 2/2 Page 1, 2
View Article as Single page
Relevant ice information was automatically updated via ION's remote data-hosting service and combined, in multiple GIS layers including marine radar, on a single screen. Geo-referenced map and satellite data were blended with temporal dimensions in an animated "calendar" or time-slider. Using existing ice data, Narwhal predicted iceberg positions over ensuing 24-hour periods and automatically displayed current iceberg locations, forecasted trajectories, and the limits of the ship's safe perimeter on a single screen, even during mobile operations.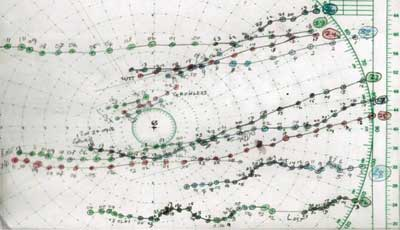 The standard manual method used to display iceberg observations. (All images courtesy ION Geophysical)
Because the captain and crew could view data in one place, they could quickly assess risks. It was estimated in 2013 and 2014 that designated ice observers gained roughly 30% more time per shift to make visual observations and to discuss options and risks with the bridge officers. Communications were deemed more effective and decisions were made faster, and with greater confidence. With better ice intelligence, the vessel could remain safely on site longer and could resume operations faster following an ice incursion into the safety perimeter. This was demonstrated in September 2014, when ice downtime was reduced by a factor of three compared to September 2012 at the same location under similar operational and ice conditions.
Advanced ice data management and visualization technology can also protect stationary or fixed offshore drilling and production facilities. For example, many oil fields are located along the infamous "Iceberg Alley" off the Grand Banks of Newfoundland (where the Titanic went down.) Every minute the bit stops turning or oil stops flowing, asset owners lose money. Normally ice management vessels (IMVs) keep icebergs from penetrating the safety perimeter. At times, however, IMVs may not be able to defend all the FPSOs and drilling rigs. During the heaviest ice seasons like 2014, hundreds of bergs can threaten operations. Recently, a rig had to be towed off site for a week and another for two weeks until the ice threat passed, an expensive course of action. Rig day rates and associated costs offshore Newfoundland are roughly $1 million. Offshore Greenland, they may be twice as high.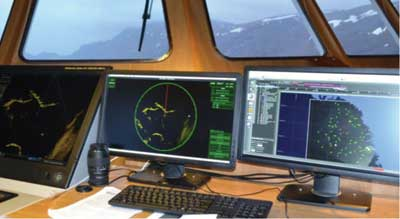 Narwhal set-up on the bridge of the vessel.
So how can Narwhal's new ice management technology help? By integrating more data in one place, automating tasks, and tracking more icebergs in a timely manner, operators can pinpoint the arrival and departure of dangerous ice incursions more accurately than before. Narwhal enables these savings automatically and does so while also increasing the safety of personnel, equipment, and the environment.
Another new valuable tool is Narwhal's "trafficability" or routing capability. Every vessel has a specific ice class classification, indicating the maximum concentration of sea ice it can safely navigate. Combining vessel classes with satellite images and color-coded ice charts (updated daily) ice analysts can graphically identify "go" and "no-go" zones. They can quickly determine appropriate routes for tankers and supply boats to traverse icy waters between producing fields and the mainland, ensuring safety and minimizing fuel costs. In the past, even with radar, satellite images and ice charts, it was very time consuming for ice observers to integrate or update reams of ice, weather, and ocean information. Using Narwhal's fully-integrated ice management tools, every piece of information is loaded automatically, time-stamped, and geo-referenced in a single database. As a result, ice observers, captains, and management can make more informed decisions, reduce downtime and costs under extreme conditions, and maximize the effectiveness of every operating season in icy waters.