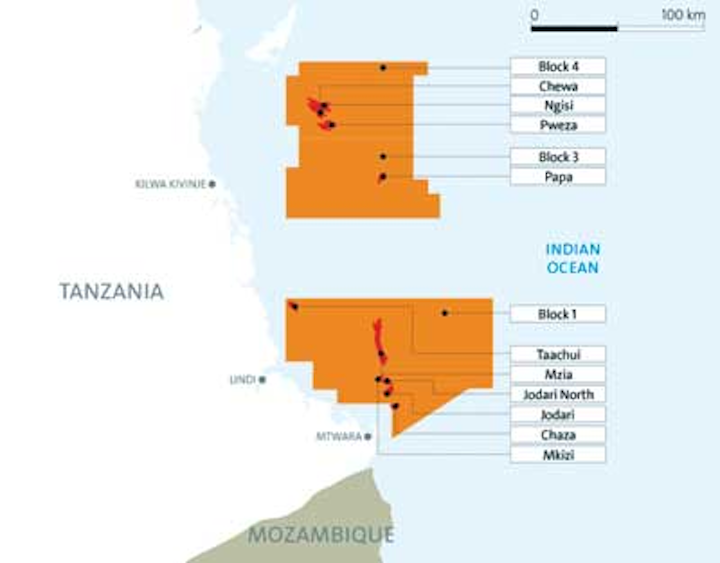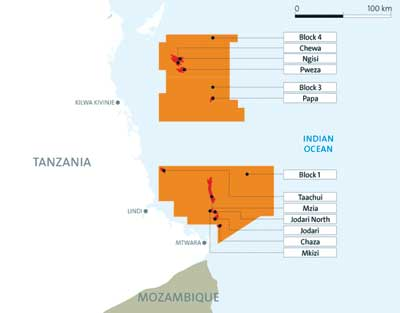 Gas discoveries in blocks 1, 3, and 4 offshore Tanzania. (Map courtesy BG Group)
Jeremy Beckman
Editor, Europe
Operators off West Africa should revise their goals to suit changing market conditions, according to speakers at the Institute of Petroleum's recent IP Week 2015 conference in London.
Ramin Lakani, Halliburton's regional general manager, said there was an improved climate of political stability across the region. "The nervousness around West Africa some years ago is not there now, with no major conflicts, and statistics show that in 2011, 11 of the world's top 50 improving economies were in Africa. That generates a lot of local demand for power and energy."
Lakani pointed out that in West Africa increasingly, and particularly Nigeria, operators can rely on a local skills base, an important consideration when planning new projects. East Africa is moving in that direction too, he added, although it will take time.
"Throughout West Africa there are still opportunities for every type of player," he continued. "There are plenty of mature fields. In a volatile price environment, these fields provide a strong base, and although they are not as sexy as big deepwater developments, people will pay attention to them." Opportunities to scale up production from pilot projects are also generating interest, he added, while for the bigger players the deepwater hotspots are continuing to draw.
Compared to other mature basins elsewhere, West Africa remains relatively underdeveloped, he claimed, with potential for new exploration plays such as the ultra-deepwater subsalt offshore Angola. The general euphoria over the initial discovery in this play faded following last year's dry wells, but that is the reality of frontier exploration, Lakami insisted. "It takes time to understand a new basin. In this case, hydrocarbons have been proven, but we still need to unlock the code."
Despite the industry's growing capital constraints, West Africa's national oil companies (NOCs) remain active, with some operating significant volumes of production. It is in their interest to keep their programs going, he said. "Our experience latterly with the NOCs, particularly Nigerian National Petroleum Corp. (NNPC), is a general recognition that they need to be more agile, and have to reduce red tape." IOCs hoping to remain in West Africa in the current climate must accept the need to be there for the long term, he added. "Then they can make money.
"Farther down the scale are the smaller players exploring the lesser known basins and a growing large number of indigenous companies, mainly in Nigeria, with Angola now following suit. And there are countries that are new entrants in production such as Ghana, where the costs are quite high, but there are also prolific discoveries."
Another positive, Lakani noted, was the growing desire among the various players to monetize the region's gas, initially via LNG, and more recently via gas to liquids in Nigeria. "Even so, just under 500 MMcf/d is still being flared off Nigeria, and Angola is not far behind. But there is a general recognition that gas is the way forward, and that it can be harnessed to develop more reservoirs." Now the indigenous companies too are looking at gas, he added, partly in recognition that the easier field opportunities, or "low-hanging fruits" have gone. "They can look to squeeze out more production, but they also have to go deeper and hotter."
One of the dilemmas for West African producers is that LNG exports to the US are no longer viable, he said, so the region needs to look for new solutions for gas monetization. "In 15 years, it could be that African power stations will be buying US shale gas." One option might be to exploit West Africa's gas in new ways, he suggested, for instance via conversion to methanol or petrochemicals.
Lakani concluded that there are now more than 50 indigenous E&P companies in Nigeria providing 5-10% of the country's production. "That level can be increased via acquisitions, but at the same time these companies need to become more muscular, and grow their reputation at the top table."
One of the most ambitious is Seplat, which tried to bid earlier this year for fellow independent Afren. Mason Ochenejobo, Seplat's strategy and portfolio adviser, said one barrier to growth was Nigeria's licensing process "which can be tortuous and infrequent. Or you may have a field, but you don't know when you may get the chance to increase your holdings around it. But the government does listen."
Last July, Oando Energy Resources acquired ConocoPhillips' upstream Nigerian interests for $1.5 billion, the largest transaction to date for any African independent E&P company. The assets include interests in two deepwater blocks. One, operated by ExxonMobil, is in the offshore Niger Delta, close to the Agbami and Bonga fields. The other, operated by Shell, includes the Chota and Bolia discoveries. The deal netted Oando proven offshore reserves of 128 MMboe. Oando now has 500 MMboe of reserves and aims to double its current production eventually to 100,000 b/d.
According to Adetokunbo Akindele, head of corporate development, the Toronto Exchange-listed company had to raise $500 million to complete the deal. "We found that a lot of people don't want to invest in Nigeria, particularly in non-listed companies" he said, due in part to perceptions over the Niger Delta disturbances, Boko Haram's insurgency in northern Nigeria, and uncertainty over the country's next elections.
Akindele said African independents looking to raise funds are always asked if they can meet their capex and opex targets. The lower oil price has led some companies to become takeover targets, he said, "particularly those with massive overheads on projects which cannot meet its obligations." It has also impacted local oil service companies. "One contractor has five rigs," he said, "but only one is operating, as no one can afford the rates." But smaller companies specializing in indigenous plays can also produce oil with lower operating costs, Akindele claimed. "They know the area better than the majors, and they know what to do to get the resources to the market."
London-based Ophir Energy has been one of the pioneers of deepwater exploration offshore West and East Africa over the past few years. Dr. Mike Fischer, the company's president--Africa, related how the company bid successfully for deepwater blocks 1, 3, and 4 in the Mafia Deep basin off Tanzania in 2005-06, an area attracting little interest at the time. Initially, the company had just enough in the bank to pay for the license fees and a subsequent seismic survey. Later, it attracted funds to operate wells that brought East Africa's first deepwater discoveries on the Chaza, Pweza, and Chewa gas fields.
In 2009, the company brought BG Group into its three blocks, with the latter operating all wells beginning in 2011. The partnership has now drilled 16 exploratory and appraisal wells, and conducted five drillstem tests, with no dry holes to date. "In addition, our blocks are mostly covered with 3D seismic," Fischer said, "with a lot of 2D data, and we have established a working petroleum system."
To date, the partners have discovered a total of 17 tcf of gas, he added, while Statoil and ExxonMobil have uncovered a similar volume on block 2, sandwiched between blocks 1 and 3. The two consortia are cooperating on a scheme to develop Tanzania and East Africa's first onshore LNG plant to harness the gas.
Getting to this point in an area which had experienced little prior offshore activity and which is prone to raids by pirates involved building strong relationships with Tanzania's government and navy. "We have also had to work with the government to develop production-sharing arrangements in order to monetize the gas," he explained.
Another challenge was the lack of support infrastructure, which meant it was taking too long for vessels to get out of port in Tanzania to support the exploration programs. "We responded by transforming the old port that handled cashew nuts into a world-class port," Fischer said.
There is pressure throughout Africa's emer- ging offshore to build local engineering capabilities. "As a 50-strong company, we couldn't take on [the] training of large numbers of Tanzanians," Fischer explained. "But we have worked to do this via our lead service providers. And as the LNG project develops, that is the real opportunity for local employment and training. Our office in Dar es Salaam will be staffed entirely by locals."
Off Africa's west coast, Ophir has discovered sufficient gas in relatively shallow water off Equatorial Guinea for what could be the continent's first floating LNG project. Offshore Gabon, the company has drilled several wells in the deepwater subsalt, attracting Petrobras as a partner. Although there have been no successes to date, "we are gradually understanding how the play works," Fischer said, "and we plan more wells there."