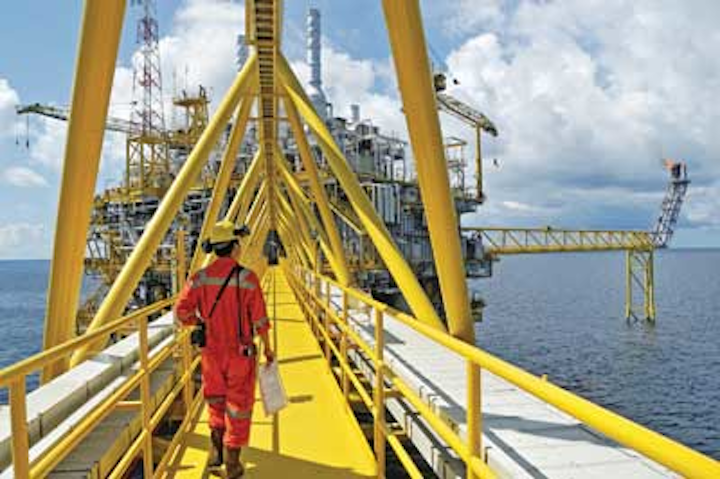 Displaying 2/2 Page 1, 2
View Article as Single page
Prevent data deluge
Although remote monitoring helps optimize production, oil and gas companies must beware of information overload. As the amount of asset-related information swells, operations personnel may become overwhelmed.
To avoid information overload, operations-management solutions can be used to help convert data from across the digital oilfield platform into easy-to-comprehend information. Beyond remote monitoring, these systems gather, analyze, contextualize, and share information to help oil and gas producers optimize operations. By pairing production intelligence with intuitive dashboards and historian functionality, operations-management systems can automatically collect production data, calculate key performance indicators, and present easy-to-understand displays via wireless, remote technology.
In addition, applying operations-management solutions offers an alternative to data deluge by supporting collaborative environments where remotely located subject matter experts make decisions and trained operators apply their recommendations. Automation providers offer remote-service support to delegate data collection and analysis, troubleshooting and maintenance activities to centrally-located automation professionals. Diverting information to off-site experts can help operators focus their time on maintaining a smooth, on-site operation.
By applying working information capital across the digital oilfield, oil and gas companies can leap from simply linked operations to smart, connected enterprises. To further enhance connectivity and productivity into the future, many companies are leveraging the cloud to deploy remote-monitoring and operations-management solutions.
Cloud technology
Just as the cloud has helped revolutionize banking, telecommunications, and back office business services over the last decade, it is now helping oil and gas companies construct the digital oilfield by providing an alternative option to traditional on-premise infrastructure offerings. Primarily, cloud technology eliminates the need for capital investment to design and maintain a physical data-storage infrastructure, especially for small- to medium-sized companies that do not have the budget to invest in their infrastructure.
The cloud acts as a common, secure environment to protect oil and gas systems, and can seamlessly and remotely link end-point devices across the digital oilfield – from a remote terminal unit (RTU) or offshore wellhead to a mobile device in the field – for an effective connected enterprise.
Much like cell phone users, oil and gas companies can store data from RTUs in the cloud, making the information readily available whenever and wherever it is needed. Even equipment and device configurations can be saved and backed in the cloud. For example, if an RTU fails and a new piece of equipment is required, companies will have the proper configuration and application settings saved and available for immediate download.
Apart from simply storing data, the cloud also is readily scalable and supports other transformative technologies, such as mobile computing, the industrial Internet of Things, and advanced analytics. In the coming years, cloud-based systems will give oil and gas companies the expanded ability to perform analytics on the data that is already being collected, displayed, and consolidated in the digital oilfield. These companies will be able to incorporate analytics-based decision making in their processes – improving predictive maintenance, enabling improved asset utilization, and reducing risk and operations costs.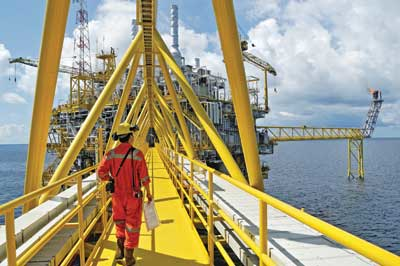 Automated solutions can help alleviate the guesswork of monitoring data and performance offshore.
Transforming to a digital oilfield
The foundation for achieving the digital oilfield begins with planning, designing, and applying remote-monitoring and operations-management solutions. By working with an automation provider, oil and gas companies can decrease costs and risks associated with the traditional, labor-intensive, data-collection processes.
Remote-monitoring solutions help oil and gas producers visualize their operations with real-time, comprehensive data that is easily transformed into actionable information to help achieve goals of reduced downtime and increased productivity. Through cloud computing, these solutions are not only applied quicker, but also are more easily scalable as other transformative technologies emerge in the future.
By remotely tapping into the full range of production and operational data, and diverting that information to off-site experts, companies can start to realize the full potential of the digital oilfield.