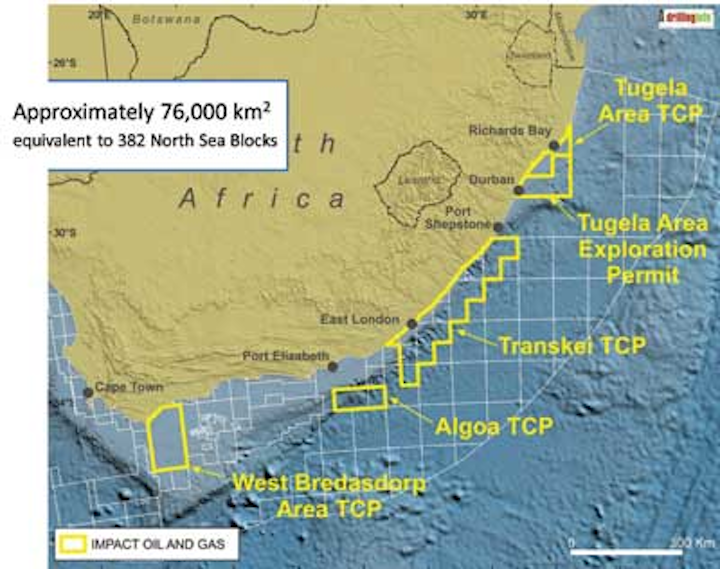 Jeremy Beckman
Editor, Europe
Strong analogies with hydrocarbon-bearing Falkland basins
Exploration off South Africa has entered a new era, with Total/CNR preparing to drill the country's first ultra-deepwater well in 1,450 m (4,757 ft) of water off the south coast. What was once a relative offshore backwater has become one of Africa's hot spots, with all available near-shore and frontier deepwater licenses taken up.
Among the influx of operators assessing previously untested plays are Shell and ExxonMobil, along with Anadarko, operator of the breakthrough gas discoveries in the Rovuma basin off neighboring Mozambique.
However, South Africa's offshore geology and prospective formations are more analogous to the areas north and south of the Falkland Islands and the West African transform margin, according to Impact Oil & Gas. The London-based independent, formed in 2009 specifically to target opportunities around Africa, is working in partnership with ExxonMobil, with four licenses off South Africa's southern and eastern coasts. The combined acreage of 75,991 sq km (29,340 sq mi) is one of the largest held by any privately owned E&P company.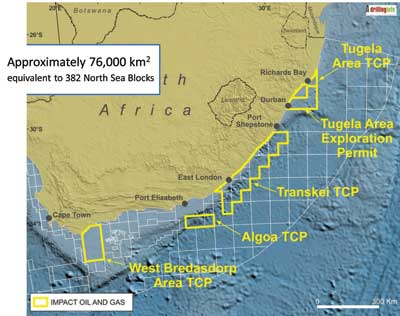 Impact's licenses offshore South Africa (Image: Impact Oil & Gas).
Drilling history
Exploration of South Africa's waters started in 1967, two years after the formation of national oil company Soekor. The government awarded offshore concessions to various bidders including ARCO, Esso, Gulf Oil, Shell, Superior, and Total. Offshore drilling started in 1969, with Superior discovering gas and condensate in the Ga-A1 well in the Pietmos basin. Soekor stepped up its offshore program the following year, but the introduction of sanctions against South Africa caused the other license holders to withdraw. From the mid-1970s until the end of apartheid, Soekor remained the sole explorer, operating the country's entire offshore area.
Much of the exploration focus offshore since 1980 has been on the Bredasdorp basin, leading to discoveries of, and subsequent production from, various small oil and gas fields. There have also been gas finds in the Pietmos basin east of Bredasdorp, and others in the Orange basin off the west coast, along with one oil discovery. Altogether, over 300 exploratory and appraisal wells have been drilled off South Africa's shores, but until now results have been modest, forcing the country today to import around 500,000 b/d of oil to meet its needs.
In 1994, the new globally recognized government attempted to galvanize interest by launching a second licensing round to international investors, but the response was limited due to the fiscal conditions. Five years later, the government established the Petroleum Agency of South Africa (PASA), and in 2001 merged Soekor and gas-producer Mossgas to create a new state oil company, PetroSA. In 2004, the country's Mineral and Petroleum Resources Development Act came into operation.
Another bid round came and went in 2007, in which a solitary license was awarded to PetroSA off the western coast. Then in 2009, Charles Ramsden, a South African geophysicist based in Singapore, heard that PASA was preparing to put up new areas for a 4th licensing round, including a prospective play offshore Durban on the east coast covered by 5,000 km (3,107 mi) of legacy 2D data from the 1960s. He persuaded PASA to allow him to reprocess the data, and sent out fliers which were roundly ignored. Undeterred, he approached Steve Ilett, a former colleague in the UK, to interpret the data. The results persuaded Ilett and three fellow geoscientists to form Impact Oil & Gas to bid for fourth round offshore blocks, via an arrangement with Singapore-based Silver Wave Energy.
In December 2009, Silver Wave was awarded an exploration right under the fourth round for four blocks in the Tugela area offshore the southeast coast, with Impact agreeing shortly afterwards to farm in with an 80% operated interest. The only other applicant was Shell, which secured acreage in the Orange basin. Anadarko's subsequent Windjammer discovery off Mozambique transformed the situation, triggering a "stampede" of would-be licensees to South Africa, according to Impact's Executive Chairman Mike Doherty. However, the company used its head start to bid successfully for three Technical Cooperation Permits (TCPs) for the offshore Tugela North, West Bredasdorp, and Transkei/Algoa areas.
PASA issues TCPs in cases where the applicant agrees to perform a desktop study and acquire existing seismic data, typically over a period of one year. The terms do not include prospecting or exploration activities, although the holder can undertake these tasks by applying exclusively for an Exploration Right, following submission of an environmental management process and stakeholder consultations. An Exploration Right carries an initial three-year term and is extendable up to nine years. In this case, the work program includes reprocessing existing seismic or acquiring and processing new seismic data, with a view to drilling a prospective structure, followed potentially by an extended well test.
In late 2012, ExxonMobil agreed to take a 75% operating interest in the 11,325-sq km (4,373-sq mi) Tugela South Exploration Right, which the government approved eight months later. It will assume identical stakes in Impact's other three concessions, subject to government approval, once these have been converted to Exploration Rights.
"South Africa's licensing terms were attractive and helped to attract majors and super-majors to the country," Doherty said. However, he is concerned that the government now appears to be fasttracking amendments to the country's Mineral and Petroleum Resources Development Act.
PetroSA and Soekor are responsible for most of the 300-plus exploration wells drilled to date off South Africa. All of these were on the shelf, including PetroSA's small gas fields in Mossel Bay, which serve as feedstock for the Mossgas syncrude plant. The low success rate was largely due to the limits of seismic imaging techniques at the time. "In the past, companies were looking for four-way dipped closed structural traps," Doherty explains. "Now we can identify combination structural/stratigraphic traps and reservoirs that were effectively invisible on the old seismic data."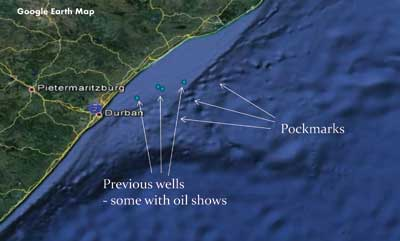 The Tugela Cone (image: Impact Oil & Gas).
Exploration procedures
Impact's strategy is to implement a five-stage exploration program in its frontier licenses, starting with airborne gravity and magnetic geophysical data acquisition, followed by surface heat-flow measurements, multi-beam bathymetry for ocean floor mapping, high-resolution seabed sampling, and finally 2D and 3D seismic data acquisition. For the initial three-year phase of the Tugela Exploration permit, where water depths range from 500-2,500 m (1,640-8,202 ft), the company committed to shoot 5,000 km (3,107 mi) of 2D seismic, which Seabird and PGS acquired during two campaigns in 2011 and 2012. In the second survey, PGS used its deep-towed, noise-suppressing Geostreamer technology, which had advantages, as the area is prone to large ocean swells.
Tugela, which covers 10,245 sq km (4,025 sq mi), is named after the river that flows from the Karoo region, entering the ocean at Durban. Sediments deposited by the river comprise a sandstone/shale series in a progradational shelf, on the slopes of which are turbidites and submarine fan systems that comprise the main reservoir targets for hydrocarbons. Previous exploration on the acreage was directed entirely in the shallower waters close to the coast, including a well drilled by Phillips Petroleum in 2000. "In their report, their geologists said drilling should have targeted deeper turbidites as the well did recover traces of oil," Doherty said.
One of Tugela's geological features is the Dolphin prospect, which exhibits similar characteristics to the deepwater Jubilee field offshore Ghana. Evidence for source material over the Tugela area includes direct hydrocarbon indicators on the seismic data such as gas chimneys, chemotropic mounding, and pockmarks on the seafloor. Surface seeps have also been reported. Another report commissioned by Impact suggests that during the early Cretaceous period the license area was at the edge of an enclosed sea, where the anoxic conditions would have produced the material required for source generation.
"The new players in South Africa in general are focused on deepwater turbidites and fans in early and mid-Cretaceous sandstones, the same plays that have brought substantial oil discoveries off the Falklands and the West African transform margin," Doherty explained. "One attraction for ExxonMobil is that our acreage too sits on a transform margin related to the break-up of the Gondwanaland super-continent. This is something they can bring experience of via their program in their deepwater concessions offshore West Africa."
Premier, operator of the Sea Lion oil and gas development in the North Falkland basin, has expressed interest in exploration offshore South Africa.
"They see the early Cretaceous as the main period when the oil was sourced, and we are looking at the same source rocks. The Falklands shelf is very broad and long – Sea Lion is more analogous to the Orange basin, where we also recently acquired an interest in an exploration block offshore Namibia. Shell and Anadarko are exploring in that area. The South Falkland basin, where there have been gas and gas/condensate discoveries, is thought to have originated from the south of South Africa."
As for Impact's three TCPs, where evaluation is still in the early phases, the 4,720-sq km (1,822-sq mi) Tugela TCP comprises four blocks inshore from the exploration permit, over which the company has interpreted 5,000 km (3,107 mi) of reprocessed seismic data. Western Bredasdorp, 14,378 sq km (5,551 sq mi) in area, comprises six blocks offshore Cape Agulhas in the western part of the Bredasdorp basin. It contains promising oil and wet gas-prone source rocks, and various channel sand systems similar to the systems that host the Mossel Bay oil and gas field. Impact has reprocessed and interpreted 2,000 km (1,243 mi) of existing 2D data in this area. Over the Transkei and Algoa TCP area, PGS is currently acquiring and extensive regional seismic survey under a Reconnaissance Permit and the processed data should be available later this year. In all three cases, Impact has applied for conversions to an Exploration Right in order to bring ExxonMobil onboard as operator.
To date, interpretation has revealed no evidence of problematic features such as carbonates or salt. "There are some volcanics, but these are quite deep, so we don't see them interfering with the seismic." A greater issue is the need to restrict all seismic activity to the summer months to avoid endangering whales, turtles and other mammals during seasonal migration. This also explains the planned mid-winter start for the Total/CNR well, which is due to take three months to drill.