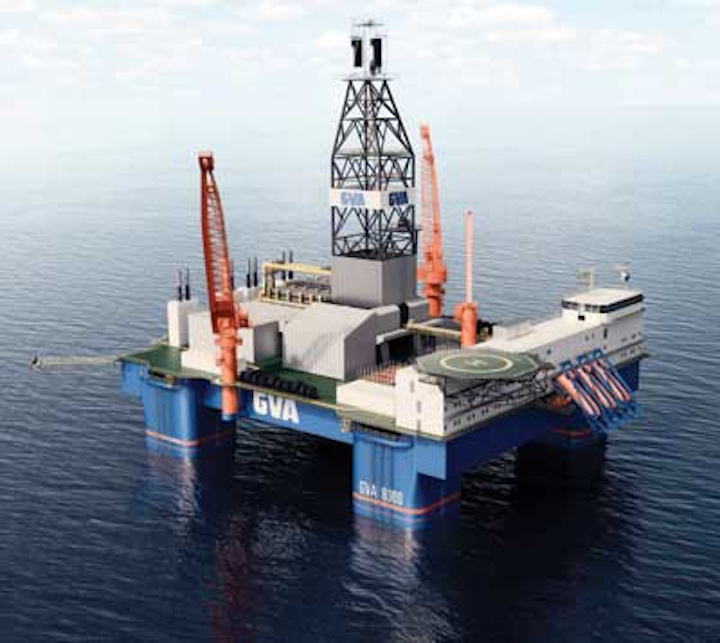 Displaying 2/2 Page 1, 2
View Article as Single page
Semisub more stable in rough seas
KBR subsidiary GVA showcased its latest drilling submersible, the GVA 8000. This is designed for operation across a range of environments, from harsh to benign, and from relatively shallow to ultra-deepwater (70-3,000 m/230-10,000 ft). However, its low motion characteristics, high deck load capacity, and structural strength makes it well adapted for deeper water, GVA claims. The same applies to the maximum rated drilling depth of 40,000 ft (12,000 m).
The twin-hull configuration is connected via transverse bracings, four columns, and a box-shaped deck structure. The deck box, which contains most of the machinery spaces, is designed to provide strength and added buoyancy during extreme conditions. Two enclosed decks provide a large area for material handling and equipment, more spacious than on previous GVA semis. Total deck payload is more than 8,000 metric tons (8,818 tons), with additional payload for fluids in the columns and pontoons.
According to project manager Daniel Aneljung, the company views the new design ultimately as a replacement for the GVA 7500, of which the ninth rig is currently under construction. "We believe the GVA 8000 will provide the best motions and operability of any rig operating in the North Sea," said Aneljung. "Most often it is the heave motion that causes rigs in this region to stop drilling in harsh weather, so we have optimized the hull shape to better withstand these conditions."
"It's a question of playing with dimensions and the ratio between displacement and the water plane area, or with the shape of the pontoon columns," Aneljung added. "Also, with this design we have the possibility of increasing the operating draught – typically 23 m to 27 m (75.5 ft to 88.6 ft) for improved heave response during BOP handling or other heave-sensitive operations. In this regard we have done a lot of analysis and comparisons with similar designs, based on model tests. We believe we have achieved the best heave response compared with all our competitors."
Aneljung says oil companies are asking for improved heave response and motion in order to extend drilling in strong wave conditions in the North Sea and west of Shetland, and also in areas such as offshore Australia. This includes deepwater off South Australia, where BP plans exploration drilling. The GVA 8000 is adapted to take into account these extremes.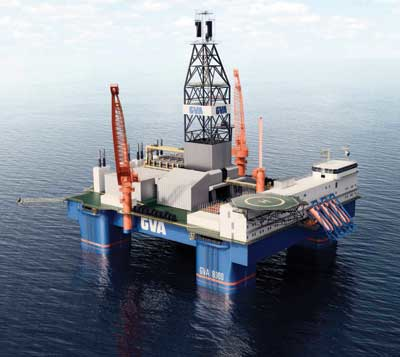 The GVA 8000 drilling semisubmersible. (Illustration courtesy GVA)
GVA has worked with Statoil on the new Cat D "workhorse" semisubmersibles that are designed for a range of tasks on Statoil's mature North Sea fields. "Statoil focused strongly on the working environment, green environment, and safety," Aneljung explained, "including ample space for materials handling, avoiding the lifting of heavy equipment onboard the rigs, and good visibility from the two main deck cranes. We have taken a lot of these ideas for the GVA 8000."
The Norwegian authorities have also pressed for improvements in station-keeping, and their requirements have been incorporated into the new semi. During drilling, the rig can operate either with DP-3 thruster control or with a 12-point mooring system. This compares with eight mooring lines for previous rig designs. The change follows numerous recent incidents in rough seas.
"On the eight-point mooring systems we had the maximum chain dimension acceptable for operations in the North Sea," Aneljung noted. "To increase capacity, we have expanded the number of lines so that the rig can stay in position to drill in harsher conditions. This arrangement is more secure, but it is not mandatory – 12 lines should only be needed for shallower water, harsh environment operations."
Some of GVA's clients have noted that the new rig's mud handling capacity is greater than on the company's previous semis, Aneljung adds, with four mud pumps in base configuration, with the possibility to add a fifth. "The large mud pump capacity allows for a split system between OBM, WBM, and completion fluid. For better circulation, handling and access the mud storage tanks are cylindrical and are all located in the columns. The mud pit capacity may be increased further by additional pontoons."