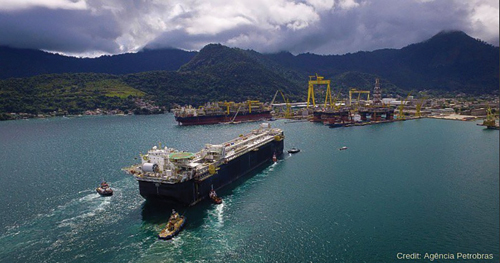 North America
The US' Bureau of Ocean Energy Management (BOEM) has conditionally approved what would be Alaska's first oil and gas development in federal waters. Hilcorp Alaska plans to construct a 9-acre (3.6-ha) gravel island in shallow water in the Beaufort Sea, 5 mi (8 km) offshore and 20 mi (32 km) east of Prudhoe Bay. The approval terms include drilling into the hydrocarbon-bearing zone solely in solid ice conditions, and seasonal restrictions on offshore work and vessel traffic to limit the impact on local whaling activities.
***
Four companies applied successfully for offshore exploration licenses under the 2018 bid rounds staged by the Canada-Newfoundland and Labrador Offshore Petroleum Board (C-NLOPB). BHP secured outright control of two parcels in the frontier Eastern Newfoundland region, while Equinor will operate two more in separate partnerships. Suncor Energy and Husky Oil will join Equinor in another parcel in the Jeanne d'Arc region. Sums pledged for the licenses' initial periods totalled over $1.38 billion.
***
BP terminated its frontier Aspy exploration well offshore Nova Scotia last month as a dry hole, five months after the semisubWest Aquarius had started drilling operations at the location 330 km (205 mi) southeast of Halifax in 2,777 m (9,111 ft) of water. The program had been interrupted twice, initially due to a leak of synthetic-based mud 30 m (99.4 ft) below the sea surface, and later when a severe storm approached. Drilling had resumed in late July through a side track from the wellhead, with the lower section of the original wellbore cemented and plugged.
South America
Oil and gas production has started from the Lula Extremo Sul area in the presalt Santos basin offshore Brazil, via the FPSOP-69. This is the eighth floater on the field and moored in 2,150 m (7,054 ft) of water, 290 km (180 mi) from the Rio de Janeiro state coast. The facility, which will be connected to eight producer and seven injectors, has capacity to process up to 150,000 b/d of oil and to compress up to 6 MMcm/d of gas.
Petrobras has contracted McDermott to design and install the ultra-shallow water 6-mi (10-km) section of the new 220-mi (355-km) Rota 3 gas export pipeline system, also in the presalt Santos basin. The nearshore section will connect to the line's onshore segment at Maricá City, 62 mi (100 km) north of Rio de Janeiro.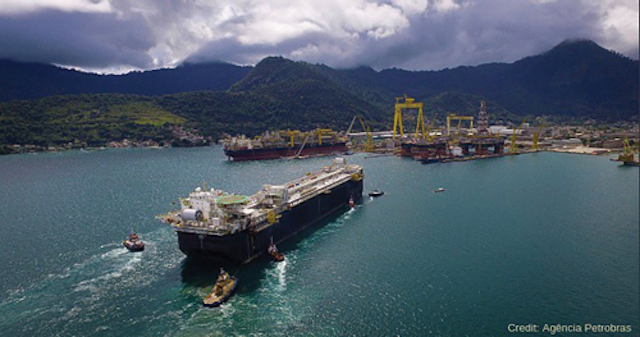 P-69 recently started operations on the Lula field. (Courtesy Petrobras)
***
Guyana's government has approved Total's farm-in to 25% of the offshore Orinduik block, where drilling is due to start next year. Total committed to join existing partners Tullow Oil and Eco Atlantic are analyzing processed data from a recent 2,550-sq km (984-sq mi) 3D survey over the concession. Tullow will remain as operator.
ExxonMobil has contracted TechnipFMC to engineer and manufacture subsea production equipment for the Liza Phase 2 project in Guyana's deepwater Stabroek block. The delivery will include 30 enhanced vertical deepwater trees, eight manifolds and associated controls and tooling. The project's location is 193 km (120 mi) offshore in water depths of 1,500-1,900 m (4,900-6,200 ft).
***
Premier Oil has awarded Dril-Quip (Europe) a front-end engineering design (FEED) contract and frame agreement to provide up to 30 subsea production systems for Phase 1 of the Sea Lion development in the North Falkland basin. The $207-million order covers wellheads, horizontal trees, tubing hangers, production and injection manaifolds and subsea umbilicals. A formal award will follow a final investment decision (FID) for the project, expected in 2019.
West Africa
Cairn Energy has submitted the development plan for the deepwater SNE oilfield offshore Senegal and expects government approval before year-end. Woodside Energy will become operator of the 500-MMbbl, phased development, which will eventually produce 100,000 b/d. First oil through an FPSO with subsea wells is targeted for 2022, with commercial gas sales to Senegal to follow shortly afterwards.
***
FEED for Phase 1 of the ultra-deepwater Tortue field LNG development off Senegal/Mauritania is nearing completion, according to partner Kosmos Energy. Operator BP has submitted its development plan to the governments of both countries and a Phase 1 FID should follow around year-end. In parallel, the partners are progressing the LNG offtake agreement.
***
The drillshipStena DrillMax was due to P&A Samo-1, the first exploratory well offshore The Gambia for around four decades. Although the well in block A2 encountered oil shows, the main target horizons were water-bearing. The government has agreed to extend the license to mid-2019 to allow operator FAR and partner Petronas to assess remaining prospectivity in the area.
***
Petrobras is selling its 50% interest in Petrobras Oil & Gas BV, a joint venture with BTG Pactual E&P, to Petrovida Holdings for up to $1.53 billion. The latter is co-owned by Vitol Investment Partnership II, Africa Oil and Delonex Energy. The sale includes an 8% stake in the OML 127 block offshore Nigeria containing the deepwater Agbani oilfield and a 16% share of the OML 130 block, the location for the Akpo and Egina fields. Petrobras' net share of production from these fields is around 21,000 boe/d.
***
Gabon's Minister of Oil and Hydrocarbons has opened the country's 12th Shallow and Deep Water licensing round, covering 12 shallow and 23 deepwater blocks. The government has revised its petroleum code to prioritize competitiveness and to accommodate oil price fluctuations, with improved fiscal terms. Bids are due in by April 22, 2019 with awards expected the following month. Spectrum Geo has assembled data-sets for the round based on newly acquired shallow-water 3D seismic surveys.
***
Total and its partners have sanctioned two new fasttrack subsea developments in the prolific deepwater block 17 offshore Angola. CLOV Phase 2 calls for seven new wells tied back to the host FPSO with first oil set for 2020, peaking at 40,000 b/d. Six more wells will be drilled under Dalia Phase 3, again connected to the host floater, with oil production starting in 2021 and building to a peak of 30,000 b/d. These two projects and the current Zinia 2 development will collectively produce a further 150 MMbbl from the block.
Angola's government has expanded offshore block 15/06 by 400 sq km (154 sq mi) on the west side, with Eni and partner Sonangol committed to accelerating exploration via a new four-well campaign. If this leads to commercial discoveries, these will be developed as fasttrack subsea tiebacks through the block's existing production infrastructure.
***
Shell and Kosmos Energy have formed a strategic alliance to jointly explore in southern West Africa. Their initial focus will be off Namibia, where Kosmos recently farmed into Shell's PEL 39 license, and off São Tomé & Principe where Shell is set to farm into Kosmos' blocks 5, 6, 11 and 12. The duo will also assess opportunities in adjacent geographies, combining Shell's knowledge of carbonate plays with Kosmos' West Africa Cretaceous experience.
UK independent Tower Resources has signed a petroleum agreement with Namibia's government giving it an 80% operated interest in offshore blocks 1910A, 1911 and 1912 B, in partnership with Namcor and 2M Fourteen Investment CC. The agreement covers a total area of 23,297 sq km (8,995 sq mi) in the little explored northern Walvis basin and Dolphin Graben.
Mediterranean Sea
Israel's Energy Ministry has opened the country's latest bid round for exploration and production of gas in the eastern Mediterranean Sea. Nineteen blocks are on offer in five zones off southern Israel: the Ministry believes that marketing the blocks in zones should attract greater interest, allowing investors to conduct more efficient subsurface evaluation.
TechnipFMC has contracted Jumbo to transport and install a 410-t subsea production manifold for Noble Energy's Leviathan gas project offshore Israel. Water depth at the location is 1,643 m (5,390 ft) – Jumbo will also install subsea isolation valves and valve skids in shallower water close to the coast.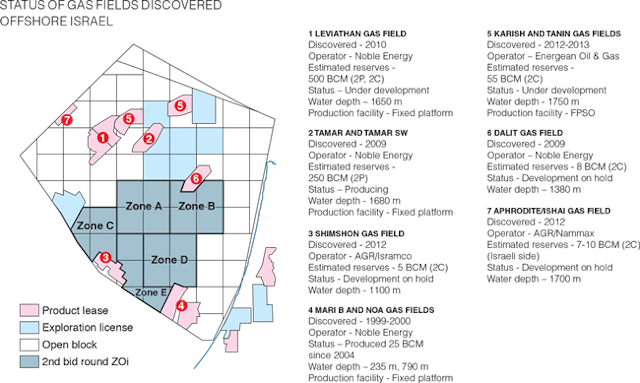 ***
Eni and Total have signed agreements with Sonatrach to jointly explore for hydrocarbons offshore Algeria. Claudo Descalzi, Eni's CEO, said his company would transfer technologies and experience from its operations in the Eastern Mediterranean to the country's deepwater area, which he described as a virtually unexplored geological province.
***
Oslo-based Panoro Energy will pay $65 million to acquire OMV Tunisia Upstream which has a 49% interest in five oil-producing concessions in shallow-water and onshore areas close to the Tunisian city of Sfax. They are also adjacent to the Sfax Offshore exploration permit which the company already operates. Combined net production from the permits is around 2,000 b/d from 14 wells, and Panoro sees potential for long-life extension measures. In addition, the company plans to drill a well directionally from the shore into the Salloum West prospect in Sfax Offshore using the land rigCTF-4.
***
Australian independent ADX Energy has agreed to farm out a 50% interest in the d363 C.R-.AX permit offshore western Sicily to SDP Services. The permit contains the Nilde oilfield, which ADX is looking to re-develop, and the Norma and Naila oil discoveries. Nilde produced 20.5 MMbbl of oil during the 1980s through subsea wells tied back to the FPSO Firenze, but was shut in following encroaching water cut. ADX's recent review of the subsurface suggests a further 34 MMbbl could be recovered through three wells with surface trees drilled from a self-installing mono-column platform.
***
Saipem has started construction works for the 105-km (65-mi) offshore section of the Trans Adriatic Pipeline (TAP) offshore Albania: pipelay is due to start next year. TAP will transport gas from the Shah Deniz field in the Caspian Sea through an overland pipeline traversing Turkey, Greece and Albania, with the final offshore section laid westwards across the Adriatic Sea to southern Italy.
Eastern Europe
Around 20 vessels were recently supporting the Nord Stream 2 gas line construction program in the Baltic Sea. Over 200 km (124 mi) of pipeline had been laid by the end of October, according to the Nord Stream consortium, with Saipem'sCastoro Dieci completing its program in the Bay of Greifswald off northern Germany. Allseas' Audacia and Solitaire have been laying pipe respectively in German territorial waters and the Finnish Exclusive Economic Zone.
***
Construction is under way in the Astrakhan region of facilities for Lukoil's Rakushnechoye oilfield development in the Russian sector of the Caspian Sea. This will feature an ice-resistant fixed platform bridge-linked to a living quarter platform, connected to and powered by nearby offshore infrastructure. Produced hydrocarbons will be exported to the V.Filanovsky field central processing platform. Lukoil is aiming for first oil in 2023.
Middle East
Abu Dhabia's government and ADNOC have agreed to grant Eni a 25% interest in the 40-year offshore Ghasha concession where the sour gas Hail, Ghasha and Dalma fields are under development. ADNOC aims to produce over 1.5 bcf/d at start-up in the mid-2020s with the gas satisfying over 20% of the UAE's needs. Development will involve construction of artificial islands, platforms and wellhead towers, with all the remote facilities operated from a control center in Al Manayif.
***
Iranian Offshore Oil Company has commissioned PetroIran Co. to maintain and enhance oil production from the Dena, Esfand and Sivand oilfields in the Persian Gulf. The 20-month program, which should raise the fields' collective output by 16,000 b/d, involves drilling four new wells, and re-drills or interventions on nine others.
East Africa
The Joint Commission of the Mauritius-Seychelles Extended Continental Shelf, Mascarene Plateau region has opened a 400,000-sq km (154,441-sq mi) area in the Indian Ocean to oil and gas exploration. On offer are 49 blocks, each of 12,000 sq km (4,633 sq mi). Spectrum, which will support the program through a new multi-client seismic survey, says the original exploration of the Plateau in the 1970s proved inconclusive with drilling impeded by subsurface volcanics. However, if the geology proves similar to that penetrated by nearby wells off the Seychelles, there could be an oil-rich source rock below thick sandstones and sealing mudstones. •