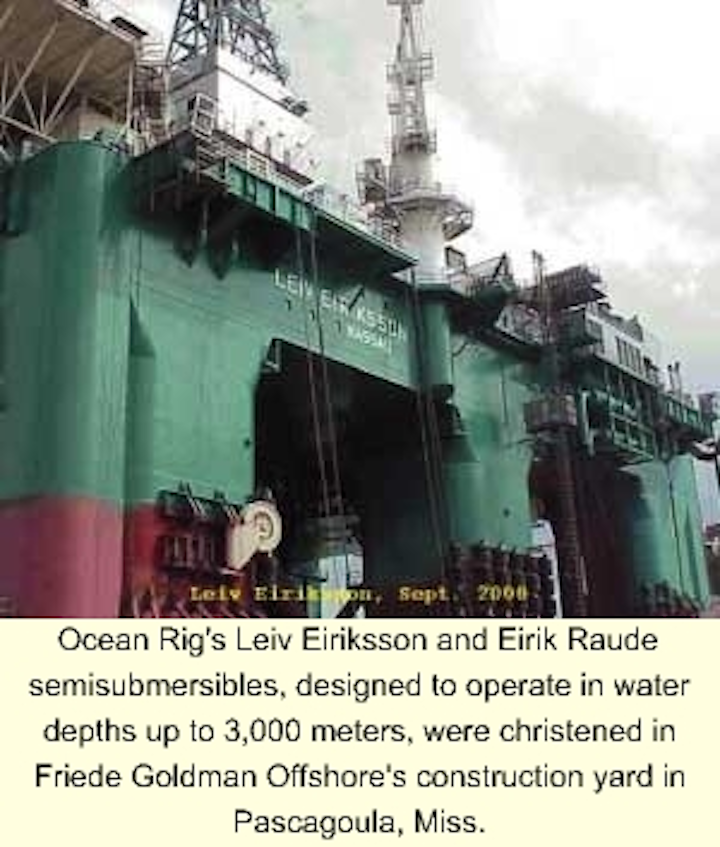 Lately, nearly everywhere one looks, an operator is considering a floating production, storage, and offloading vessel (FPSO) or floating storage vessel (FSO) for a future development project, or has commissioned a feasibility study for one. They can be more cost effective in certain fields than fabricating a new fixed platform, and they lend themselves to reuse more readily than fixed platforms.
FPSOs and FSO have been utilized in various market areas with excellent results and safety records - except the US Gulf of Mexico, which may - or may not - change in the near future.
In recent weeks, several operators have contracted for FSOs in Thailand and Australia. An FPSO is in the works for Elf's Girassol field off Angola and Exxon Mobil's Xikomba field, also off Angola. In the US Gulf of Mexico, the Minerals Management Services (MMS) has contracted studies on FPSO feasibility and safety and recently held public hearings on the draft Environmental Impact Statement (EIS) on the proposed use of FPSOs.
The future of FPSOs and FSOs appears so bright that the Offshore Contractors Association (OCA) says the move toward subsea and FPSO facilities is impacting fabrication yards.
At public hearings in Houston recently for comment on the draft EIS for the cumbersomely titled "Proposed Use of Floating Production, Storage and Offloading Systems on the Gulf of Mexico Continental Shelf in the Western And Central Planning Areas," about 80 supporters showed up. "They are safe platforms for producing hydrocarbons," said Louis H. Smulders, president of SBM-Imodco, which owns or leases 11 FPSOs and FSOs around the world.
Smulders suggested that it might not be necessary to require double bottoms for the units. "Even if all the chain legs broke, something would happen well before reaching shore." Which is just what concerns the Texas General Land Office (GLO).
The GLO's compliance coordinator in the oil spill division, Robert Siddell, while noting the tremendous development potential in deepwater, also noted that there were 800 oil spills reported last year within 10 miles of Texas' coastline. It is important to remember, Sliddell said, that 70% of those spills came from vessels. While he said the GLO supports FPSOs in the Gulf of Mexico, "we're asking that we do it calmly, slowly, and cautiously."
A final EIS is due in January 2001, and a final decision on FPSOs is expected not earlier than 30 days after final version is released.
If FPSOs are allowed in the Gulf of Mexico, with or without certain restrictions, it will further add to a perceived bleak outlook for fabrication yards, according to the Offshore Contractors Association (OCA). Speaking at an OCA event in London recently, Bill Edgar, OCA Chairman and Managing Director of Wood Group Engineering Services, said, "the move towards subsea and FPSO facilities is impacting on the fabrication yards and subsequently on employment. As demand falls for the traditional integrated platform, so does the need for the number of large fabrication sites."
Only two or three of the nine (UK) fabrication yards currently in existence are likely to find work in the future, he added.
Banff field FPSO to be modified
Petroleum Geo-Services (PGS) will spend under $20 million to modify the Ramform Banff FPSO to rectify excessive roll motions on the triangular shaped vessel. The vessel will be moved to a shipyard, likely in West Germany, during the fourth quarter for fitting bilge keels on each side of the vessel to stabilize it. This modification will allow the FPSO to continue operations in the North Sea for the foreseeable future. The modifications are expected to be complete and the unit moved back to the field by year-end.
The modifications are expected to reduce the roll motion by 50% during storms as well as in more moderate sea states, which is also expected to improve its production capability. Production prior to modifications was about 30,000 b/d, while the production profile called for 40,000-45,000 b/d.
Four new design multi-service vessels
Oases Offshore of Covington, Louisiana was awarded a design contract by Zentech, Inc. for the Oases (offshore all-purpose self-elevating self-propelled) vessel. The company plans to build a fleet of these vessels for service in the Gulf of Mexico and internationally. Construction is expected to begin on four of the vessels by year-end.
The jackup units are self-propelled and capable of operating in 210 ft of water. They will be equipped with a detachable Rigkit, capable of workover and redevelopment drilling operations in either cantilever or platform rig bootstrap modes. Each unit also will be equipped with a 300-ton heavy lift crane suitable for operations while jacked up or afloat.
The large main deck area will be utilized for cargo such as platform topsides, compressor packages and similar structures that can be easily transferred on or off platforms. The vessels will also be equipped with firefighting equipment and jet pumps for operating as an offshore firefighting vessel or jet barge.
The quarters will accommodate 70 workers, which can be increased to 200 with auxiliary quarters on the open deck during construction support mode.
TSF drillship begins initial contract
Transocean Sedco Forex's new ultra-deepwater drillship Discoverer Spirit completed its acceptance criteria testing and has begun drilling under its five-year contract with Spirit Energy 76 in the US Gulf of Mexico. The contract is valued at approximately $372 million. The first well will be in the operator's Dana Point prospect at Walker Ridge Block 678.
The Discoverer Spirit can work in water depths up to 10,000 ft. It is outfitted with the contractor's patented dual activity drilling process comprised primarily of two complete drilling systems within one derrick. The dual activity process allows for certain well construction tasks to be handled simultaneously, providing up to a 40% improvement in drilling efficiency.
A third Enterprise class drillship, Discoverer Deep Seas, is undergoing final outfitting at the Aker Gulf Marine yard and is expected to commence a five-year contract in the Gulf of Mexico with Chevron during the fourth quarter 2000.
Drillship Navis Explorer I to commence drilling
Following a somewhat longer than typical period of acceptance testing, the Navis Explorer I drillship mobilized to Brazil for its first well in Petrobras' deepwater Campos Basin Albacora field. The vessel's first well is in about 2,300 ft of water.