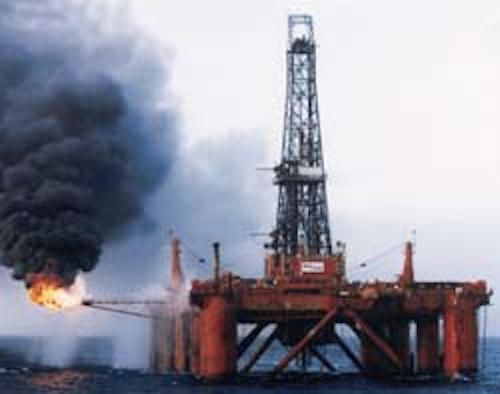 Suppliers follow lead taken in Vietnam by drillers and oil majors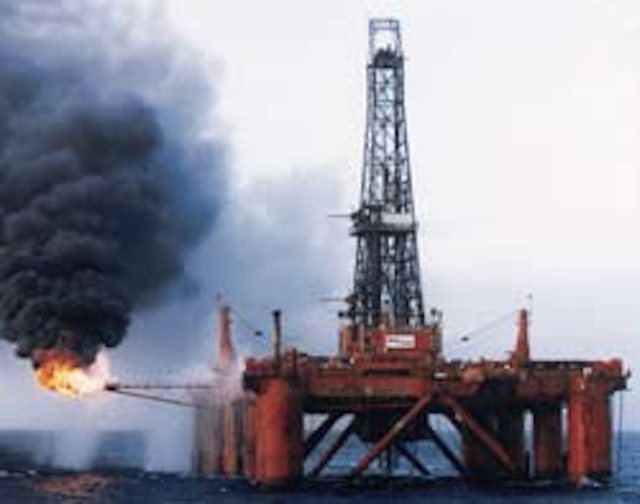 Wilrig is hoping that BHP will extend the contract for its semisubmersible Treasure Seeker, which has been working on the Dai Hung Field since 1993.
Norway has no great oil and gas traditions in South East Asia, either as a finder of fields or as a major exporter of technology. However, the picture is changing rapidly, especially in Vietnam thanks to the efforts of a few far-sighted companies.
Initially, Norwegian drilling contractors contributed most to Vietnam's burgeoning offshore sector. But kudos for Norway really soared last year through Statoil and Norsk Hydro's parts in two major discoveries.
Statoil entered Vietnam as BP's alliance partner in 1992. The two companies farmed into licences then operated by ONGC, whilst also retaining BP's acreage off Da Nang.
Their most intense efforts have centered on Block 06, where the results of a three-year exploration programme were finally revealed last year as two gas prospects, Lan Tay and Lan Do, in water depths of 180 and 125 metres. Plans have yet to be concluded on how to develop the fields, bearing in mind the absence of infrastructure to the shore 350 km away.
However, Statoil's input on pipeline design will be significant: the country is western Europe's leading offshore gas producer and a chief architect in the network of trunklines leading from Norway to the continent. There are ready markets for the Block 06 gas: for power generation and fertilizer manufacture onshore Vietnam; through a pipeline to Thailand; or in the form of LNG to Japan.
Statoil and BP have retained control of Block 05-2 just to the north without inviting farm-ins, leading to theory that this block too holds potential for gas. Likewise Block 05-3 just to the west, where BP/Statoil are partners with Mobil, AEDC, and Teikoku. A re-drill of a prospect which had yielded gas shows was due to start in January.
Not far from this area of activity is the Total-operated block 11.1, where Norsk Hydro is an 11% shareholder. Reports suggest that the latest drilling programme - the first of two back-to-back wells - has flowed significant rates of oil and gas. Hydro is also a partner in three Fina-operated blocks on the Vietnamese side of the co-operation zone with Malaysia: no positive results have come from drilling here to date.
Market breakthrough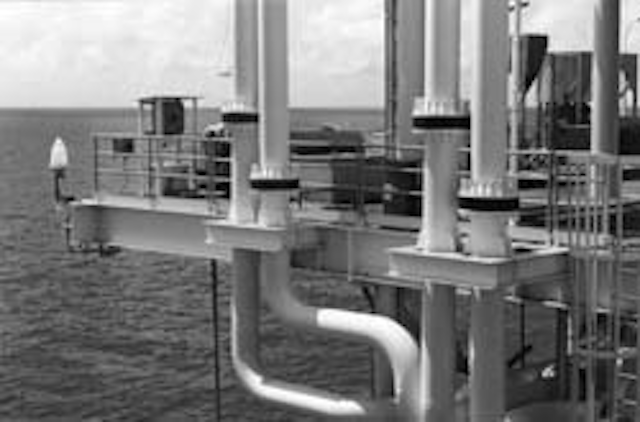 Jotun, one of the exhibitors on the Norwegian stand at PetroVietnam '95 is already well established in the Far East. Pictured here is a Shell Sarawak platform protected by Jotun's polyester coating product, Baltoflake.
Three Norwegian drilling contractors have played key roles in Vietnamese exploration programs. Currently the limelight is on Smedvig: its West Delta semisub, managed by Singapore operation Smedvig Robray, began a 240-day drilling contract mid-December on block 05-3, with an option for a further 240 days.
Smedvig acquired Robray in 1990: the operation is the second biggest drilling contractor in the Asia-Pacific region, but this is Smedvig's group's first contract in Vietnam. Another Norwegian-owned semisubmersible is Wilrig's Treasure Seeker, which has been providing drilling and completion services on BHP's Dai Hung Field since 1993. A decision concerning a further optional well (and hence an extension of the rig's contract) was due this month.
Odfjell Drilling and Consulting Company's drillship Deepsea Duchess worked for BP/Statoil in Vietnam throughout 1993. It will be bid for work in the country again this year, according to Odfjell's Svere Hargenes.
A Norwegian drilling service company which has been operating in Vietnam since May 1991 is Anchor Drilling Fluids. In May that year the company signed a joint venture agreement with DMC, a subsidiary of PetroVietnam, which was the first licensed JV of its type in Vietnam. The operation is headquartered in Vung Tau in a modern office complex, with a well-equipped laboratory, bulk facilities and large warehouses in the area.
In its first full operating year, 1992, the company won major contracts from Vietsovpetro, Petrocanada, Petronas Carigali and Shell, which necessitated expansion of facilities and services. The following year its largest contract was a three-rig deal from BHP for Dai Hung. That August, an office was opened in Ho Chi Minh City to enable closer contact with customers in that area. Another office has been opened in Ho Chi Minh City, and the company has also won work from Pedco and Fina.
A priority of the JV has been training of local Vietnamese personnel, which has proven relatively easy due to the Vietnamese disposition to learn, and also due to the high educational standards of local staff. The first drilling fluids engineering school was completed in November 1991, from which 10 candidates graduated. Since then, Vietnamese personnel have visited Anchor personnel, and technical seminars have been provided to customers in Vietnam.
Other Norwegian companies with offices in Vietnam include Helikopter Services, which operates four Super Pumas in the country. These are currently supporting BP/Statoil, Mobil, Occidental, and Pedco on a well-to-well basis.
Aker's London office designed two water injection modules for Vietsovpetro's Bach Ho redevelopment programme, which were built by Sembawang in Singapore under Aker's supervision. Aker has now opened a business development office in Ho Chi Minh City to promote the whole spectrum of its activities in Vietnam: engineering, fabrication, steel, and concrete. Another major Norwegian fabricator is thought to have done something similar.
According to an Aker spokesman, his company has also been involved in a small joint industry project with local companies already established in Vietnam. Further opportunities might come through its co-operation agreement with South East Asian offshore fabricator Sime Darby.
Next month's Norwegian pavilion at the PetroVietnam '95 exhibition in Ho Chi Minh City will feature several companies looking to break into the Vietnamese market or strengthen their position. These are coatings and paints manufacturer Jotun; ship computerized management system supplier Spectec; and passive fire protection system specialist Rockwool. Others on the stand are Aker, Helikopter Services, Kvaerner, Norsk Hydro, Wilrig, and Det Norske Veritas.
DnV is a member of the Norwegian Oil Spill Control Association, which has recently drawn up proposals for oil spill planning to Vietnam and other South East Asian countries.
---
PGS Nopec promoting deepwater data
Interest has been subdued to date in blocks 122-130 in the South China Sea, which were opened to bidders last year. Collectively they cover an area of over 60,000 sq km, most in deeper waters than those previously explored off Vietnam.
Lack of previous drilling in this area probably explains the cool reaction, even though licence terms were said to be more generous than usual in view of the greater water depths. Norway's PGS Nopec is promoting the seismic data package for these blocks: by the New Year, it had sold three sets, according to a company spokesman.
The package consists of data collected by PGS Nopec in 1993 and reprocessed data from a Russian vessel's survey in 1984, covering 6,500 km in total. Sedimentary basins analyzed are Phu Kanh in the north, the little known Tuy Hoa shear zone in the centre, and Cuu Long and Nam Con Son in the south. Water depths vary from 200 to over 1,000 metres.
A joint regional geological study by PetroVietnam and PGS Nopec based on this data shows that the area is potentially an attractive petroleum province, as multiple play types are recognized within a diversified structural setting. Basin modeling indicates that Oligocene source rocks may have generated substantial quantities of liquid petroleum.
Unfortunately for PGS Nopec, it has to compete with extremely cheap old data covering the region which is still available in Singapore. This is out of the hands of the Vietnamese authorities, and so carries no royalty provision.
Original deadline for block bids was October 1 last year. PGS Nopec is continuing to sell the data, and as a sweetener plans to include data acquired by PetroVietnam in 1993 south of Block 130.
In a separate exercise, PGS Nopec is due to start the first seismic survey over acreage in three different countries, a 2D seismic acquisition programme in the South China Sea. The first phase will cover around 7,500 line km, partly in the Nam Con Son basin. Digicon was booked to supply the vessel, but dropped out due to commitments, so it looks as if PGS itself will perform the survey.
Copyright 1995 Offshore. All Rights Reserved.