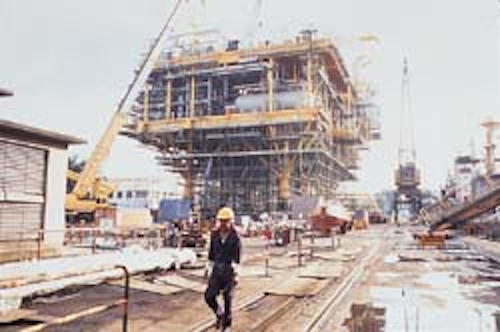 Xijiang, Liuhua, and Yacheng giants coming onstream this year, other fields in the wings
Dev George
Managing Editor - International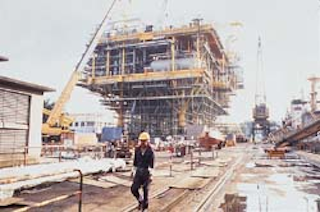 One of two process platforms under construction for the Yacheng Field.
China has become an oil importer, and she's not pleased. With an aim of regaining self-sufficiency, the government is going after foreign oil companies, their finances and technology, like never before - armed with a more liberalized tax regime and terms of participation international companies can live with, the offer of truly promising petroleum prospects, and a constantly improving economic and infrastructural base. (The economy is the world's fastest growing for a major country, at 8-10% annually.)
But despite more than a decade of explorations, discovery of elephants in Chinese waters has so far been elusive. Twelve major fields are now in production, however, and several large fields and perhaps one giant are due onstream in the next few years - four this year.
Offshore oil production was 33.81 million bbl in 1993, up 19.6% over 1992 and was 41.89 million bbl (estimate) in 1994. This year, the figure is expected to reach 50 million bbl, next year, 61 million bbl - a whopping increase of 80%. Gas production has so far been negligible, however, and is not expected to reach a billion cubic meters until 1996-97 at the earliest.
In the years since Deng Xiaoping opened China to the world, the improvements in its economy have been amazing: the gross national product (GNP) has quadrupled and is expected to double again within five years, real incomes have kept pace with the GNP, land reform has seen farm output grow by 50-80%, and abject poverty has effectively been abolished among China's 1.2 billion people.
As a consequence, industrialization is rapidly taking place, but progress is hampered by growing power shortages. For this reason, China is vigorously soliciting international explorers and developers as joint venture partners to help strengthen its petroleum resources by finding and bringing new fields on stream.
And international interest in the Chinese offshore, despite the lackluster performance it has had to date, has not waned. Approximately $4 billion has been invested in offshore exploration and production. China National Offshore Oil Corporation (CNOOC), which grants concessions in China's aquatory, has signed approximately 100 contracts with foreign oil firms for exploration and development in its three major provinces, the South China Sea (Nanhai), East China Sea (Donghai), and Bohai Gulf. Another round is expected this year.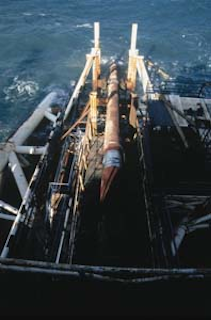 The Semac 1 laybarge installing the Yacheng 13 pipeline to Hong Kong.
South China Sea
The star of Chinese offshore oil production is the South China Sea, which has been the country's primary offshore venue for many years, and currently accounts for most of the 92,600 b/d of oil produced from the Chinese shelf. A notoriously difficult area in which to operate, due to the 10-12 typhoons that sweep the Sea annually, the uncontested Chinese sector of the South China Sea has but five fields in production at this time: Lufeng and Lufeng 13 Fields, Weizhou, Xijiang 24, and Hiuzhou. But three long-awaited fields are nearing readiness and should be coming onstream at the end of this year, beginning of 1996: in the Pearl River Mouth Basin, Phillips/Pecten's Xijiang 30 and Amoco's giant Liuhua 11 oil fields; and south of Hainan Island, Arco's giant Yacheng 13 gasfield.
The Xijiang 30 Field lies 128 km southwest of Hong Kong at a water depth of 100 meters. As with its sister field Xijiang 24, operators are Phillips Petroleum International Asian Corp. and Pecten Orient Co., in joint venture with CNOOC Nanhai East. Phillips/Pecten have scheduled production for the end of this year, which is expected to reach 4 million tons annually, or 81,000 b/d.
The Amoco-operated Liuhua 11 Field is most likely the giant China has been waiting for and will be the impetus for renewed exploration efforts in the Pearl River Mouth Basin. Located about 200 km southwest of Hong Kong in waters 300 meters deep, Liuhua has been in development since its discovery in 1987, by a joint venture of CNOOC Nanhai East Oil Corp.(CONHE) and Amoco Orient, and is expected to go into production early next year at 65,000 b/d. Late last year, Kerr-McGee farmed-into the field, resulting in CONHE retaining 51%, with Amoco and Kerr-McGee each holding 24.5%.
According to an Amoco executive, Liuhua is the "largest oilfield so far discovered in the South China Sea," making it larger than Vietnam's Dai Hung or Bach Ho and Malaysia's Belida Field. Because of this size - more than 1.5 billion bbl oil equivalent - its location in the South China Sea's typhoon zone, and an overlying limestone reef, it has required much more time, technology, and financial resources to bring into production. Plans currently call for 20 horizontal wells to be drilled between 1994 and 1997, and the use of a modified semisubmersible FPS and converted tanker FPSO. Development cost is $650 million.
China's other giant, due to go onstream at the end of the year, is Arco's huge 3.5 tcf Yacheng 13 gasfield, which lies 100 km south of Hainan Island at a water depth of 100 meters. Jointly developed by CNOOC and Arco, it is set to produce 330 million cf/d of gas destined to go to Hong Kong's Castle Peak Power Co. power station via a 775-km 28-inch pipeline (the second longest offshore pipeline in the world). Development cost of the three-platform complex and pipeline system is $1.2 billion.
Beyond these near term producers, Wenchang Field is being developed by Esso in Block 40/01 of the Hainan Straits between Hainan Island and the Luichow peninsula. Other concessions in the South China Sea are BHP Petroleum's Block 03/36 in the Pearl River Mouth Basin, Kerr-McGee's Block 04/06, and Arco's Blocks 52/12 and 63/28 in the Qiong Dong Nan area. Farther afield is the Wan'an Bei 21 concession granted to Crestone Energy, which straddles Vietnamese-contested waters.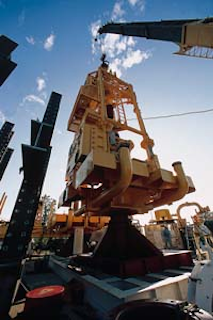 Placing the universal running tool on one of Liuhua Field's subsea templates. (Photo by Matthew Kaplan, courtesy Amoco.)
East China Sea
China's East China Sea is almost untouched aquatory. Explorations have been going on over the past 20 years, and some 25 appraisal wells have been drilled in the area, but practically no development has occurred, despite 12 zones indicating commercial quantities of either oil or gas, according to the Shanghai Marine Geology Investigation Bureau. Now, however, with the opening of explorations to foreign firms, data has been released on three of these wells that indicates the Pingbei, as the region is called, has far more petroleum reserves than previously thought.
Two areas have been offered in licensing rounds, the Changjiang or Northern Prospect, and the Wendong, or Southern Prospect. Between them lies a "sandwich" area that is being explored and developed solely by CNOOC. So far, however, only one of the three known fields, Pinghu, is being developed.
Shanghai Petroleum's Pinghu Field, lying 375 km southeast of Shanghai, is set to go onstream early next year, with peak production at 10,000 b/d condensate and 500 million cm/d gas. Its Wyungting 1X well is currently producing 4,224 b/d oil and 9.4 million cf/d gas. Development cost is $400 million. The other two fields, Donghai and Bo Yuan Ting, remain undeveloped.
All the blocks offered in the East China Sea have be licensed for exploration and development but two. They are: 14/07, Japex/Teikoku Oil; 25/20, 3,600 sq km, Maxus Energy; 25/31, 2,420 sq km, Maxus Energy; 26/19, 3,700 sq km, Shell/Pecten; 29/19, Shell/Pecten; 33/08, 3,600 sq km, Chevron; 33/05, Texaco, Agip, Maersk; 33/19, Texaco, Agip, Maersk; 33/31, Texaco, Agip, Maersk; 34/02, Exxon; 42/03, Japex/Teikoku Oil; and four unnumbered blocks of 23,000 sq km, Cluff Oil. (See map.)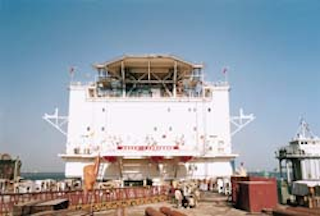 Xijiang accommodation module being readied for transport.
Bohai Gulf
The Bohai Gulf holds reserves estimated at more than 700 million bbl, but like the East China Sea, only China now produces there. Several foreign companies, however, hold thousands of acres in concessions, including BP, the Exploration Company of Louisiana (XCL), Murphy Oil/Kerr-McGee, Phillips, and Texaco.
The JV of Bohai Oil Corp. and Japan-China Oil Development Corp. discovered and brought into production the areas first oilfields, Bozhong 28-1, and Bozhong 34-2/4E. Thereafter, Bohai Oil itself discovered and put into production the giant, 1.8 billion bbl Suizhong 36-1 Field in 1993, which is currently producing 11,700 b/d oil from 11 wells, and Jinzhou 2, China's only producing gasfield, with its present output of 1.4 cm/d gas and 4,000 b/d condensate. Two other fields are now being developed by Bohai Oil, Jinzhou 9-3 and Chengbei.
Foreign block holders include BP (Shijutuo Block), XCL/Apache (C-1 Zhao Dong Block), Kerr-McGee (Block 04/36), Phillips (Block 11/05 on the Bozhong Block), BHP Petroleum/Texaco (Block 11/19), and Shell/Pecten (Block 24/36). Extensive seismic and exploratory drilling is currently underway.
Copyright 1995 Offshore. All Rights Reserved.