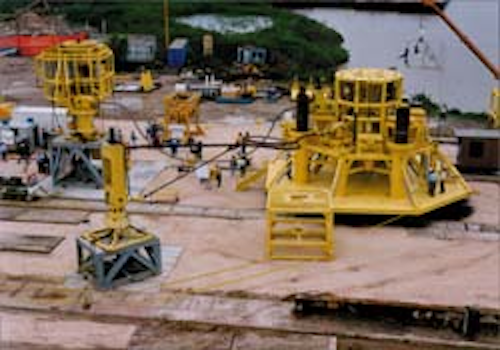 Michael Crowden
Houston
Shell, partners to evaluate Ursa deepwater prospect
Shell (45%) and partners BP Exploration (23%), Conoco, and Exxon (16%, each) have formed a team to evaluate the Ursa prospect. Located in 3,950 ft. of water, Ursa encompasses Mississippi Canyon 808, 809, 810, 852, 853, and 854. The discovery well, completed in 1991, was drilled on block 854 by Sonat's Discoverer Seven Seas.
"Although not thought to be as large as our Mars development, it exceeds the size of our Auger Field," said Rich Pattarozzi, general manager of Shell Offshore's deepwater division. Auger's ultimate recovery is expected to be 220 MMbbl of oil and gas equivalent. Auger produces about 60,000 b/d of oil and 120 MMcf/d of gas. Initial production from Mars is due in 1996. Two delineation wells and one sidetrack well have been drilled to define the extent of the discovery. "Before we make a commitment to develop Ursa, the partners will formulate a detailed design recommendation and drill one more appraisal well beginning late this year," said Pattarozzi.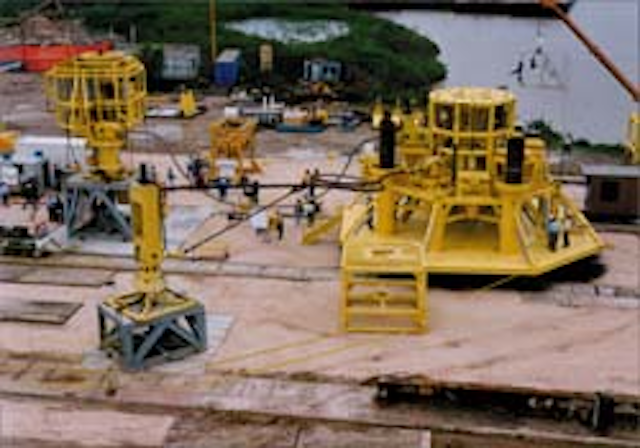 Shell's Mars Field subsea trees are shown under test conditions prior to loadout. The subsea trees, similar to those used on the Popeye development, will be installed in 2,962 ft water depths in Mississippi Canyon Block 807. (Source: ABB Vetco Gray).
Marathon confirms 100 MMbbl field at Green Canyon 200
A Marathon-led group has extended its Green Canyon 244 discovery well, thereby confirming the development potential of what is believed to be a 100 MMbbl oil reservoir. The delineation well, located in Green Canyon 200, 1.5 miles north of the discovery, was drilled to 18,758 ft. total depth. Another exploratory well is planned to the south and east of the discovery well to evaluate an adjacent structure in Green Canyon 245. Green Canyon 200, 201, 244, and 245 are located 225 miles south of New Orleans and have been incorporated into an exploration unit.
Government buying back leases affected by OCS moratoria
The Clinton Administration has agreed to pay nearly $200 million to nine oil and gas companies which had been barred by federal moratoria from drilling on select OCS leases. The payment settles a lawsuit brought by the companies against the federal government. In exchange for the payment, the companies have agreed to relinquish the leases. Conoco, the lead plantiff, will be paid $23 million. The remaining $175 million will be shared among Amoco, Chevron, Mobil, Murphy, Pennzoil, Shell, and Texaco. The relinquished leases are off southeastern Florida, Cape Hatteras, North Carolina, and Bristol Bay, Alaska.
OCS leasing plan for 1997-2002 revealed by MMS
Sixteen lease offerings in eight offshore planning areas wil be offered in the US Minerals Management Services (MMS) Outer Continental Shelf Leasing Program for 1997-2002. MMS Director Cynthia Quarterman indicated the Clinton Administration is seeking to take OCS leasing down the path of least resistance. "If we learned anything from the past, it is that MMS must engage in a dialogue with the parties most affected by the program. Consequently, more emphasis than ever before is being placed on communication with constituents in the regions."
A subcommittee is to be formed jointly by the OCS Policy and Scientific Committees to review areas currently covered by federal moratoria. Quarterman said the objective is to "ensure that leasing decisions are based on sound scientific information."
Robert B. Stewart, president of the National Ocean Industries Association, said the proposal "appears to represent the outer limit of what is achievable given the current political climate."
In other regulatory matters, a Gulf of Mexico information transfer meeting will be conducted by MMS in New Orleans 12-14 December. For details, contact Anne O'Heren Jakob (Tel: 504-286-6680 or fax: 504-286-7317).
Aker Omega prepares for Phase II of JIP for tension leg raft
Aker Omega recently conducted its third meeting of a joint industry project (JIP) to study its tension raft jacket (TRJ) concept - an alternative to tension leg platform (TLP) designs. Participants in the project include Amoco, BHP Petroleum, BP Exploration, Exxon, Norsk Hydro, Shell, and Texaco.
Currently under study is a base case TRJ, with a deckload capacity comparable to Ram/Powell TLP and designed for operation in the Gulf of Mexico at 3,000 ft depths. The base case raft consists of a barge-like, steel square frame internally pressurized with air. The results of a critical joints analysis is to be presented this month.
The remainder of Phase I work will involve development of fabrication and installation methods, plus cost and schedules for a total of five different cases. Cases one through four are for the Gulf of Mexico, with concrete and steel rafts and both heavy and medium decks. Case five is for the Norwegian Sea and will consider a concrete raft. Additionally, water depths of 3,000 ft and 5,000 ft are to be considered.
"After the feasibility and potential advantages of the TRJ concept have been documented, Aker Omega intends to offer model testing as a Phase II of the JIP during 1996," said Phil Abbott, Aker Omega's TRJ project manager. For further details on the project, contact Greg Thory or Phil Abbott at (01) 713-870-1111.
Tejas Power pays $153 million for nine Gulf pipelines
Tejas Power has agreed to pay a group led by Seagull Energy $153.5 million for nine pipeline/gathering systems in the Gulf of Mexico. The completed deal will increase Tejas's offshore gathering system to 333 miles, with capacity to transport 1,680 MMcf/d. Included in the deal are the Seagull Shoreline System, the Cavallo Pipeline System, the Brazos Area gathering system, and the El Gordo System, comprising 226 miles of pipeline offshore Texas. Combined throughput is 683 MMcf/d. Included in the deal is the Matagorda Gas Plant, a 250 MMcf/d gas liquids processing plant, the 5,200 b/d Oyster Lake condensate stabilization facility, and 10 smaller onshore gathering systems comprising 238 miles of pipeline and 78.3 MMcf/d throughput. Along with Seagull, the sellers include Enron, Panhandle Eastern, and Amoco.
Copyright 1995 Offshore. All Rights Reserved.