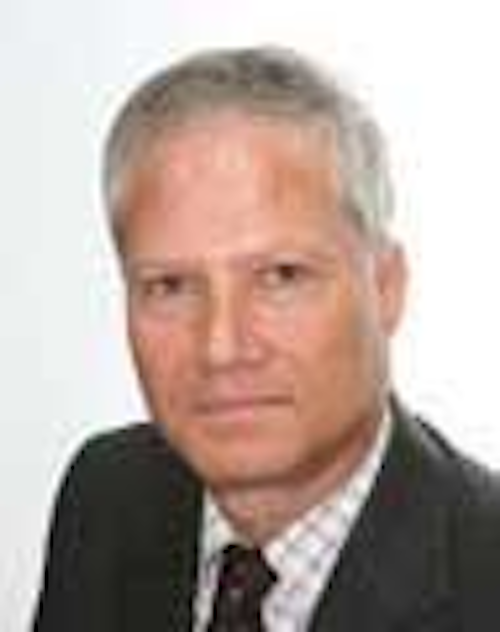 | | | |
| --- | --- | --- |
| | | Jeremy Beckman London |
Mexico
Talos and its partners are seeking a rig to appraise last summer's Zama oil discovery in block 7 in the offshore Sureste basin. The field is thought to hold 400-800 MMbbl recoverable and PEMEX, operator of an adjoining block, may also opt to drill a possible extension of the structure this year, according to Talos' partner Premier Oil.
Caribbean Sea
ExxonMobil and its partners have achieved a seventh major deepwater oil discovery in the Stabroek block off Guyana. The drillshipStena Carron drilled Pacora-1 4 mi (6.4 km) west of the Payara field in 6,781 ft (2,067 m) of water, with the well encountering 65 ft (20 m) of oil-bearing sandstone reservoir. The resources will likely be included in the phased Payara project, slated to be the third FPSO-based development on the block, and eventually delivering over 500,000 b/d.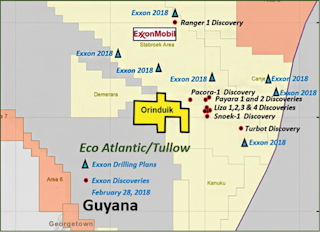 Map shows ExxonMobil's discoveries in the Stabroek block next to the Orinduik block. (Courtesy Eco Atlantic Oil & Gas)
Eco (Atlantic) Oil & Gas, a partner in the nearby Orinduik block, said studies here had identified various leads that could contain over 1 Bboe. PGS has been processing results from a new 3D seismic survey that WesternGeco completed over Orinduik last year – Total is considering a farm-in.
•••
BP has commissioned McDermott International to perform detailed engineering and procurement services for the Cassia C compression project southeast of Trinidad and Tobago. This will include a new unmanned platform providing compression gas to the existing field complex via a bridge connection to Cassia B. McDermott has also been constructing a platform for BP's Angelin project off the islands – the jacket and topsides are due to be loaded out and installed at the offshore location this spring.
•••
The Dominican Republic may have initiated its first offshore license program. According to reports, the government planned to open two offshore blocks for gas exploration and two onshore blocks, said to be oil-prone.
West Africa
TheSaipem 12000 drillship should have spudded RD-1, the first well in the Eni-operated Rabat Deep permit offshore Morocco. Eni reportedly decided to cut short the vessel's prior exploration program off southern Cyprus, following blocking maneuvers by the Turkish Navy.
•••
Petronas has arranged a farm-in deal offshore The Gambia, giving it 40% of deepwater blocks A2 and A5. Australian independent FAR will retain a similar stake in both concessions, with Petronas operating the first exploration well later this year on the Samo oil prospect, pending government approval.
•••
Aker Energy, a newly formed joint venture between Aker and TRG, has agreed to acquire Hess' 50% operated interest in the Deepwater Tano Cape Three Points block in Ghana's offshore Tano basin under a deal valued at potentially $175 million. Twelve wells have been drilled over the block to date, with estimated resources of 550 MMbbl and substantial prospective upside.
The new team aims to submit a development plan this year involving a fast-track first phase targeting around 400 MMbbl, based on an FPSO with a subsea production system and multilateral wells: the latter will be designed to provide higher recovery, drawing on Aker Group's experiences with various projects offshore Norway. TRG also has a share of the adjoining South Deepwater Tano block, and the joint venture sees potential for an expanded regional development.
•••
Golar was preparing to start LNG production last month through the floating LNG vesselHilli Epeseyo offshore Cameroon, followed by final commissioning in mid-April. Gas will be supplied from fields operated by Perenco.
•••
Petronas has discovered oil and gas in Gabon's ultra-deepwater, presalt southern sector. The Boudji-1 well in block F14 (Likouale) encountered 90 m (205 ft) of hydrocarbon-bearing sands, in a water depth of 2,800 m (9,186 ft).
•••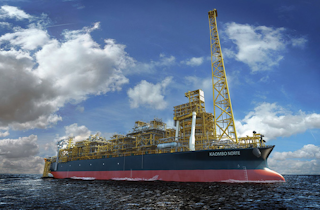 TheKaombo Norte FPSO. (Courtesy ALP Maritime)
Interoil/Saipem has contracted ALP Maritime Services to provide towing assistance and heading control for Total's Koambo project in block 32, 140 km (87 mi) offshore Angola. Two of ALP's 300-t bollard pull Future class vessels were due to accompany the FPSOKaombo Norte on its voyage from Sembawang Shipyard in Singapore, with three further vessels keeping the floater on station at its offshore destination during connection to its mooring lines.
Angoflex in Lobito recently completed fabrication of over 135 km (84 mi) of steel tube umbilicals for the same project.
•••
South Africa's Petroleum Agency has agreed to renew the Exploration Right for shallow-water block 2B off the country's west coast by a further two years. Operator Africa Energy expects to drill the first well in 2019.
Mediterranean Sea
Saipem has delivered to Oil Spill Response Limited the new Offset Installation Equipment (OIE) subsea system. This is designed for use in a subsea well incident where direct vertical access to a wellhead is not viable. The equipment, designed, manufactured and tested by Saipem recently in the northern Adriatic Sea, allows capping or associated equipment to be installed up to 500 m (1,640 ft) from an incident. It can be deployed in water depths ranging from 75-600 m (246-1,968 ft) and operated from a standard work class ROV.
•••
Greek agency Hellenic Hydrocarbon Resources Management has received bids for two consortia for newly offered permit areas offshore Greece.
Total, ExxonMobil and Hellenic Petroleum (HP) applied for the offshore South-West Crete and West Crete blocks. Repsol/HP applied for the Ionian block off western Greece. The agency said it would evaluate the bids and issue recommendations to the country's Environment and Energy Ministry.
•••
Energean has secured a $1.275-billion credit facility with four international banks allowing it to finance its deepwater Karish gas field development offshore Israel over the next few years. Previously the company had struck gas supply deals with various parties totalling around 4.2 bcm/yr. It has also signed a $1.36-billion contract with TechnipFMC for construction of an 8 bcm/yr FPSO.
Russia
ChelPipe has an agreement to develop and produce pipes for Gazprom made from 25Cr super duplex steel and the UNS N06625 nickel alloy. These will be the first produced in Russia to provide ultra-high strength and corrosion resistance for subsea production systems, including manifolds and Xmas trees. Testing and certification of the prototypes should follow later this year.
In the Black Sea, Allseas'Pioneering Spirit has passed the halfway point in laying the dual pipelines for the offshore section of Gazprom's TurkStream system through the Black Sea. The offshore section of the twin lines, carrying gas from Russian onshore fields to Turkey and southeast Europe, will be 930 km (578 mi) long, in water depths of up to 2,200 m (7,218 ft).
•••
ExxonMobil has decided to withdraw from certain joint ventures with Rosneft in Russia due to the impact of US sanctions. The two companies had jointly explored the Russia's Arctic offshore region, discovering the giant Pobeda field in the Kara Sea in 2014. However, ExxonMobil will retain its 30% stake in the offshore Sakhalin-1 project.
Middle East
Abu Dhabi's Supreme Petroleum Council has awarded INPEX subsidiary JODCO a 10% interest in the offshore Lower Zakum concession under a 40-year term that expires in early 2058. Lower Zakum, 80 km (50 mi) northwest of Abu Dhabi City, began production in 1967, and the partners are currently targeting production of around 450,000 b/d. In addition, INPEX has negotiated a 25-year extension of a concession containing the offshore Satah and Umm Al Dalkh fields to March 2043, lifting its interest to 40%. JODCO and sole partner ADNOC plans to raise combined output from these fields to around 45,000 b/d.
East Africa
Mozambique's government has approved Anadarko's development plan for the ultra-deepwater Golfinho and Atum gas fields in the country's Offshore Area 1. These will initially deliver around 100 MMcf/d for a two-train LNG production plant onshore Mozambique, with total nameplate capacity of 12.8 MMt/yr. Eventually Anadarko aims to quadruple LNG output from the Area 1 fields. The company recently secured a 15-year offtake deal for 1.2 MMt/yr with France's EDF.
Asia/Pacific
SK Innovation has discovered oil in block 17/03 in the Pearl River Mouth basin in the South China Sea. The well delivered 35 m (114 ft) net oil pay and tested at up to 3,750 b/d. The company and partner CNOOC planned follow up appraisal drilling to determine prospects for a commercial development.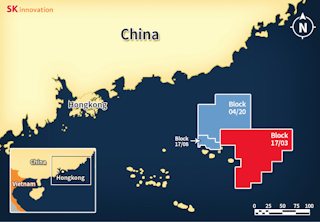 Location of SK's oil discovery in the South China Sea. (Map courtesy SK Innovation)
Husky Energy and CNOOC have sanctioned the deepwater Liuhua 29-11 development, the third for the Liwan gas project in the South China Sea.
Production, due to start in 2021, will be connected to existing subsea infrastructure and the onshore Gaolan gas plant.
•••
ONGC has awarded NPCC in Abu Dhabi a $327-million contract to provide and install five wellhead platforms and a subsea pipeline system for the Ratna field development off western India.
•••
The McDermott/Baker Hughes (a GE company) consortium has completed front-end engineering design for the POSCO Daewoo Shwe Phase 2 development project offshore Myanmar.
•••
Ophir Energy has sanctioned a fourth development phase at the Bualuang oil field in the Gulf of Thailand. The program starts this year with infill drilling, with the new 12-slot Bualuang C platform to be installed next year, bridge-linked to the Alpha and Bravo facilities. Ophir expects to develop close to 10 MMbbl from this phase, at a cost of $138 million.
•••
Dril-Quip will supply a drilling top tensioned riser (TTR) system for Repsol's Ca Rong Do project offshore Vietnam, and further TTR system for the production, gas injection and water injection wells.
•••
Guangzhou Marine Geological Survey (GMGS) has commissioned Fugro to investigate the potential for gas hydrates on the northern continental slope of the South China Sea. This will be Fugro's fifth research program for GMGS since 2007. This one, operated from the drilling vesselFugro Voyager, will involve logging while drilling, pressure coring and geotechnical sampling. Results will assist planning for China's second gas hydrate marine production test, likely to be staged next year.
Australasia
Australia and East Timor have reportedly reached an accord on their disputed maritime border in the Timor Sea, and on the way forward for developing the Greater Sunrise offshore gas/condensate fields in this area. East Timor had previously sought an agreement for a border halfway between the island nation and Australia, putting most of the fields under its control.