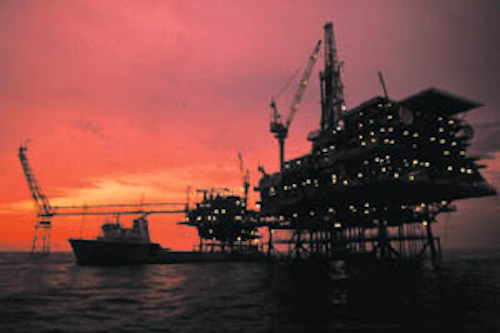 Activity is accelerating in the Malay-Thai JDA.
CHINA
With the gradual introduction of democratic institutions and a somewhat Western-style market economy, China is making enormous advances in conversion of itself into a major world economic and political power. It has the world's fastest growing economy for a major country, at 8-10% annually, is industrializing rapidly, and sees the development of a dynamic petroleum industry as essential if it is to regain self-sufficiency.
The government is, therefore, going after foreign oil companies, their finances and technology, like never before. It is now armed with a more liberalized tax regime and terms of participation international companies can live with, the offer of truly promising petroleum prospects, and a constantly improving economic and infrastructural base. And most of the world's majors operators have taken the invitation.
The country's currently estimated offshore reserves of 6.2 billion bbl oil and 4.9 tcf gas provide a tremendous attraction for that development, and the political stability and legal framework provide a near risk-free environment for it. Twelve major fields are now in production, in addition to scores of smaller fields, and several large fields and perhaps one giant are due onstream in the next few years.
Among these large producers is Phillips's Xijiang 30-2 Field in the South China Sea, with production approaching its 60,000 b/d peak, due next year. It and the nearby Xijiang 24-3 Field produce to an FPSO located between them. Amoco's huge Liuhua Field, at more than 1.5 billion bbl oil equivalent, Southeast Asia's largest field, located on Block 29-04 of the South China Sea, south of Hong Kong, is also in production, at 65,000 b/d. China's second-largest offshore field, Suizhong 36-1, in Bohai Bay, continues to be developed, even though it is now in production. Upon completion, it is expected to produce 1.0-1.4 million tons of crude oil per year. The field contains some 48 wells, with more being drilled. Phases II and III of development are set for completion by 1999. Estimated reserves are 300 million tons. (Bohai fields alone produced approximately 42,000 b/d oil and 367 million cm gas during 1996. A new pipeline system is under construction that will link the multitude of fields and carry both their oil and gas to shore.)
Other fields in development include Statoil's Lufeng 22-1 250 km east of Hong Kong, which will be produced to an FPSO, and Chevron's Yinggehai and Qiongdongnan concessions near Arco's giant Yacheng 13 gasfield, with its 3.5 tcf gas, which is now in production south of Hainan Island.
In the East China Sea, Shanghai Petroleum and the China bureau of Marine Geology are developing their own giant gasfield, Pinghu, with its 2 tcf gas and 64 million bbl oil. Some 13 wells and pipelines to Shanghai are part of the development.
CNOOC's 9th 10-year plan began in 1996. The development program called for 10 million tons in annual production for last year, 12 million tons for this year, and between eight and 10 million through 2010. To that end, China National Offshore Oil Corporation (CNOOC) has signed more than 100 contracts with foreign oil firms for exploration and development in its three major provinces, the South China Sea (Nanhai), East China Sea (Donghai), and Bohai Gulf.
For the first time, China's offshore oil production exceeded 14 million tons in 1996, a 66% increase over the country's 1995 production of 8.41 million tons. In addition, the country had a seven-fold increase in its annual gas production, now at 3 billion cubic meters.
PHILIPPINES
E&P in the Philippines slowed during 1996 and will probably continue to slow unless an unforeseen discovery perks up interest. Alcorn, Shell, Occidental, and Philodrill continue to work their successful Palawan Island holdings, where each have had several discoveries over the last year and a half. Alcorn's West Linapacan Field is proving to be a major field, with reserves of 109 million bbl and growing production, now nearing 50,000 b/d. To the northwest, the Oxy-Shell Malampaya Field, with reserves of more than 300 million bbl, along with Camago and Calao Fields, have also shown to be major fields as well.
MALAYSIA
Over the past year, Malaysia's favorable terms have increased activity in the archipelago, with international operators returning primarily to explore the deepwater provinces, where terms are best. Consequently, several new prospects have been located with 3D seismic and drilling is ongoing by major players, including Occidental, Esso, and Shell, which have each had outstanding successes and expect their extensive investment in offshore Malaysian E&P to produce even more.
The biggest news of 1996 and 1995 were the discoveries in the Malay/Thai Joint Development Area, however, where, among others, the Triton-Cariga* JV continues to prove itself a major discovery, the Cakerawala-1A, which tested at 58 million cf/d gas and 945 b/d oil and condensate. Five wells were drilled there last year, and others are due to test the extent of the prospect this year. Another find by the Triton-Cariga* JV was the Suriya Field, which also tested 58 million cf/d gas and 351 b/d condensate. And the Bunga Orkid, Bunga Raya, and Bunga Kekwa Fields by IPC et al are proving to be major finds.
Esso's Guntong Field is now producing at 100,000 b/d oil. A total of 40 wells are planned for the Guntong D platform.
Oxy holds about 5 tcf in reserves in Block SK8 off Sarawak. Its wildcat, Ci* Radi-1, tested at least 1 tcf gas. Other sizable Oxy discoveries in the block have been at Jintan, Seria, Selasih, and Saderi. Esso plans $3.1 billion in additional investments, most likely at its Jerneh Field off Terengganu, and Abu Field in Block PM8.
Shell's discovery of the Kebabangan Field, has tested 1.5 tcf gas, in Block SB-1. This in addition to its Kinabalu Field, one of Malaysia's largest oil and gas discoveries, positions Sabah as a contender with Sarawak for gas production.
Off Sarawak, Shell's $8 billion project to develop some 11 gasfields and connect them to its MLNG II complex as a supplier to the Malay LNG Dua facilities in central Luconia is ongoing. A network of linked platforms is being constructed from which both processing and drilling will be done. Collective reserves are set at 8.6 tcf gas. It is expected to be fully onstream by 2000.
Mobil is drilling in deepwater prospects according to a PSC with Petronas. The company holds SK-A, SK-B, SK-C, and SK-D in the same area off Sarawak.
Shell, however, holds the principal deepwater block off Sabah in a PSC with Petronas. Block G has water depths ranging from 1,000 to 1,800 meters. Shell also holds Block SB-1, south of Block G.
VIETNAM
The glow is off Vietnam's offshore sector, or at least isn't quite as alluring as it once was. Perhaps because there haven't been quite as many discoveries over the past year as in the preceding few years, or perhaps it is because the inspiration for it all, Dai Hung Field, has not met expectations and been continually downgraded, or perhaps it is due to the Vietnamese government's more demanding attitude on exploration. Whatever the cause, fewer operators have ventured into Vietnamese waters over the past year, and there has been less overall activity.
Be that as it may, estimates still maintain that there are approximately a billion bbl oil and 5 tcf gas off Vung Tau in the Con Son Basin alone.
Dai Hung, taken over from BHP last year by Petronas, is now thought to hold less than 100 million bbl oil, but elsewhere activity has continued to prove out several earlier discoveries, including Petronas' Emerald Field in Block 01 and Ruby Field in Block 02, which are to be developed together. Emerald tested 2,741 b/d oil and 16.8 million cf/d gas, while the Ruby testes 1,750 b/d oil.
In Block 15.2, Mitsubishi is in the midst of appraising and development of its huge Aurora Field, which tested 14,400 b/d oil, and its equally significant other discovery, the Rang Dong Field, near the Bach Ho Field, which tested 7,159 b/d oil. Both continue to be evaluated as development commences.
Two important discoveries were made during 1996, Fina's double discovery in Blocks 46-1 and 51-1, where extensive gas reserves are believed to lie. The discovery wells produced 5,400 b/d oil and 36.4 million cf/d gas. Farther afield, Unocal is thought to have made a major gas discovery in its Block B northern Malay Basin, but little information has been released. It is thought that Unocal and its partners Repsol and Mitsui hope to wring a better arrangement out of PetroVietnam before announcing their find, which is likely to be tied into Unocal's major Gulf of Thailand pipeline systems. Additional drilling is being done this year to prove up the prospect.
THAILAND
Thailand, like several of its neighbors, has an economy among the fastest growing in the world. The kingdom is on the verge of becoming an industrialized nation, its economic diversification is wide and far-reaching, its infrastructure excellent. And this is due, in no small part, to the presence of vast petroleum reserves within its Gulf of Thailand aquatory.
The country has been a major player on the Southeast Asian petroleum stage for many years, and as each year goes by, it appears to progress both in its development of the reserves in its section of the Gulf of Thailand and in its terms of cooperation with international oil companies. As a consequence, Thai production has risen almost yearly, now to over 555.6 million bbl a year oil equivalent. Most of that production has come from the enormous Total-PTTEP (Petroleum Authority of Thailand Exploration & Production) Bongkot Field at 9.9 million cm/d and the Erawan, and Funan gasfields and Shell's Sirkit oil field. Total's Bongkot itself accounts for 30% of Thailand's present gas demand, producing more than 12.6 billion cu ft gas and 1.47 million bbl of condensate a year. But there are numerous other important fields currently producing in the Gulf of Thailand.
Probably among the most exciting are Pogo's Tantawan Field in Block B8/32, a major gas producer that is continuing to be expanded via new discoveries; Unocal's 2 tcf Pailin Field in Block B12/27, which will be coming online next year with startup production of 4.7 million cm/d; Ampolex's Kakrawake-1 in Block B10/32, with excellent showings, and Total's latest findings in the Bongkot Block, Nok Yoong-1 and Ton Sak-1, both with sizable reserves.
And even larger reserves are anticipated between Bongkot and Esso's 20 tcf brace of fields to the south in the Thai-Malay joint development area. It was divided into three blocks and awarded to 50/50 joint ventures between PTTEP and Petronas Cariga* (two blocks), and Petronas Cariga* and Triton Thailand (Block A18). PTTEP/Petronas will drill at least two wells this year; Petronas/Triton will probably drill five. In fact, as this report goes to print, it is rumored that Triton has had a huge discovery of 4 to 8 tcf in A18 on or near the Cakerawala structure.
Maersk, a longtime operator in the Gulf of Thailand, has exited the aquatory, having been forced to give up its considerable holdings including the highly prospective Block 8/32, with its Benchamas, Pakakrong, Kaphong, and Surat gasfields to option-exercising license partners Thaipo, Palang, and Rutherford-Moran Oil, who paid just US$28.6 million for all of Maersk's 31.67% interests.
INDONESIA
Gas, not oil, continues to be where Indonesia's future lies, but the superstar of last year, the enormous Natuna Field, has been bumped out of the limelight by several other gas giants with less baggage. Natuna's complex and difficult program for development of the massive 46 tcf field has been put on hold, it is said, by Indonesian President Suharto himself. Exxon, the operator with 50%, and its partners Mobil (26%) and Pertamina (24%) were just entering the pre-development stage when this word came. It seems Arco's Irian Jaya discoveries in the Wiriagar Deep and Berau Fields and British Gas's find in the Muturi concession next to them, which are thought to hold more than 20 tcf gas, are believed to be easier and more economical to bring onstream.
Pertamina, however, says development of Natuna will go forward, with first gas in 2003, but the project is vastly different from that originally proposed - this, Phase I, is a piped gas project that will deliver gas to Thailand from the Natuna Field. Greater development will continue to await more demanding customers.
Indonesia's oil production is dwindling rapidly, not down to 1.5 million b/d, and won't be able to keep up with internal demand, making the country a net importer by 2000. This is
not to say the country doesn't have oil reserves. It does. It is simply that they are located in deepwater and frontier zones, for the most part, that are far more expensive to explore and develop. Jakarta's new incentive programs to attract outside E&P investment, however, are attracting several majors and large independents, but there is still a way to go before Indonesia's excessive taxes and regulations are in line with the rest of Asia.
Thus gas will be Indonesia's saving grace. Considerable attention is being given to conversion of the domestic energy base to gas while maintaining maximum revenue-producing export of LNG to principal customers, Japan, South Korea, Taiwan, and soon Thailand. Current gas production is approximately 70 billion cubic meters a year, of which 60% is exported, but programs are in place to boost production to 125 bcm/yr by the end of the decade. Even the declining Arun LNG facility, with its six trains, has gotten a new lease on life with the discovery and development of the 1.24 tcf North Sumatra A Block reserves, set for delivery by 1999.
More than half of Indonesia's present export of LNG comes from the world's largest LNG plant at Pertamina's Bontang Field complex, with its six trains producing 15.4 million tons of LNG a year. Two additional trains are set to up capacity to 20.6 million tons.
If all goes as scheduled, Indonesia will both meet its internal demand and its total LNG export will stand at more than 28 million tons by the end of the decade, but that will include gas not only from Natuna, but the Irian Jaya and Kalimantan fields as well.
Conoco's Belida Field in development in the Natuna Sea, is soon to be producing 94,000 b/d oil. The company is working its three discoveries in Block B. Chevron/Texaco are working off Nias in North Sumatran waters. And BP has invested $115.9 million on Lombok, West Lombok, South Sulawesi, and in the Moluccas, as well as on a venture in deepwater off East Timor.
Arco and partner Maxus Energy had a discovery off Java. The LES-1 well, tested 62 MMcf/d gas and 1,219 b/d condensate. The Northwest Java concession, on which the well was drilled, currently produces more than 200 million cf/d gas, 110,000 b/d oil, and about 10,000 b/d natural gas liquids.
Marathon's KG/KRA Fields, brought online last year, are now producing 25,100 b/d oil from the first of three wells. The KRA Field is producing at 35,000 b/d.
Indonesian Celebes Sea tracts are to be offered by Pertamina, which will retain 85% of oil and 70% of gas production, with the balance left for production-sharing contractors. Unocal's Santan Field off East Kalimantan began production this year with the installation of a 20-slot platform, bringing output to 6,000 b/d oil/condensate and 50 MMcf/d gas.
AUSTRALIA
Western Australia is in the midst of a boom from the Australian-Indonesian Zone of Cooperation in the Timor Sea to the southwestern Perth Basin in the Indian Ocean. With the decline of eastern Australia's Otway and Bass Straits, the Northwest Shelf has become a hotbed of hydrocarbon activity - a phenomenal, multi-billion-dollar exploration, development, and production frenzy that is capitalizing on the countless known and yet-to-be-discovered reserves of oil and gas that are transforming Western Australia waters into a world-class oil and gas producing region.
Eighty percent of Australia's known reserves are in Western Australia, and the volume of reserves that are undiscovered boggles the mind - estimates are more than a billion bbl oil, more than 170 tcf gas. The offshore petroleum industry in Western Australia and associated waters has achieved a record of exploration successes unparalleled anywhere else in the world - nine out of ten major discoveries lie here. Yet of the country's 33 known basins, only 11 are in production.
In Australia's 30 years of exploration history, there has never been a time when there was more new offshore prospects, nor more activity on the part of both local and international operators to find and bring into production the vast oil and gas reserves of the region. In the extreme north, in the Timor Sea, three enormous plays loom large and indicate a far greater region of prospectivity than was previously thought: the huge Laminaria and Corallina oilfields, which are being developed in a fasttrack program by Woodside, BHP, and Shell via a common FPSO for production in 1999, and the giant Undan-Bayu Fields, in the Australian-Indonesian Zone of Cooperation, which will likely be unitized for development as a gas, condensate, and liquids producer.
In the Northwest Shelf's highly prospective Carnarvon Basin, huge reserves of oil have been discovered and are being developed and produced at a rapid pace, and, in just the last few years, enormous fields of gas and condensate have been found that are thrusting Western Australia into the forefront of liquefied natural gas (LNG) production and supply - a development of immense importance, since a quarter of the world's population, hungry for energy, is located in the rapidly developing countries of Asia just north of Western Australia.
Here, on the near reaches of the Continental Shelf are the tremendous oil and gas producers North Rankin and Goodwyn Fields, which provide input for the North West Shelf LNG Project; the well known Wanea Field and the Cossack and Skua Fields, which were among the first to utilize FPSOs. Between the North Rankin and Goodwyn Fields lies the newly discovered 10 tcf Lynx Field; and not far away, the East Spar and Wandoo Fields; and just beyond, Woodside Group has discovered the huge Persius Field with upward of 5 tcf gas, while the Wappet Group has found the enormous Gorgon Complex, which alone is capable of adding another 9 million tons of LNG to Australian exports to earn at least a billion dollars a year. But these are but the most recently revealed gas colossi, beyond them lie the mighty Chrysior and Scarborough Fields with several tcfs each, and farther still, the barely imaginable, immense deepwater Scott Reef and Breckenoff structures, gasfields that may rival Qatar's North Field and the gas producers of Indonesia in size, yet which lie beneath breathtaking coral reefs.
Development of Western Australia's incalculable gas reserves and its wealth of oil reserves is just beginning and is certain to carry the region to prominence in the next decade as one of the world's leading hydrocarbon producers.
Acknowledgments: Mackay Consultants, Price Waterhouse, Salomon Brothers, Wood Mackinzie Consultants, International Energy Agency.
Copyright 1997 Oil & Gas Journal. All Rights Reserved.