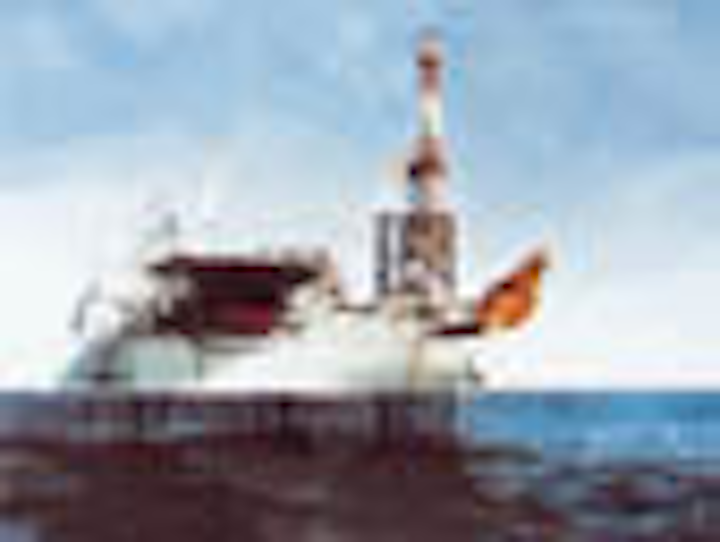 Amoco, Agip chalk up discoveries; LNG project off the drawing board

Flaring gas on a Nile Delta platform.
Dev George
Managing Editor
There's nothing new about Egypt being a source of petroleum products. That has been going on for thousands of years. What is new is the nation's near sudden transformation into one of the world's major gas provinces.
The country only recently began to reap the benefits of vast natural offshore gas resources in its Nile Delta aquatory. Egyptian oil reserves have grown steadily to 3.9 billion bbl today, but gas reserves have skyrocketed to an officially estimated 50 tcf in the last three years. Production is now approximately 1.2 million b/d oil and 1.3 bcf/d gas.
Half a billion dollars was invested in Egyptian oil and gas exploration and production by foreign petroleum companies in the first half of 1996, according to Dr. Hamdi el Banbi, Egypt's Petroleum Minister. Some 178 wells have been drilled in Egypt's Mediterranean shelf, mainly the Nile Delta, and in the Gulf of Suez.
New province
The Gulf is a mature oil province, but the Delta is a relatively new, world-class gas province, so much so that the World Bank recently estimated that approximately 40 tcf of gas reserves remain to be discovered in this sector of the Egyptian aquatory. Because of the remarkable gas reserves, Egypt is on the verge of becoming one of the world's leading petroleum plays.
For the last three years, there has been a boom in exploration and development in the country, particularly in the Nile Delta and Gulf of Suez. New discoveries and increased production seem to have been occurring daily.
Several recent discoveries are significant, including Amoco's find just west of the massive Gulf of Suez October Field, which tested 5,500 b/d oil and 5.9 MMcf/d gas, and Marathon's Ras El Ush, in the Gebel El Zeit sector of the southern Gulf of Suez, which tested 3,850 b/d oil in its first well and 4,358 b/d in its second.
North of the Suez Canal's Mediterranean entrance, Agip discovered the Wakar-2 in its Nile Delta North Port Said concession, which averaged 26 MMcf/d gas and 2,700 b/d condensate. And in the Egyptian section of the Red Sea, the BG/ONGC Videsh JV found several prospective structures that will follow BG's successful Zafarana Field development (20,000 b/d oil).
Gulf of Suez
The Gulf of Suez has long been at the center of Egypt's oil industry and is still the major activity area in the country, providing more than 80% of total production. Its fields yielded more than 40 million tons of crude oil last year.
Both 3D seismic and drilling (17 rigs) are occurring from Suez city to the Red Sea. Further drilling and development is continuing at Zeit Bay and near both the October and North October Fields, in the area east of Abu Rhudeis and Budran Fields, and to the northeast of Belayim Field.
Major natural gas discoveries have been made in the Mediterranean Nile Delta shelf. Discovery after discovery has been made there offshore the Nile Delta, a primarily gas-producing province. Amoco, Agip, BG, and Repsol have been the most active there. Abu Maadi Field continues, however, to lead the Delta area in production. Shell Pecten also has found considerable gas reserves in Belayim and oil indications off the Western Desert's Mediterranean coast, on Shakila and Marakia near Alexandria.
Egypt's future, however, is almost certainly tied to natural gas, to its discovery, development, and marketing, both domestically and internationally. Amoco Egypt, the country's largest operator after Egyptian General Petroleum Corporation, in consort with International Egyptian Oil Company, Agip's local affiliate and the state oil company, has had several important gas discoveries in the Nile Delta's Ras al-Barr region and in the Temsah concession off Port Said. Several of the other recent discoveries in the Delta, on the Wakar and Port Fuad Fields, will soon come onstream.
So far during 1997, several major discoveries have been made:
Amoco found significant gas reserves in its North Sinai concession when its Tao-1 wildcat tested 37.9 MMcf/d of high quality gas, the company's 16th discovery here in only five years.
BG (formerly British Gas) had its first discovery on its Rosetta Concession, some 70 km northeast of the Abu Qir Field and 48 km north of Alexandria. Located in 61 meters of water depth, it tested more than 60 MMcf/d of high quality gas from three zones.
Nearby, in the Timsa Block of the Nile Delta, IEOC discovered another gasfield at 82 ft water depth, the Abu Seif, whose discovery well tested 10.2 MMcf/d.
Agip/EGPC's huge 1.4 tcf Nile Delta's Wakkar Field went into production for Balaym Petroleum at 42 MMcf/d gas and 2,700 b/d condensate.
LNG
Egypt's ever-expanding Mediterranean gas province centered on the Nile Delta is destined to propel the once energy-poor country past self-sufficiency into the realm of world-class gas exporter. For years, Egypt had to rely on a cobbled together complex of energy sources that relied heavily on electric power generation via the Aswan High Dam on the upper Nile and hydrocarbons from the Gulf of Suez and Western Desert.
But times have changed. Amoco, Agip, British Gas, and Egyptian General Petroleum Corporation have been steadily increasing the known natural gas reserves in Egypt's Mediterranean aquatory - now officially estimated at some 50 tcf.
Earlier this year, EGPC and the Ministry of Petroleum wrestled with the question of how the country's vast quantities of gas would be exploited. It was finally determined that a complex of LNG and export pipelines would be built to serve the export side of the industry and that a gas pipeline company has been set up,
Egypt Trans-Gas Co, in a joint venture between EGPC and Amoco, IEOC, and British Gas, with pipelines linking the Nile Delta, Western Desert, and the current gas grid, since Egypt's domestic con sumption is expected to rise to 2.8 bcf/d within a decade.
It was initially thought to have an export pipeline to Israel as well, since that country is expected to require some 600 MMcf/d in about five years. That pipeline project, however, has been bogged down by price negotiations and the political intransigence of the Netanyahu government.
As a consequence, last year's feasibility plan for establishing an LNG plant in the Delta was approved by EGPC and its partners and a first customer contracted. Dr. Hamdi el Banbi, Egypt's Minister of Petroleum, and Mr. Recai Kutan, Minister of Energy and Natural Resources of Turkey, signed a memorandum of understanding for exports of liquefied natural gas to Turkey's Botas Petroleum Pipeline Corporation.
First deliveries of LNG under the project are expected to begin in 2000, with capital costs expected to be in the range of US$2-4 billion. EGPC and Amoco will construct and operate the gas liquefaction plant as well as handle the transportation and commercial sale of the LNG to Turkey. A second joint venture, to be established by BOTAS, will construct and operate a regasification plant and other facilities near Izmir, Turkey. BOTAS will be the principal purchaser of the LNG under long-term contract in quantities up to the equivalent of 10 billion cubic meters (7.3 million tons) per year.
Other regional markets are under consideration, as is the possibility of other partners in the LNG project. According to William G. Lowrie, President of Amoco Corporation, Egypt is destined to become a major natural gas producer and a key energy provider in the East Mediterranean region for many years to come.
"It is clear," said Dr. Hamdi El Banbi, Egypt's Petroleum Minister, "that we have discovered a world class natural gas resource in the Nile Delta, with sufficient gas not only to fuel our own expanding domestic demands, but for export to developing gas markets throughout the eastern Mediterranean and beyond."
A site west of Port Said has been selected for the US$1.2 billion LNG project, which will include a single train plant to provide 4 billion cm/yr to Botas, with first delivery in 2001. Expansion of the facility is expected to accommodate further exports.
Egypt's domestic gas consumption will continue to rise rapidly, since the country is converting all its present oil-fired power plants to gas. New plants now under construction or projected for future construction will also be gas-powered. Furthermore, industrial users not now on the gas grid system are expected to be linked in within five years, as are nearly a half-million private residences and more than 5,000 commercial establishments. The huge petrochemical complex scheduled for the Gulf of Suez will also be joining the grid, as will a gas processing plant near Alexandria, which will convert some 300 million cf/yr to LPG for domestic purposes.
Egypt's Gulf of Suez has been at the heart of Egypt's petroleum industry for many years and will continue to be a major oil production area, but the focus is slowly shifting to the Nile Delta and to gas as the future of the country's petroleum industry.
In the meantime, the country is producing approximately 880,000 b/d oil (and 1.6 bcf/d gas), with oil exports accounting for more than US$1.6 billion in hard currency earnings. Amoco Egypt Oil Company, through its Gulf of Suez Petroleum Co. (Gupco) is the largest oil producer, with an output of about 360,000 b/d, while IEOC, the Agip-EGPC JV, is the largest producer of gas, at 525 MMcf/d (and 290,000 b/d oil), through its JV with EGPC, Petrobel. Third place producer is Suez Oil Co., a JV between EGPC, Repsol, and Deminex, which accounts for some 90,000 b/d. Oil production is expected to top 1 million b/d by 2000.
Copyright 1997 Oil & Gas Journal. All Rights Reserved.