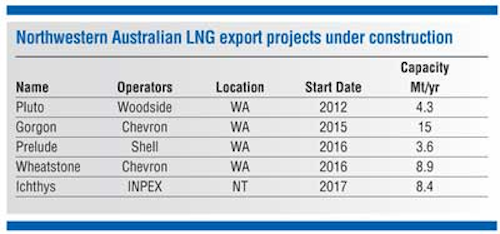 The economic growth in the Asia/Pacific region, particularly India and China, has made a dependable energy supply sufficient to meet the increasing demand critical to maintaining the expansion.
According to Infield Systems Ltd., total capital expenditures in the region are expected to exceed $90 billion during 2011-2015, a 55% increase from the previous five-year period.
The significance of offshore oil and gas exploration and development to the countries of the Asia/Pacific region can be seen in the continuing disagreements among those countries as to which controls what water. The South China Sea is a prime example.
Vietnam, China, and the Philippines agreed in 2005 to protect oil and gas activities in the region, but, as energy demand rises, tension rises among countries that claim ownership to this territory. PetroVietnam and ONGC Videsh signed a cooperative South China Sea exploration deal that has raised the hackles of the Chinese. And, there are other similar, if not so geopolitically charged conflicts. The end of this story has yet to be determined.
Following are deeper looks into current and future operations in selected countries comprising the Asia/Pacific region.
Australia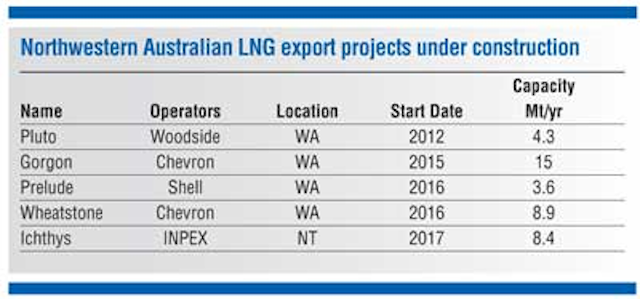 Away from all that to the south, Australia sees huge gas reserves in the Timor Sea and Carnarvon basin offshore northern and western Australia being developed for LNG exports to the big demand centers in the region.
Several major new LNG projects are under construction or in advanced stages of planning. They include:
The Pluto project near Karratha offshore Western Australia with estimated capacity of 200 Bcf of LNG per year. Woodside Energy owns 90% of the venture supported by 15-year sales contracts with Kansai Electric and Tokyo Gas, which have 5% equity each. The Pluto project includes an offshore platform connecting five subsea wells and a 112-mi (180-km) pipeline to an onshore LNG facility on the Burrup Peninsula. Plans for a second train are on hold as additional gas supplies are sought.
The Gorgon project, led by Chevron (50%), with Shell and ExxonMobil (25% each), is on track to start up in 2014. The Gorgon gas field, which is 80-124 mi (130-200 km) off the northwest coast, is believed to contain 40 tcf of natural gas. The project includes development of the gas fields, with connection by subsea pipelines to Barrow Island, where gas processing facilities will have production capacity of 700 bcf/yr. In the beginning of 2011, Chevron signed long-term sales agreements with Nippon and Kyushu corporations, and the project is expected to produce 390 bcf of LNG and 19 MMbbl of LPG, as well as 100,000 b/d of condensate when completed.
The Ichthys project, off the northwest coast in the Browse basin, is moving on construction. The project is led by Japan's INPEX (74%) and Total (26%). A 528-mi (850-km) undersea pipeline will connect the fields to a new export LNG terminal to be built near Darwin. When the project comes onstream in 2016, its production is expected to be 380 bcf of LNG and 19 MMbbl of LPG per year, as well as 100,000 b/d of condensate.
The Wheatstone project in northwestern Australia is led by Chevron (73.6%) and Apache (23%), Kuwait Petroleum (KUFPEC) (7%) and Shell (6.4%). KUFPEC and Apache joined the project as gas suppliers from their nearby Julimar and Brunello fields, which will extend the life of the project. Wheatstone is supported by long-term LNG sales contracts with Tepco and Kogas. When complete in 2016, the first two trains of its LNG export plant are expected to export 433 bcf per year.
Shell's Prelude project is pushing the technology envelope by designing a floating LNG processing vessel to moor at the fields. This project, also in the Browse basin offshore Western Australia, is expected to start up in 2016 with production targeting 3.6 Mtpa of LNG, 32,000 b/d of condensate, and 0.4 Mtpa of LPG.
And there are more such as PTTEP's Montara/Skua oilfield development in the Timor Sea and the Woodside-operated North Rankin B project in the Carnarvon basin.
China
CNOOC, the Chinese National Offshore Oil Co., leads China's domestic exploration and production efforts. It has been busy, too, as the demand for domestic energy rises. There are four new offshore projects scheduled to go onstream this year, and 16 more are in various stages of construction.
The Panyu 4-2/5-1 Adjustment project start is scheduled late this year with two platforms and new wells. In South China Sea block 15/34, CNOOC is operator with ConocoPhillips. This block contains three oil fields, Panyu 4-2, Panyu 5-1, and Panyu 11-6. In November 2010, the expansion project was approved by the co-venturers, and construction is under way.
There are a number of such expansion projects on CNOOC's schedule. In addition to Panyu, Phase 2 of Suizhong 36-1 is due onstream in 2013, the Qinhuangdao 32-6 and Jinzhou 9-3 projects in 2014, and Dongfang 1-1 in 2015.
Even with this, there are large unexplored areas offshore China. From 2006 to 2010, CNOOC averaged 13 discoveries. Last year the total number of wells drilled was 103 and the 2012 total is pegged to be 114. Of this last number, ONGC plans three deepwater wells in the Pearl River mouth basin plus 2D and 3D seismic data acquisition in deepwater.
Preparations are continuing for the WZ 6-12 and WZ 12-8 West oil development in the Beibu Gulf, offshore China. CNOOC has assumed operatorship of the project from ROC and has established an operating subsidiary company, Weizhou Operating Co.
In China's Bohai Bay, ROC is operator of the Zhao Dong C & D oil fields; unitized operator of the C4 oil field; and operator of the Zhanghai and Chenghai blocks. Early in April, a 20-well development drilling program got under way, comprising 15 producers and five injectors. By mid-year, five producers and one injector had been drilled from the C & D field platform, of which three were pending completion.
India
At its current status, India has to import crude, and unless or until there are significant liquids discoveries, India's imports will need to get bigger to meet its demand.
For natural gas, however, the future is different. Gas demand for power stations is rising and is expected to continue to rise for at least the next several years. The good news is that gas developments are ongoing, too.
The offshore sector accounts for about two-thirds of India's total crude oil production. The offshore fields at Bombay High, Rava, the Gulf of Cambay, and others produce about 23 MMmetric tons of crude oil per year. The Integrated Energy Policy of the Planning Commission indicates the country's energy demand is set to grow four-fold by 2032.
Regional gas producer GSPC has received approval from the Directorate General of Hydrocarbons (DGH) to develop the Deen Dayal gas field in the Krishna Godavari (KG) basin. The field is estimated to hold 56.6 bcm (≈2 tcf) of reserves and is expected to reach between 2 bcm/yr and 3 bcm/yr (70.6 bcf/yr and 106 bcf/yr) production.
State-controlled ONGC estimates a total gas volume in its deepwater DWN 98/2 block in the KG basin at 100 bcm (3.5 tcf).
About a year ago, Reliance Industries Ltd. (RIL) and BP announced a strategic partnership with BP taking a 30% stake in 23 oil and gas production sharing contracts that Reliance operates in India, including the producing KG-D6 block. The partnership combines BP's deepwater experience with Reliance's project management and operations expertise. BP will pay RIL an aggregate $7.2 billion. Future performance payments of up to $1.8 billion could be paid based on development of any commercial discoveries. RIL will continue to be the operator under the production-sharing contracts. Completion of the transactions is subject to regulatory and government of India approvals.
Close to 44% of India's sedimentary basin is already under offshore exploration for hydrocarbons and that number is expected to rise to 80% in the next four years. The NELP program aims to make this 100% by 2015.
Growth should be boosted by the upcoming Open Acreage Leasing Policy which is to replace the NELP system. The GoI has a phased auction of seabed plots to both private and public operators to encourage offshore drilling.
Of 121 discoveries, 80 are under evaluation, 21 are declared commercial, 7 are under development, 12 are on production and 1 has been relinquished as uncommercial.
So far, 50% of India's sedimentary basin area is under offshore exploration thanks to NELP. This has resulted in increase of hydrocarbon reserves equivalent to 600 MM metric tons.
Offshore oil reserve basins in India are located on the east and west coast. On the west coast, the major fields are in Mumbai High, Gulf of Cambay and Kutch, and Cauvery Offshore and KG Offshore (deep and shallow). Mahanadi and Andaman are on the east coast.
Oil and Natural Gas Corp. (ONGC) is the foremost public sector exploration and production company in India with almost 80% of the total offshore crude oil production.
In the long term, offshore oil and natural gas exploration is headed toward deepwater and ultra-deepwater territories. With the increased influx of companies converging on these territories, new commercially viable discoveries in these areas are expected. Indeed, if India plans to meet its production growth targets, those discoveries will be necessary, not just expected.
Taiwan
Taiwan's state-owned CPC says it will invest $1.18 billion in each of the next five years to acquire and explore overseas energy resources mainly in Africa and the Asia/Pacific region. As a result, the company expects to be able to boost its daily crude output from 12,000 b/d to 27,000 b/d from 2012.
In offshore operations, the Oil Field Development Investment Proposal for the F structure offshore of Kaohsiung was postponed for two years due to the increase in cost resulting from the rising price of crude oil and the resulting increase in the cost of offshore development equipment during.
A revised proposal was approved at the end of May 2010. Project management and preparatory work for related tender documents is being carried out, and the project is expected to go into operation in 2014. About 1,800 sq km (695 sq mi) of 3D seismic surveys are planned for the F structure and neighboring areas.
In the field of cross-straits cooperation, the Tainan basin and Choshan sub-basin Petroleum Contract is continuing to be carried out and negotiations are under way for the Nanri Island basin petroleum contract.
Thailand
Thailand's state controlled PTTEP is investing in domestic gas production, plus rising volumes supplied by Chevron and partners in the Thai-Malaysia joint development area. This total gas production is expected to reach 34.0 bcm (1.2 tcf). Oil demand has been on a rise to an estimated 977,000 b/d in 2011.
More than 90% of Thailand's gas reserves of about 14 tcf are offshore, in the Gulf of Thailand. Oil companies are operating on just over 20 fields in the Gulf of Thailand.
The country has attracted major IOCs, notably Chevron, Mitsui Oil Exploration, and Hess. Chevron is the biggest operator in Thailand followed by PTTEP. Salamander has a 100% operated interest in the Bualuang oil field, Gulf of Thailand.
Coastal Energy has interests in two concessions offshore (G5/43 and G5/50) in the Gulf of Thailand and has an enviable string of drilling successes at its Bua Ban holding with more than six discovery wells. The latest as of this writing is the Bua Ban North A-11 well. This is delineation well for the Lower Miocene (M100) reservoir and also an appraisal well for the deeper Miocene (M500). Both reservoirs were encountered as expected and showed better quality sands than in the nearby A-01 well.
M100 contained 47 ft (14 m) of net pay with 29% porosity and M500 showed 9 ft (2.75 m) of 26% porosity sands. This compares to 32 ft (9.75 m) at 25% and 5.5 ft (1.7 m) at 25% for A-01. Coastal Energy Co. reports successful drilling of its first horizontal development well at Bua Ban North in Thailand.
The North A-10 reached the Miocene reservoir on the western side of the field and encountered 1,185 ft (361 m) of net pay in the horizontal section. The lateral section was drilled at 3,695 ft (1,126 m) TVD. The well is complete with a submersible pump and is ready to produce when the MOPU installation is complete.

More Offshore Issue Articles
Offshore Articles Archives
View Oil and Gas Articles on PennEnergy.com