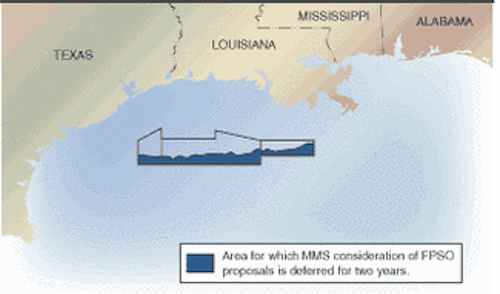 Support companies are lining up, ready to provide goods for the first FPSO to hit the Gulf of Mexico. No company has submitted an application to develop a GoM field using an FPSO, the US Minerals Management Service confirmed, but that hasn't stopped companies from preparing for that eventuality.
Aker Kværner's Maritime Tentech joined up with Hyundai Heavy Industries to design a 920,000-bbl capacity FPSO, and Conoco subsidiary Seahorse Shuttling and Technology designed the 80,000-dwt double-hulled GoMAX 550 shuttle tanker.
"We started work on this project a year ago when we were approached by Hyundai Heavy Industries," said Johan Beek, senior vice president for sales and marketing for Maritime Tentech. The two companies signed a memorandum of understanding in October 2000 to pursue FPSO newbuild projects for the GoM.
Maritime's first move was to survey about 20 oil companies with operations in the Gulf of Mexico for input on requirements for an FPSO.
"Based on that input, we set up design parameters," Beek said. "We identified the varying differences between the North Sea and the Gulf of Mexico, and that was implemented in the new design."
The difference between the two offshore oil areas is weather, or more specifically, hurricanes. North Sea FPSOs are designed to be permanently manned.
"The design of the FPSO had to be based on an unmanned vessel during a hurricane," Beek said. "The operators in the Gulf of Mexico told us we had to base our design on abandoned ship conditions."
So Maritime Tentech designed a vessel based on a free weathervaning unit with nearly no thruster capacity. Maritime's FPSO and turret design features the capability to take large mooring and riserloads, which occur in deep-water, with large number of mooring lines and with steel catenary risers.
The company said it can take the now-generic FPSO and customize it into a location-specific design and have it ready for the Gulf of Mexico in about 30 months.
"We have a concept that is pretty much ready to go," said Henrik Hannus, Aker Kværner's team leader for floating systems, of the FPSO design, which capitalizes on the designs Aker Kværner has.
The unit would be a new build, not a conversion, which the company does not expect the MMS to approve, Hannus said.
Aker would sell the unit, not own and operate it. The company would likely build the bulk of the FPSO overseas and bring it to a US yard to integrate it to the deck to keep within regulations, he added.
"We have a short list of yards that are well suited for outfitting the FPSO," Hannus said.
The FPSO would be designed for two decades of service without dry docking.
"We are very much optimistic in the GoM FPSO and expect to have newbuilding orders early next year," said J.G. Kim, Hyundai's general manager for ship sales.
FPSOs in the GoM will need reserve capacity. While it may never be completely emptied out, it also may never be filled up. Providing the spare capacity on the FPSO gives room for weather delaying the shuttle tanker or other holdups that might keep the reserves from moving from the FPSO to a shuttle tanker.
Shuttle tankers
The GoMAX, designed to transport 550,000 bbl of crude to shore from the deepwater Gulf of Mexico, is Seahorse's ante into the FPSO game.
"We believe US-built shuttle tankers will compete favorably with pipelines as oil and natural gas discoveries move into the deeper water depths in the Gulf of Mexico where pipeline construction is costly and operations are more difficult," said Matthew Prichard, vice president of marketing and commercial development for Seahorse.
Seahorse President Robert Lindsay said it will be a challenge to build Jones Act-compliant shuttle tankers on time and within budget. The first of the GoMAX 550 shuttle tankers could be operational in the Gulf of Mexico by 2005. Korea's Samsung will design the vessels, and the Alabama Shipyard in Mobile, Alabama, will build the tankers. Seahorse will own and operate the units and will not build one on spec.
"We had a very good core base of technology that we could apply to deepwater Gulf of Mexico," said Chuck Steube, manager of production operations in Conoco Marine's floating systems division. "What we're saying is the technology for shuttle tankers and FPSOs is not really new technology."
As the technology has been around for nearly two decades, "all we're doing is applying it in a new manner in the Gulf of Mexico," he said.
Offloading
Conoco also sought help with the offshore loading solution for use with FPSOs. Conoco approached Hitec Marine (see page 134 within the Norway supplement), and the two companies worked together to develop HiLoad from Hitec's original brainstorm of using a large ROV to swim over to the tanker and connect the hose, Claes W. Olsen, Hitec Marine's business development manager, said.
"By the time we showed it to Conoco, we had a good feel for it," he said. "Of course, there were lots of issues to be looked at, but the overall idea was there."
The system is ready for fabrication, he said of the concept for which Conoco funded technical development and model testing. Fabrication of the first unit, Olsen said, will take about 18 months, which will allow for testing. Subsequent units, he said, would not take as long in the fabrication phase.
"Conoco started looking at it for the Gulf of Mexico, but what we have seen in the development is that it has a number of possible applications," Olsen said, noting that the unit could easily find itself destined for work in deepwater and ultra deepwater environments.
The HiLoad unit, to which Hitec Vision holds the technology rights, is an offshore loading buoy that can be used with any tanker of opportunity.
Hitec considers the unit to be a safer way of offloading because it increases the distance between the tankers from the normal nominal 100 m apart up to a safer 600 m apart.
"With the HiLoad system, you stay 600 meters away, so there's much more time to actually take action in case something happens," he said.
Hitec has marketed the unit to other oil companies, he said.
"The oil industry is a conservative business, and nobody wants to go first," Olsen said. "We had assumed this would be too innovative for most oil companies to be interested, but our experience is the opposite, that they are really fascinated, and they are very positive about this concept."
Possible FPSO destinations
MMS Regional Director Chris Oynes said no applications had been received for FPSO-based developments. "There are rumors that some people are close," he said.
The rumor radar is picking up Unocal. The company's Trident prospect in Alaminos Canyon block 903 in the Gulf of Mexico in 9,700 ft of water could represent a prime FPSO development. Unocal's Mike Bell, vice president of the deepwater unit, said the earliest his company could submit a development application of any type is next year. The company completed its first appraisal well at Trident, and it "gave us what we expected," he said. The company expects to drill a second appraisal well with the Discoverer Spirit later this year.
Bell said the company must complete a feasibility study before Unocal and its partners can consider how it might develop the field. The company is evaluating development alternatives for all of its deepwater fields, he said, adding that it takes three to five years to execute a development plan.
The flexibility and portability of FPSOs suit them to early production operations.
Bell said the company is keen to use FPSOs in the Gulf because they represent reduced cycle time, lower capital expenditure, lower oil transport costs, marketing flexibility, more easily expanded facilities, reusability, and financing flexibility. Bell said he expects the FPSOs to "be an important part of our future" in the GoM.
Trident "has the potential to be the first FPSO because of its location in deepwater and because of its distance from infrastructure," Steube said. "It's just a matter of matching the type of reservoir discovered with a field development scenario."
There have been 108 FPSO deployments worldwide, according to analysts Douglas-Westwood Associates, and 74 of those are in operation. The firm forecasts the Gulf of Mexico will see $550 million in capital expenditures associated with FPSOs through 2006, with one FPSO installed in the Gulf in 2006. Douglas-Westwood put total floating production system installation capex in the GoM for 2002-06 at $6.1 billion.
The fight for acceptance
Many FPSOs have worked in harsher conditions than those that prevail in the Gulf, Bell said. "Their environmental track record is exemplary."
That track record helped carry the technology through scrutiny of the MMS and US Coast Guard. In December 1998, the USCG and MMS outlined whose regulations and standards applied to which aspect of FPSOs, in the event FPSOs were approved for operations in the Gulf. The agreement specified that the USCG would oversee lightering equipment and procedures and living accommodations, and the MMS would regulate drilling, completion, well servicing, and workover operations. In some instances, the two agencies overlap, such as with the structural integrity and the mooring and tethering systems.
"It's a pretty clear road map for who the operator needs to go to," Oynes said.
The MMS said on Dec. 31, 2001, that it will accept applications for FPSO-based developments and that it will consider each plan individually.
The final environmental impact statement (EIS) was released Jan. 1, 2002. The Gulf of Mexico-wide EIS does not, however, preclude the need for a site-specific EIS. Oynes noted that a six-month EIS for a development site is part of the application process.
USCG Rear Admiral Paul Pluta said his agency's regulations offer some flexibility in FPSO design.
"In many areas, we aren't looking to set a specific standard," he said. The USCG will tailor its review to the conditions the FPSO will face, he said. Some possibilities the USCG will consider include synthetic mooring lines, aluminum living quarters, and various transfer systems and methods, Pluta said.
"We must determine that the operation can be done safely," he said.
null
Hyundai-Maritime Tentech FPSO design specifications
Length: 255m
Depth: 25.7 m
Draught, design: 19.25 m
Crude oil storage: 920,000 bbl
Hurricane (100 yr) wave height: 12.2 m
Loop current (100 yr) surface current: 2.1 m/s
Water depth: 5,000 ft.
null
Samsung-Seahorse GoMAX 550 design specifications
Length: 240 m
Depth: 18.4 m
Draught, design: 11.9 m
Crude oil storage: 550,000 bbl
Cargo loading system: bow loading, VOC return
Service system: 3.5 knots