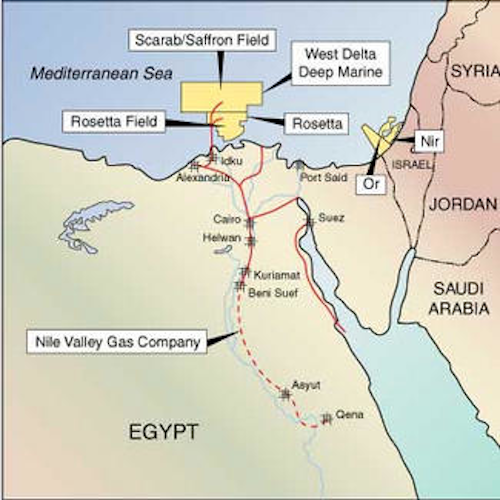 Egypt is pressing ahead with plans for new liquefied natural gas (LNG) and gas-to-liquids plants, sourced largely from deep-water fields in the Mediterranean. It also remains on track for a long distance, overland gas export line to Turkey, despite the unrest in the regions en route.
Government representatives outlined pro-gress on the various projects at the recent North Africa Oil & Gas Summit in London, organized by IBC Global Conferences. Among the speakers was Mohamed Shamel Hamdy, Undersecretary for Transportation and Marketing at Egypt's Ministry of Petroleum. He said that Egypt's proven gas reserves now stood at 55 tcf, against 12 tcf in 1990.
If the recent success rate with deepwater exploration wells is maintained, that total could ultimately reach 120 tcf, he claimed. Newly discovered reserves in 1999 and 2000 were respectively 9.7 bcf and 9.2 bcf, and he anticipated a similar figure this year.
Hany Soliman Aly, Operations Vice Chairman of the newly formed Egyptian Natural Gas Holding Company, added that the nation's daily gas production had risen from 300 MMcf/d in 1982 to an average of 2.4 bcf/d in 2000. The Mediterranean Sea housed 72% of its current gas reserves, the Gulf of Suez 10%, and the Nile Delta 3%, with the remainder onshore. But the Mediterranean Sea accounted for only 10% of Egypt's oil and condensate reserves at present. Hamdy added that a big oil discovery had recently been recorded in the Gulf of Suez.
Internal demand
Following the drive to increase reserves, the government's next goal, Hamdy maintained, was to satisfy increasing demands for petroleum products from Egypt's population of 66 million. Domestic oil and gas consumption climbed from 26.3 million tons in 1990 to 40.2 million tons in 2000. Gas' contribution to that total over the same period rose from 6.1 million tons to 17 million tons. That figure equates to 42% of hydrocarbons consumed, against 12% in 1982, reflecting the recent surge in gas-fired power and other industrial complexes across Egypt.
Hamdy pointed out that in 1975, the country had no overland gas transmission system, but by last year 3,800 km of gas pipelines had been installed, and 5,000 km should be in place in 2005. By then, a total of 4,500 km of crude/products lines will also be operational.
Last year, nine refineries around Egypt were processing a total of 35 metric tons of crude, against 8 metric tons from two refineries in 1975. Between 1990-2000, total oil and gas expenditure across the country was $14.5 billion, $10 billion of which was in upstream activities.
Currently, the government is promoting investments in "mega-projects," Hamdy said, particularly exploration and development of deep and ultra-deep waters in the Mediterranean. There are three in-situ or potential gasfield development projects:
BG's West Delta Deep Marine in 350-980 meters water depth (estimated cost $1.3 billion)
Shell's Western Mediterrean block, in 395-570 meters water depth ($1.25 billion)
BP/Eni's North East Mediterranean concessions, in water depths of 1,465-1,765 meters water depth. Here the investment is still under evaluation, Hamdy said, but would probably be higher than for the other two projects.
Domestic projects
Some of the gas could be used by a new ethylene plant southeast of Alexandria, and a new polypropylene plant near Suez that recently started operating. A further $10 billion will be spent on domestic petrochemical infrastructure by 2020.
Spain's Union Fenosa is currently building Egypt's first LNG plant, in association with Egyptian General Petroleum Corp. (EGPC). The latter is also engaged in front-end engineering with BG and Italy's Edison for an LNG complex relating to West Delta deep gas, at a site east of Alexandria. BP/Eni have signed an agreement relating to production of LNG and natural gas liquids (NGL) from their concessions, while Shell has entered into a memorandum of understanding concerning an LNG/gas-to-liquids (GTL) facility for its future developments.
As for gas export lines, Egypt has signed a contract to supply gas from El Arish north of Suez to El Aqaba from mid-2003, Hamdy said. Egyptian/Libyan Western Gas Export Com-pany - a public/private sector partnership - had been established to operate a planned gas line between these two countries, and to provide supply sources for the proposed long distance line to Turkey via Syria (and possibly also Lebanon). Hamdy pointed out that Turkey was also connected to European markets, which could bring further export opportunities for this line.
Projects underway
Mohamed Shetta, a VP at ENNPI - onshore contractor for the West Delta Deep Marine project - said that Burullus (the BG/EGPC operating venture) planned to produce 600 MMcf/d from the two fields under development, Saffron and Scarab. The fields are situated 90 km north of the western edge of the Nile Delta. In total, eight development wells will be drilled, with a subsea gathering system in 650-850 meters water depth. "Before this, all Egyptian offshore operations were in the 100 meters depth range," Shetta stressed.
The wells will be controlled directly from land through electro-hydraulic umbilicals (3.5-in. and 4.5-in.) The export pipeline was initially sized with a diameter of 30-in., but this was raised to 36-in. following a subsequent discovery. Subsea hardware will be installed by Stolt Offshore. An Intec/Bechtel consortium is the overall project contractor.
Hamdi admitted that four LNG projects was an ambitious undertaking for one country, but so far, only two are signed. The EGPC and Burullus projects should come to fruition during 2004-2005. Also, Shell has secured a market for its gas, but its scheme may take one or two years longer. The BP/Eni project had no set time scale, Hamdy added, and the operators may be waiting on the results of numerous wells planned in the deepwater North East Mediterranean concession over the next few months.
Shell operates the Nimed Block offshore the Nile Delta, over an area similar in size to The Netherlands, said Mounir Bouaziz, VP Eastern Mediterranean/Levant region for Shell Inter-national Gas. "We believe our acreage is highly promising. During 2001, we drilled two wells on our block - one was a gas discovery, proving an extension of the gas play. Early in 2002, we will drill two more wells.
"There is potential for several gas export projects in Egypt, but we think it's important first to get a direct injection of foreign currency. Currently, all distributors selling to the local market are being paid in Egyptian pounds, while the producers are paid in dollars." Export projects would generate more dollars for Egypt's treasury. One of the proposed schemes - the overland pipeline to Turkey - could be competing for an overall market approaching 10 bcm/yr, he added.
Shell is considering GTL as an alternative to LNG for its offshore gas, partly with an eye on Egypt's huge taxi-driver market. Shell operates a 1,500 b/d GTL plant in Bintulu, Malaysia, and has investigated transferring the technology to numerous other countries including Egypt, Argentina, Indonesia, and Trinidad.
Mouaziz estimated that a 75,000 b/d GTL plant in Egypt would cost $1.8 billion currently, compared with $1 billion for a 4-million ton LNG train. But capex for this technology is expected to decrease over the coming years, he said.