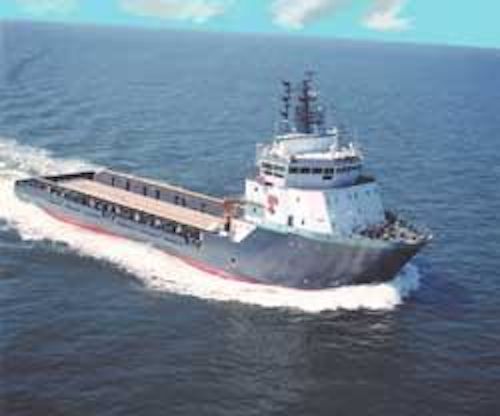 By Jennifer Pallanich Hull, Houston
Supply vessels delivered
Tidewater Inc. took delivery of the M/V Miss Jane Tide, a VS 480 platform-supply vessel built by the company's Quality Shipyards in Houma, Louisiana. Miss Jane Tide, designed by the Norwegian firm Vik-Sandvik, is the first of four identical vessels that Quality will build. At 260 ft, she is the first domestically constructed vessel to be delivered under Tidewater's construction program announced last year. Tidewater also took operational delivery of the M/V Ace Nature, one of eight vessels acquired from Sanko Steamship Co. in late 2000. At 276 ft, the Ace Nature, a UT 745 PSV, is one of the largest ships in Tidewater's fleet. On entering Tidewater's fleet, both the Miss Jane Tide and the Ace Nature went on charter at rates of $20,000/day.
No FPSO for Llano
While the US Minerals Manage-ment Service has said it would accept applications to use floating produc-tion, storage, and offloading (FPSO) vessels in the Gulf of Mexico, companies haven't bitten yet. EEX Corp. and Enterprise ditched plans for a floating production unit to develop the Llano Field in Garden Banks blocks 385 and 386. EEX said Llano operator Enterprise is no longer considering former production semisubmersible Garden Banks for use in the Llano Field development in 2,600 ft water depth. Pipelines remain under consideration, however, as a transportation alternative for Llano, EEX said.
The Llano Field, 125 miles offshore Louisiana, was discovered in 1997. In December, Glomar Arctic I drilled Garden Banks Block 385 No. 1 appraisal well to a measured depth of 24,813 ft. Logging results confirming 400 ft of net pay prompted PanCanadian Executive Vice President of Exploration Gerry Macey to say the well, "has the best reservoir quality encountered to date on the structure."
Partners are Enterprise, with 27.5%; Amerada Hess, with 27.5%; ExxonMobil, with 22.5%; and PanCanadian Energy, with 22.5%.
Pipelines planned
BP reported plans for three pipelines to transport crude from the BP-operated Thunder Horse, Holstein, Mad Dog, and Atlantis fields in the Gulf of Mexico. The 28-in., 120-mile Caesar oil pipeline will serve the Southern Green Canyon area and will initially bring oil from Holstein, Mad Dog, and Atlantis to Ship Shoal 332 in shallow water. Ship Shoal 332 has connections to markets in Texas and Louisiana. Caesar will have a 450,000 b/d capacity. Pipeline partners include BP with 56%, BHP with 25%, Equilon Pipeline with 15%, and Unocal with 4%. BP also signed agreements with El Paso Energy Partners covering the movement of oil from Ship Shoal 332 to Texas markets via the Cameron Highway Offshore Pipeline System, which El Paso Energy will construct. Caesar and Cameron Highway are scheduled to begin service in 2004, in time for Holstein Field startup. The other pipelines to be built for BP will transport crude oil from the Thunder Horse Field (formerly known as Crazy Horse Field) in the Missi-ssippi Canyon area of the Gulf of Mexico. Thunder Horse development is scheduled to start in 2005. The pipeline carrying Thunder Horse oil will consist of the deepwater 28-in. Proteus oil pipeline and the 30-in. Endymion oil pipeline. The 70-mile Proteus will carry crude from Thunder Horse to a booster station platform to be installed in South Pass 89, where the Endymion will transport the crude a further 90 miles to Clovelly, Louisiana. Proteus and Endymion are scheduled for completion in early 2005.
Moving southwest, Kerr-McGee Oil & Gas, Nexen Petroleum, and Cal Dive International selected Williams to gather oil from the Gunnison deepwater development in the western Gulf of Mexico. The producers have dedicated production to Williams from 10 blocks in and around the Gunnison development operated in the Garden Banks area in 3,100-ft water depth. Williams will install 90 miles of 18-in. pipeline to move the oil from Garden Banks Block 668 to a shallow-water platform the company constructed at Galveston Block A244. From the platform, the oil will be delivered via a joint tariff with ExxonMobil's Hoover offshore oil pipeline system at Galveston Block A-244 onshore at Exxon's Quintana Facilities near Jones Creek, Texas. The new pipeline, with a capacity of 88,000 b/d, is scheduled to be operational by late 2003.
"The Gunnison development will provide Kerr-McGee with its third deepwater hub in the Gulf," Kerr-McGee CEO Luke Corbett said.
Other recent Gunnison contracts include FMC Technologies for subsea trees and associated services. FMC is producing the tree system, scheduled for 4Q 2002 delivery, at its Houston facilities. The field is being developed with a truss spar designed to handle 40,000 b/d and 200 MMcf/d of natural gas. Initial produc-tion is expected in early 2004.
Gulf output peaks in 2001
Deepwater production in the US Gulf of Mexico rose to record levels in 2001, according to the US Minerals Management Service. "The rise in oil production from the deepwater Gulf of Mexico has continued at a phenomenal pace with a 24% increase from 2000 to 2001," said MMS Regional Director Chris Oynes. About 570 MMbbl was produced in 2001, up by 50 MMbbl from 2000's output of 522 MMbbl.
"Natural gas production in the Gulf showed a small increase in 2001," Oynes said. Natural gas production reached 5.07 tcf in 2001.