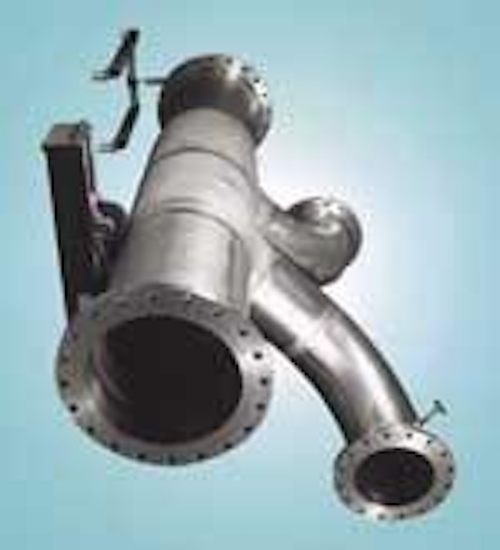 Statoil is replacing 40 fire protection deluge systems on its Statfjord A, B, and C platforms as part of its Tampen area field life extension scheme. Due to corrosion damage to the originally installed carbon steel piping, caused by the use of seawater in the sprinkling systems, Statoil has opted this time for titanium pipes which have far superior corrosion resistance properties. These are being supplied by Permascand to the installation contractor, Stavanger-based FPE.
Permascand has supplied titanium fire protection systems to new Norwegian offshore installations since 1993. This followed concerns by the operators over damage to sprinkler systems in the earlier installations of the 1970s and early '80s, including crevice corrosion in the sprinkler heads arising from the use of steel grades such as 6Mo. The problem remains to this day, with several hundred kilometers of piping proving difficult to maintain or test in the Norwegian sector alone, and therefore in urgent need of replacement. Stopgap solutions with anodes have proven to be unsatisfactory.
Although the original deluge systems were designed to be fully drained after tests, in practice, pools of water remain that lead to pitting corrosion and narrowing of openings in the pipes. In the early days of North Sea production, few oper-ators considered employing mat-erials engineering specialists that might have anticipated these issues.
"If companies had used titanium during the initial installations, the systems would not need replacing now," said Steinar Lied, responsible for materials selection in Statfjord's maintenance division.
Inert dioxide protection
According to Permascand's literature, titanium is protected by a stable, largely inert, permanent dioxide film that forms equally well on welds as on parent metal. This film is sustained intact even in strongly oxidizing conditions, and can therefore withstand erosion, cavitation, pitting, and crevice corrosion. Additionally, the company says, minimal material thickness can be applied in the design of titanium systems to handle seawater. The initially higher cost, compared with carbon and stainless steels, is offset by a longer service life, with less attendant maintenance and lower process downtime.
Statoil, however, was skeptical that titanium pipes could withstand fierce temperatures arising from a sudden blaze on its platforms. According to Permascand metallurgist Thor Joergensen, these doubts had been implanted by competitors promoting other materials. In exceptional cases, he says, titanium has proven to be susceptible to chipping on the outer surface, but this does not affect the function of the piping. A two-hour jet fire test commissioned by Permascand in 1992 and independently witnessed by Lloyds had proven titanium's suitability for use in firefighting systems. In addition, Statoil chose to set up a new trial program early this year. This took the form of a 10-min jet fire test at the Sintef research center in Trondheim.
The titanium pipe sections were subjected to a fire with temperatures exceeding 1,000° C, while simultaneously water was pumped through the pipes. Samples ranging in diameter from 1 to 12 in. (as would be employed with different machinery in the pump room) were put through their paces. On conclusion of the tests, the titanium pipes appeared to have suffered no significant damage.
Statoil's subsequent go-ahead for new deluge systems made from titanium on Statfjord will be implemented over a three-year period on the three platforms. The order is worth around NKr 40 million to FPE and Permascand.
Over the past decade, Permascand has designed and manufactured piping for firefighting systems on 11 other Norwegian platforms, the latest being Grane, Huldra, Ringhorne, and the Heimdal riser platform. It has also engineered special components for other offshore applications, including nitrided (hardening) titanium to replace stainless steel/chrome on the Snorre TLP riser tensioner compensator system. Other components made in titanium include frames for a Nexans trencher vehicle and pressure vessels for which the material was selected due to its high strength-to-weight ratio. Further, Permascand expects that future subsea processing units will also be made from titanium, due to its low weight/high strength and superior corrosion resistance.
For more information, contact Thor Joergensen, Permascand. Tel: +47 67 90 59 50, fax: +47 67 90 59 51, email: thor.jorgensen@akzo.no, website: www.permascand.com.