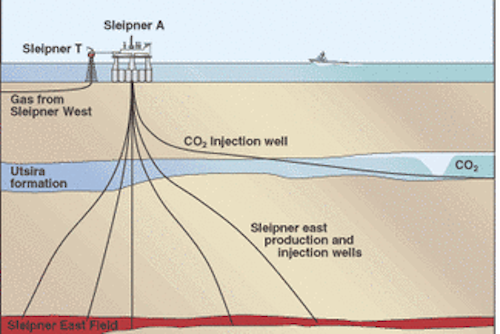 In line with the Kyoto Protocol on Climate Change, the European Union has set itself a target of reducing Europe's greenhouse gas emissions by 8% between 2008 and 2012. This will involve annual cuts in carbon dioxide (CO2) output of around 600 million tons.
Proposed measures in the short term are based largely on energy efficiency improvements and switching away from fossil fuels to renewable energy sources. However, the UN's long-term goal of stabilizing greenhouse gas concentrations in the atmosphere will necessitate further cuts in emissions. Various projects are in progress to study ways of achieving this goal, based on capture and storage of CO2. Now part of Eurogif, the CO2NET Thematic Network has been formed to coordinate these activities and will be launched in January 2003.
The European Commission is part-funding the initial three-year program (€1.4 million) under its Fifth Framework Program, backed by €1 million from some of the network's current 47 members, which include oil companies, contractors, and geoscience and other specialist technical institutes/universities from across Europe. A further 700,000 is being sought to guarantee funding for, and also to fast-track, a series of planned initiatives over the next three years. These include:
•Facilitating research collaboration and supporting European centers of excellence in CO2 storage, capture, reduction, and elimination – Imperial College, London, and Novem in The Netherlands are leading this project
•Assessing and defining R&D strategy, led by the Geological Survey of Denmark and Greenland (GEUS)
•Providing information to assist policy making at European and national level (GEUS, TNO in Utrecht and Institut Français du Pétrole are the prime movers)
•Assessing best practice (headed by Det Norske Veritas)
•Dissemination of the results through technical events, meetings, and websites, and increasing public awareness and acceptance of the various storage/capture techniques.
Storage studies
Under the EC's Fifth Framework Program, six projects have been mounted to analyze the safety and environmental impact of CO2 storage. These are:
•Statoil's CO2 reinjection scheme on Sleipner, the Saline Aquifer CO2 Injection Project (SACS), which involved monitoring the injection of CO2 into a deep saline reservoir known as the Utsira Formation, lying 800 m below the seabed in the Norwegian North Sea. The injected CO2 is separated from gas produced from Statoil's Sleipner fields. The second phase of monitoring is nearing completion. Now the EC/oil and gas industry partners are looking to extend the technique to other trial locations in Europe. One possibility could be to drill a deviated well from the refinery at Kalundborg in Norway into a formation to the north
•Ngcas, led by BP, is researching safety, monitoring and verification issues relating to CO2 storage in a depleted offshore oilfield
•Gestco, managed by GEUS, is assessing the capacity for storage of CO2 in Europe's geological reservoirs. The study is a continuation in detail of an earlier program, led by British Geological Survey (BGS) under the Fourth Framework Joule program, which concluded that there was enough storage capacity, mostly in North Sea reservoirs, to store the entire CO2 output from Europe's power stations for several hundred years
•ICBM, led by Imperial College, London, is investigating the science of CO2 storage in coal seams
•Recopol, managed by TNO, is undertaking a trial injection of CO2 into a coal seam onshore Poland
•Nascent (BGS again) is analyzing natural accumulations of CO2 in geological formations.
Additionally, the EC is supporting an international project to study the effects of injecting CO2 into the Weyburn oil field in Saskatchewan, Canada. European scientists are contributing geochemical analysis and modeling. It is also supporting the CO2 Capture Project, aimed largely at reducing the cost of capture.
According to an article by Tony Espie of BP Exploration in the UK Energy Industries Council magazine Global Energy, storage in oil reservoirs has several advantages. Above all is the industry's confidence in the formation's ability to hold gas over an extended period of time. (BP is thought to be looking at its own scheme for the Forties oil field in the North Sea). The drawbacks are economic – how to funnel through CO2 without large investments in pipelines and compression.
An alternative could be to inject CO2 into producing dry gas fields. The density of the CO2 could lead to a gravity stable displacement from bottom to top of the reservoir. This in turn could provide pressure support that would delay the need for adding export compression. Espie cited an estimate from the International Energy Agency Greenhouse Gas Program that suggested that up to 45% of global emissions through 2050 could be stored in hydrocarbon reservoirs, the majority being gas reservoirs.
Espie also pointed out that outside Norway, CO2 storage in saline formations in Europe is at an economic disadvantage due to restrictions associated with trading of carbon permits. That may change, however, if the rest of Europe follows Norway's lead by adopting a carbon tax. He also pointed out that public and regulatory acceptance of safety issues concerning geological storage will be paramount. This could be facilitated through extending the number of carefully monitored demonstration projects and early involvement in the planning process. These are also among the issues under investigation by CO2NET.
In view of the long-term nature of its studies, CO2NET is already looking at ways of attracting funding beyond 2005. Proposals for new studies include converting redundant pipelines across Europe and the North Sea for CO2 capture/reinjection, or installing dedicated lines for this purpose alongside existing gas trunklines. There are further ideas to adapt BP's refinery at Grangemouth, Scotland, for capturing emissions, and to build a new power station in Norway, also equipped for CO2 capture.
CO2NET is led by Annette Cutler, managing director of Technology Initiatives in Tunbridge Wells, UK. More details will soon be available on the website at www.CO2NET.com.