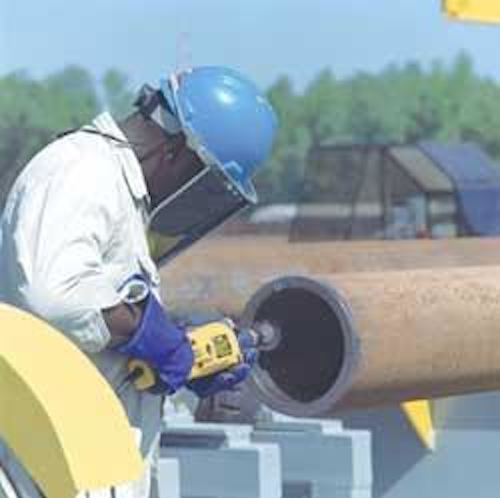 Jennifer Pallanich Hull
Gulf of Mexico Editor
The vision for Bredero Price's pipe coatings facility featured a quad joint and double joint (QJ/DJ) plant plus a dimensioning plant. A few years later, the Mobile, Alabama, plant sprawls over 252 acres, sees an average of 600 workers a day, and hosts a family of alligators. And it has received about a dozen coatings orders of note.
"This plant was bare ground two years ago, and all those projects are contracted, completed, or under way at this point," said Michael Pierce, business development manager for Bredero Shaw Deepwater Solutions.
The facility has received or handled orders for Gulf of Mexico fields like Horn Mountain, Aspen, Devils Tower, and Coulomb. Other GoM work includes the BP King tieback, Gulfstream, Na Kika, and Mardi Gras. In all of the projects, the pipes were to be coated with concrete. Additionally, Na Kika, Manatee, and Aspen required custom coating, and Bredero was tapped to fabricate the pipelines for Banjo-Seahawk, Na Kika, and Mardi Gras.
Last year, employment levels peaked at 1,150 when the company was working on the Gulfstream and Na Kika projects. The fabrication of 350 mi of large-diameter pipe for BP's Mardi Gras is expected to keep the yard busy through 2003.
To take the yard from concept to capable of fulfilling coatings orders, as well as meeting new needs, Bredero phased in its plants. Bredero Price is a Bredero-Shaw company, now fully owned by ShawCor. Halliburton recently sold its portion of the joint venture to ShawCor.
Heerema, the installation contractor, elected to lay deepwater quads for Mardi Gras. Because of weight considerations – each pipe segment for this J-lay job weighs in at up to 39 tons – Heerema will receive two half quads onboard and complete the final quad weld offshore, prior to installation. The final pipe shipment is set for May 2003. Allseas is contracted to lay the shallow water portions of the Mardi Gras, taking on board standard 40-ft lengths. The deepwater quad-lay approach is slightly different from Shell's Na Kika project, which required onshore construction of full quad lengths.
That job brings the QJ/DJ plant, built to handle the Na Kika order, front and center.
"It required a lot of thought on how to build something of this scale," Pierce said, noting that the Mardi Gras order dictated the scale of the equipment.
One focus remained on how to safely maneuver double- and quad-jointed pipes, which led Bredero to invest in specialized lifting and transportation systems. Several of the roads at the facility are designed to accommodate trucks hauling the 160-ft quad joint pipes.
Bredero aimed to remove as many instances of rolling pipe, when most accidents occur, as possible to increase safety levels at the plant. Most pipes are transported automatically.
Another facility Bredero installed was a shop to mix the polyurethane for use in its glass syntactic polyurethane (GSPU) plant.
"We were able to make a product specifically for a project," Pierce said of Bredero's ability to custom-mix polyurethane with different grades of glass for use in different water depths.
Patent pending
When joining two pipes, Bredero uses its dimensioning plant to take readings of the end of each pipeline to most closely mate two pieces. Readings are taken 720 times on each end, once at every one-half degree. Bredero developed the machine and has applied for a patent for the unit.
Quality Engineer Pratik-Patel said the most important step in riser welding is the use of the dimensioning plant, which ensures pipes with matching dimensions are mated to each other. Most pipelines are not completely straight on the outside. The problem is exacerbated by the need to couple a somewhat oval pipe with a perfectly round buckle arrestor, said Geoff Stone, fabrication manager.
Pipeline tracking
One of the visions for the new plant allowed tracing each individual piece of pipe from the moment it entered Bredero's property until it was delivered to the customer. Pipe Trak, developed by Bredero, is a computerized tally system devoted to the task. The system receives input through the facility and from people. Plant employees input the pipe's vitals each time it begins a new process, and the computer tracks as many as 20-30 steps in each process.
"The tally system takes care of all quality aspects of coating," Stone said.