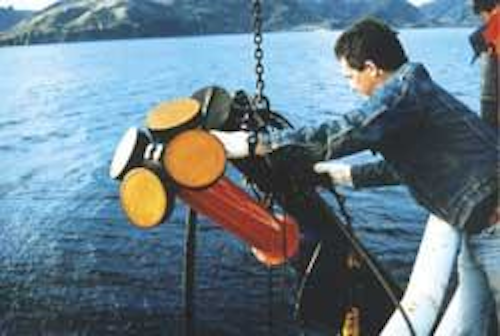 Jennifer Pallanich Hull
Houston
Studying the loop
The oil and gas industry needs to acquire more data regarding the Gulf of Mexico's loop current and eddies to better predict their effect on structures installed in the deepwater GoM, according to consultant John Vermersch.
"We haven't been out there producing in high current areas for very long," Vermersch said during the GoM Currents for Deepwater Operations conference, sponsored by Marathon, Fugro, RD Instruments, Horizon Marine, and Society for Underwater Technology, in Houston recently.
Vermersch urges the industry to do more remote monitoring and direct measuring to improve existing data, thereby making it easier to extrapolate better predictions about 100-year events.
"It's the only way to get us where we need to be," he said, suggesting a joint approach involving education programs, governmental studies, and industry focus. Currently, he said, educators and the government tend to focus on overall pictures, such as climatology and looming weather changes, rather than on more specific features such as currents.
Better data will help in other ways, said Riddle Steddum, senior engineering marine and structural manager at Transocean, speaking at the same conference. It will help predict when and where currents and eddies will hit as well as the duration of the events, he said. He said solid metocean data, bathymetry, adequate instrumentation, good planning, and good luck are central to ensuring successful operations.
The metocean information is often taken into account when designing infrastructure destined for areas with known high-current activity, he said. He posed his own theory on mitigation of currents: The amount of mitigation required is inversely proportional to that actually provided.
Marathon's Ken Schaudt, senior oceanographer, said it's vital to remain informed when working in the vicinity of a loop current.
"You've got to put on your dancing shoes and give it everything you've got when you're operating at the edge of a loop current," he said. "When you're dancing on the edge, you need to know a lot of things. One of those is how strong the current is."
Accurate forecasting is one area that will benefit operations in the Gulf of Mexico, he said.
"We're going to have errors (in forecasting) no matter what we do, but it looks like we're closing in on usable tools," Schaudt said.
Re-injection may be considered
The US Minerals Management Service might allow a certain amount of gas re-injection in conjunction with an FPSO development in the Gulf of Mexico, an MMS representative said during a recent FPSO conference in Houston.
Charles Smith, senior technical advisor in the engineering and research department of the MMS, said the agency is looking at alternatives, like gas-to-liquid, compressed natural gas, and electrification, for guidance on the re-injection question. Until a decision is made, he said, companies that want to re-inject gas at an FPSO site would need a definite plan on how long the re-injection would occur and how the gas would be produced once re-injection stopped.
"It appears as if the road blocks have been identified and cleared," said Deepstar representative David Saylor, manager for deepwater operation and engineering at Unocal. Certain issues remain for the operators to deal with, he said. Stephen Balint, civil and marine process manager for floating systems at Shell International E&P, said the FPSO Research Forum, one of the conference sponsors, is working to identify issues that operators face in areas where FPSOs are in use. The goal has been to determine where the time and technical energy is dedicated, he said, noting these areas tend to include roll, riser connection, offloading, greenwater, and fatigue.
"Hurricanes here are challenging for all the deepwater projects and the FPSO," Balint said.
Additionally, he said, FPSOs are growing and finding more tasks assigned to them, he said, citing the Girassol FPSO off Angola.
"I anticipate this is what we might see in the Gulf of Mexico," he said.
Smith said the MMS still has not received an application for an FPSO development in the GoM, nor is it working with any company in the process of submitting such an application.
"What we need now is for a company to step forward, and we'll work through the process," he said. "It'll probably take a little longer in the first step."
LNG terminal headed for GoM?
Gas prices hovering between $3 and $3.30 will keep LNG cost-competitive, said Jim O'Sullivan, senior vice president at Technip-Coflexip. Supply of LNG is ample, he said during the Fifth Rice Global Forum on Engineering and Construction in Houston, and demand exists. The number of proposed LNG plants far exceeds the forecast demand for LNG, he noted, so while there are a number of LNG plants proposed for installation in North America, most will likely not be built.
One of the most important factors in installing an LNG facility is a "not in my backyard" (Nimby) attitude very apparent in areas like Florida and California. O'Sullivan said an LNG plant in Baja California, Mexico, presents little Nimby risk or technology risk, while a plant proposed for the Bahamas presents little Nimby risk but has technology risk associated with the Gulfstream in the Gulf of Mexico. The Baja California site, however, would be limited by infrastructure, he noted. Onshore plants along the GoM and the east and west coasts present the most Nimby risk, he said. Offshore plants along the the GoM and the east and west coasts present less risk because the facilities wouldn't be visible from shore. Offshore technology risk is less than onshore Nimby risk, he added.
"Offshore terminals will come," O'Sullivan said.
First gas at Canyon Station platform
A unit of Williams received first natural gas through its Canyon Station platform in the eastern Gulf of Mexico. The gas comes from two subsea deepwater wells. One is in the Aconcagua field, operated by TotalFinaElf, and the other well is in the Kings Peak field, operated by BP.
Canyon Station is designed to treat, process and handle up to 500 MMcf/d of natural gas. Production from 35,000 acres of federal leases is dedicated to the facility. The platform was expected to begin running near capacity by the end of October once nine wells in the Camden Hills, Kings Peak, and Aconcagua fields beganproduction.