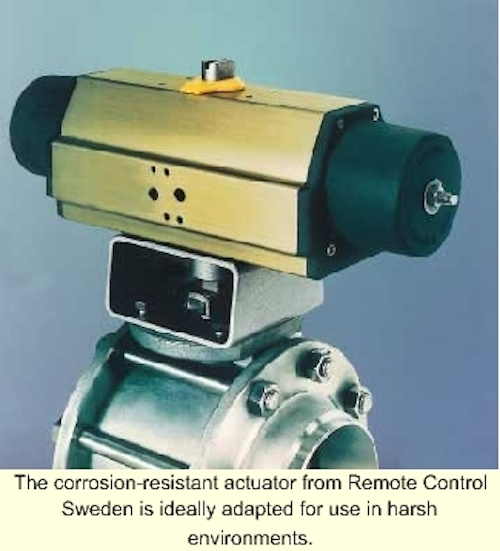 Six pneumatic multi-turn valve actuators from Remote Control Sweden currently are undergoing trials for various North Sea operators for use with choke valves. The design of Remote Control's actuators is unique in that they are able to apply higher levels of torque at the start and end of their movement.
This is an important characteristic when operating valves as greater torque is usually needed to begin the opening process and also to complete its closure. This feature is especially valuable in applications where a valve remains stationary throughout long periods, or has a high breakaway and seating torque.
The torque variation is achieved through a development of the "Scotch Yoke" principle used to transfer the lateral movement of the pneumatic actuator into a turning motion on the valve. As it moves sideways, a roller bearing on the actuator moves up and down a slot attached to the turning mechanism. By designing the slot with an offset angle, Remote Control has been able to create a system that applies the differing levels of torque required.
Actuators in the RC200 series are double acting, being operated by air in both directions. A single acting version, the RC-SR model, is available to provide a spring return in one direction. This is advantageous in situations where it is necessary to ensure that the valve will close or open in the event of a loss of air or power.
Models in Remote Control's RC200 range of hydraulic and pneumatic actuators are designed for on/off as well as modulating applications requiring a quarter turn and are available in sizes suitable for use with valves with a torque requirement from 12 Nm up to a maximum of 15,900 Nm. They have been designed to provide reliable performance which is demonstrated by the smaller actuators being guaranteed to be capable of 2 million full cycles in two years. The larger actuators are guaranteed for 1 million cycles over the same period.
Low on weight and air consumption
The most immediately obvious benefit derived from the pneumatic actuator when used offshore is its light weight and compact size when compared with a rack and pinion mechanism. Because actuators may be installed in large numbers, this is an important factor in the design of an offshore platform. While a conventional rack and pinion actuator weighs 8.3 kg, the equivalent RC 240 actuator weighs 4.9 kg, is physically smaller and also has a halved consumption of instrument air.
Another convenient aspect of the design is an eight-point star-shaped recess for accommodating the square end of the valve spindle. Made from surface hardened steel, it is able to accept valve spindles manufactured to the DIN standard which have their square ends at 45 degrees to the center line of the actuator. The star shape is equally able to accept ISO standard valve spindles that use a parallel square end.
To ensure dependable operation in harsh environments the Remote Control range includes corrosion-resistant and Eex-proof versions. The outer casing of the corrosion-resistant model is made from hard anodized aluminum treated with a PTFE oven coating which gives it a hard sealed surface. Although more expensive than Remote Control's standard actuators, the price is still up to six times less than for an equivalent product in stainless steel, the company claims.
For more information contact Villy Groth, Remote Control Sweden: tel +46 23 587 00, fax +46 23 587 45, E-mail: villy.groth@remotecontrol.se; www.remotecontrol.se