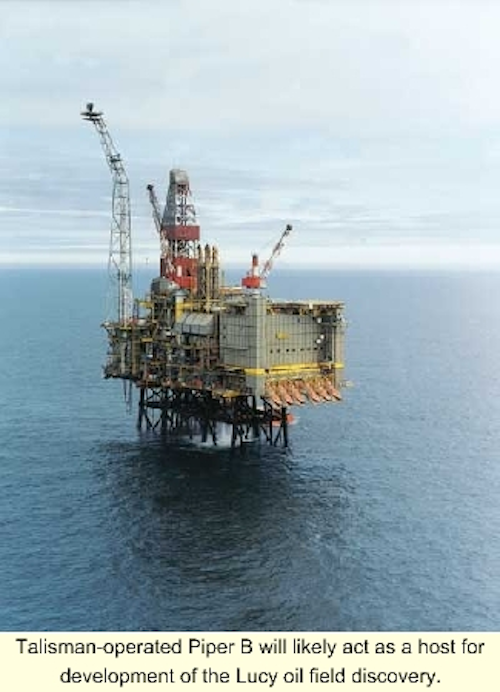 Subsea expansion will limit Sleipner emissions
Statoil disappointed Norwegian yards by opting for modifications to existing facilities to boost compression capacity on Sleipner West. A new compressor platform was considered, but the partners decided an alternative scheme involving new subsea wells would be NKr 3 billion cheaper. The partners needed to take action because of declining reservoir pressure at this gas-condensate complex in the North Sea.
The newly prepared plan involves a two-year transition to low-pressure production from the fall of 2002. Concurrently, compression facilities will be upgraded, and production on Alfa North on the northern part of the field will be extended through the addition of a seabed template and four to five wells. The new facilities should begin operations in the fall of 2004. Statoil also claims that the new plans - soon to be submitted to Norway's authorities - would halve carbon dioxide discharges, compared with an alternative of a new platform.
The cost estimate for the scheme is NKr 2.6-3 billion. Last year, the partners also dropped plans for another platform to exploit Sleipner West's oil zone, after reserves were downgraded following a reservoir re-mapping campaign.
Kristin in line for gas contracts
Norway's Petroleum and Energy Ministry will shortly name the next set of gas fields to fulfill commitments to mainland Europe. A majority in Norway's gas supply committee, the FU, has been lobbying for Sigyn and Oseberg Delta in the North Sea and Kristin in the Halten Bank. Jointly, these three fields could provide 36 bcm between 2002-2016. The same majority are pushing for the producing Åsgard complex to supply a further 1.3 bcm over a two-year period.
Kristin's potential may be re-evaluated following recent exploratory wells on the Erlend structure, 5 km to the west, and on the M prospect, 12 km to the north, drilled respectively by the semisubs Transocean Arctic and Scarabeo V. The outcome could influence the development plan for Kristin.
Two other Statoil-operated fields, Mikkel and Kvitebj rn, were recently authorized to supply 64 bcm through the Norwegian export system between 2003-2014. Kvitebj rn's partners are working to increase capacity on the new gas line from the field to the Kollsnes treatment plant near Bergen, from 6.5 bcm to 8.5 bcm annually. This would offset constraints in the existing trunkline system, they claim. Expansion could be achieved at no extra overall cost, they say by simplifying the landfall route.
The FU also nominated Mikkel to deliver gas both to Czech utility Transgas and to Norsk Hydro's heavy oil Grane development in the North Sea for injection. Separately, Hydro is negotiating with the FU for a further 50 MMcm/year of gas for its ammonia complex in Heroya, south of Oslo. The plant is currently fueled by LPG brought in by ship. Hydro believes switching to natural gas would be cheaper and plans to lay a pipeline in readiness to another landfall point in this region.
Subsea centrifugal compression
On another newly approved North Sea development, Fram West, Norsk Hydro and its partners are considering incorporating a 2.5 MW subsea centrifugal compressor. Kværner will attempt to verify this new concept via tests with natural gas on a 1 MW size module. The intention is to apply the technology on future subsea developments for gas export or injection.
Fram West's estimated 100 million bbl of oil and 8 bcm of gas will be exploited at a cost of $440 million through two four-slot subsea templates tied back to the Troll C platform, where the wellstream will be processed. Production is slated to start October 2003, plateauing at a round 60,000 b/d. Another Hydro project just sanctioned is Vale, a gas-condensate field, which will produce through subsea wells tied to the new Heimdal riser platform - costs are around $100 million, including modifications to Heimdal. Hydro is striving to have Vale onstream before June 2002.
Talisman campaign brings instant reward
Talisman Energy announced plans to drill 46 development and nine exploration wells in the UK North Sea. One has led to a significant discovery named Lucy, 8 km northeast of the Talisman-operated Piper B platform. Early estimates suggest reserves of up to 50 million bbl.
The well intersected a 68-ft column of light oil in Jurassic sandstone, with 18-25% porosities for the oil-bearing sands. High reservoir quality rendered a well test unnecessary, although Talisman believes that flow rates above 15,000 b/d could have been achieved. The company is now acquiring a broad swath of 3D seismic across the Flotta catchment area, where it recently gained controlling interests in numerous elderly facilities formerly operated by Elf. Development planning for Lucy could be finalized late this year, leading to probable production late 2002 through horizontal wells drilled from Piper B.
Other UK operators building on mature field bases include ExxonMobil, which is preparing to drill the Lewis prospect 7.5 km south of its Beryl complex in the northern North Sea. Assuming a rig can be assigned, the resulting well could be producing 6,000 b/d of oil by early 2002 through an 8-in. insulated flowline, to be installed this summer by the CSO Apache.
Last month, the semisub Petrolia was due to start a well for DNO on West Heather, targeting an oil column missed by a previous well. A positive outcome may lead to another well on the untapped North Terrace prospect. DNO aims to prove 50 million bbl through this program, which it would develop through the Heather platform.
Operators address stranded pools
At a recent UK Offshore Operators briefing in London, Bob Connon of Chevron spoke of a new determination to tackle the UK sector's stranded oil and gas pools. Their collective potential is thought to be several billion BOE.
As an example, Amerada Hess is reactivating a dead field to squeeze out an extra 4 million bbl. Angus, 209 miles southeast of Aberdeen, yielded 12 million bbl during two years in production in the early 1990s. The two subsea wells (connected at the time to the Petrojarl I FPSO) were then decommissioned, prematurely, it now appears. However, subsequent improvements in imaging technology, allied to spare capacity on another nearby floater, have prompted a re-think. Since April, the semisub Glomar Arctic IV has been drilling an exploration/appraisal well on Angus. Once the results have been firmed up, this will be converted to a producer, which will send 5,000 b/d through an 18 km, 8-in. flowline to the Uisge Gorm FPSO serving Fife, Flora, and Fergus.
Amerada has also intervened to revive another floater-based project that was in danger of foundering. Contractor Brøvig was to mount an extended well test this month on the Chestnut field in block 22/2 on behalf of operator Premier Oil, using its production ship Crystal Ocean. But Brøvig suffered a sudden cash flow crisis when a similar project in Nigeria's Obe Field was prematurely terminated. However, Amerada, a co-owner of Premier, assumed a 50% controlling interest in Chestnut, allowing Brøvig to proceed with the test at a day rate of $45,000, rising to $55,000 following field start up next June.