Leasing under way off Iceland and Jan Mayen, Norway
The announcement by Iceland last year that it would hold a petroleum license round undoubtedly surprised a number of people, geologists among them, who thought that the area, bisected as it is by the Atlantic Mid Oceanic Ridge and its associated volcanic outpourings, was completely non-productive as far as hydrocarbons were concerned.
Apr 1st, 2009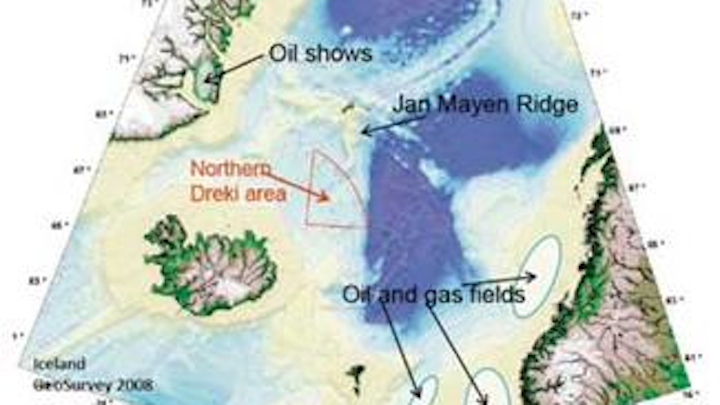 Glyn Roberts, Fiona Woolmer - Spectrum
The announcement by Iceland last year that it would hold a petroleum license round undoubtedly surprised a number of people, geologists among them, who thought that the area, bisected as it is by the Atlantic Mid Oceanic Ridge and its associated volcanic outpourings, was completely non-productive as far as hydrocarbons were concerned.
The key to the hydrocarbon potential of Iceland's northern waters is the presence of a slice of continental crust – the Jan Mayen micro-continent or ridge. It is around 500 km (311 mi) long and runs southwards from Jan Mayen Island into Icelandic waters in the Dreki area. Geophysical studies have shown that it is made up of 15 - 18 km (9 – 11 mi) thick and 150 km (92 mi) wide root of continental material – surrounded by oceanic crust. Water depths are in the order of 800 m to 2,000 m (2,625 ft to 6,562 ft).
The Jan Mayen Ridge (JMR) was created by rifting and plate tectonic movements which split apart Greenland and Norway about 55 million years ago (around the end of Paleocene times). It is believed that during the split, the area which now makes up the JMR remained part of Greenland until it split away about 25 million years ago at the end of the Oligocene. Volcanism was associated with these events.
Therefore the JMR is a large mass of continental crust that can be expected to have many geological similarities with east coast Greenland and offshore mid-Norway. From a petroleum prospecting view, this is of interest as there is a proved hydrocarbon system on the Norwegian side. In east Greenland there are oil shows onshore (for example in the Jameston basin) and a good stratigraphic correlation with rocks offshore mid-Norway. These range in age from Permo-Triassic to Jurassic, Cretaceous, and Tertiary.
The main hydrocarbon source rocks are expected to be of Early Jurassic (gas prone coals and lacustrine shales) and Upper Jurassic age (rich oil prone marine – Kimmeridge clay); with other source potential in the Cretaceous and Tertiary.
Maturation modeling indicates Mesozoic source rocks could be mature for both oil and gas within the main ridge (i.e. central part of the JMR) and that any Tertiary source rocks could be mature for oil west and east of this ridge.
Reservoir development can be expected in the Jurassic to Tertiary sands in stratigraphic and structural traps. Stratigraphic traps seen on the reprocessed data include onlaps, drapeover, and basin floor fans. Mounds and reefs also are seen in the Mesozoic and Tertiary; as have the presence of direct hydrocarbon indicators (DHIs) at Tertiary level. Pock marks reported on the sea floor could indicate the escape of thermogenic gas.
Iceland's National Energy Authority (Orkustofnun) is opening Northern Dreki in the northeast sector of its offshore and lying over the southern part of the JMR. It is part of the Jan Mayen Agreement Area which covers most of the JMR and allows Norway and Iceland to participate in hydrocarbon exploration and production in one another's portion of the area. Norway is yet to announce any plans for the northern portion of the area.
Modern seismic reflection coverage over the JMR is limited compared to similar potential productive areas off mid-Norway and the Faroes-Shetland area, for example. However, the ridge is well covered by approximately 5,000 km (3,107 mi) of seismic data acquired in the 1980s by the Norwegian Petroleum Directorate (NPD) and available in the public domain. Quality of the original data is poor compared to what can be done today. This is due to both the difficulty in imaging below the volcanics (which cover certain parts of the area) and to the processing tools available at the time.
Spectrum reprocessed field tapes and in so doing concentrated on multiple removals. After initial pre-processing, SRME was applied to all vintages of the Jan-Mayen data to good effect. Before application, the water bottom multiple could clearly be identified in the stack section. Careful choice of parameters protected valuable primary signals.
Care was taken picking velocity fields during processing. Several iterations of multiple velocity stacks were created of the initial velocity picks to ensure that the correct trend was being picked. The variation of the velocity field is similar to the structure of the data and therefore it was essential that the velocities mirrored the structure while at the same time ensuring a smooth function was picked. Special attention was paid to specific areas such as the slow sediments in the shallow section and where appropriate, fast sub-basalt formations.
Radon de-multiple was applied for further multiple attenuation to eliminate the remnant multiple left in some data following SRME. The application of a particularly intensive radon was required but was only necessary just above twice the water-bottom time.
Careful pre-conditioning was applied to the data before migration. Sub-basalt high cut filters were used at this stage to enhance the signal to noise ratio. Care was taken not to reduce the high frequency content above the basalt.
•••
Further information on the Iceland licensing round can be found on the National Energy Authority's website www.nea.is where in addition to information on the terms offered, and a copy of the 1989 report by Gunnarsson, Sand & Gudlaugsson on the "Geology and Hydrocarbon Prospectivity of the Jan Mayen Ridge", there are up-to-date geological presentations from Orkustofnun, NPD, and the oil companies Dong and Sagex on the petroleum potential of the area.
1) Iceland's first License Round terms:
Bid Round opened Jan. 22, 2009, closes May 15, 2009
Duration of exploration licenses up to 12 years, may be prolonged to a maximum of 16 years
Following a successful exploration, a priority for a production license for up to 30 years
Group applications (joint ventures) are welcome
Transferable licenses, subject to official permission
Phased work program possible, each phase with separate specification of rights and obligations
Reference grid of blocks approximately 390 sq km each (15'N-S, 20'E-W)
Licenses may cover one or more block(s) or part of block(s)
Treaty with Norway on the northernmost 30% of the area (12,720 sq km)
Norway may participate with up to 25% share in exclusive licenses within the treaty area
No national oil company in Iceland.
2) Orkustofnun's summary of the hydrocarbon potential of the area:
The Jan Mayen Ridge is a sliver of continental crust
Sedimentary rocks are of a sufficient thickness and age to support an active petroleum system
Indications of sedimentary strata pre-dating the opening of the Norwegian-Greenland Sea
Potential source rocks similar to east Greenland
Potential reservoir rocks, including submarine fans
Potential traps present, both structural and stratigraphic.
3) Pockmarks on sea floor indicating gas escape:
Surface pockmarks were discovered in June 2008 during a multibeam study of the Dreki area led by Gudrún Helgadóttir of the Marine Research Institute
Pockmarks had been found on the Norwegian side during the 1985 survey
Pockmarks have been found at the bottom of the North sea, and sometimes cluster around major hydrocarbon fields
There are several potential explanations for the formation of pockmarks at the sea floor
They can be a result of eruptions of gas hydrates that have become unstable and get "gassed out"
They can be formed by seepage of gas through the sea bottom
This gas could be methane formed in situ at shallow depth
A deep hydrocarbon source for the gas is also possible
Analysis of surface sediment cores from pockmarks and/or fault lines with modern equipment has not been done yet to determine if there is a surface seepage of hydrocarbons in the area.