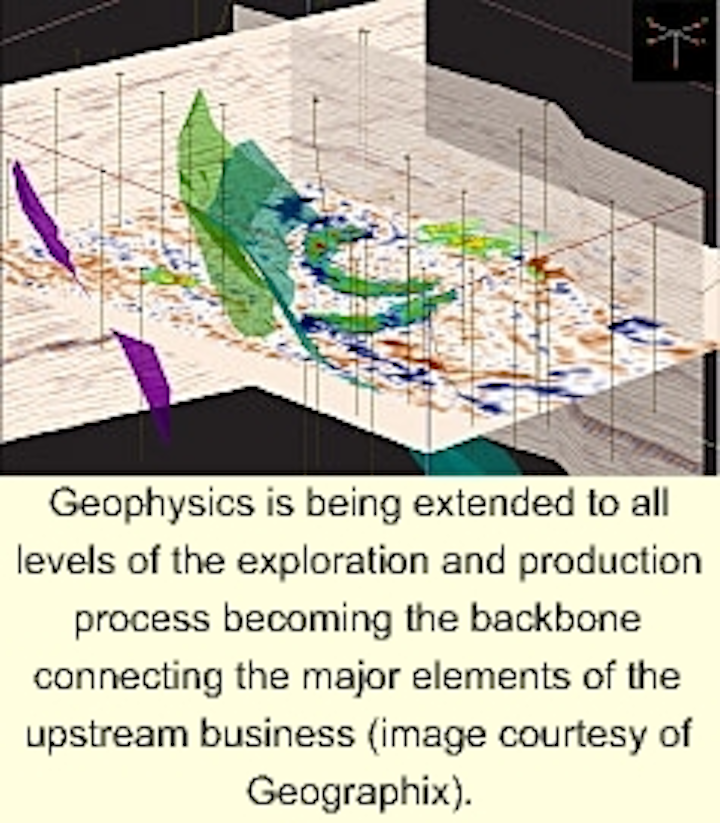 Speculative PSDM
GX Technology will process the 7,500 line-miles of TGS-NOPEC's Phase 49 non-exclusive seismic program using its EarthWave™ suite of software. The survey covering portions of DeSoto Canyon and Lloyd areas of the eastern Gulf of Mexico will have prestack depth migration (PSDM) applied to the data set. An operator normally applies PSDM after licensing data; it is not generally applied to speculative non-exclusive surveys.
Model integration
Schlumberger launched a commercially licensed version of its Seismos™ data analysis software at the SEG convention last month. The system is an integrated package for surface seismic processing from Geoquest. It is a modular system with a database driven kernal that integrates the best geophysical models developed by the company.
Ionosphere disturbance
Racal Survey Group Ltd announced a solution to ionospheric disturbances of differential global positioning system (DGPS) performance. Its SkyFix Premier dual frequency positioning service will reduce positioning errors caused by sunspot activity. Such activity and resulting errors are expected to increase over the next two years and remain common for up to four years. Sunspot-induced errors can be as great as 15 meters.
Sharing interpretation
A2D Technologies released smartSECTION 4.5, a client-server version of their geologic software. This new version will allow professionals to share data and interpretations across their network. The software is Oracle™ based with an open architecture that allows companies to link directly to any corporate database. "Multiple users will be able to optionally view other user's tops, interval data, and inter-well interpretations. At the same time each user has the ability to 'lock' their data, so it cannot be edited or changed by another user," said William Ross, Executive Vice President of A2D.
Acoustic imaging et al
Major advances in the use of acoustical imaging coupled with the expansive power of new computing systems and imaging techniques is extending the reach of geophysics to all levels of the exploration and production process. The issue was a major topic at the Society of Exploration Geophysicists (SEG) convention in early November. Acoustic imaging is becoming the backbone that connects major elements of upstream business. Other topics at the SEG conference include:
Seismic: Exploration 3D surveys form the skeleton on which the earth model of the oil field is formed and developed. The initial survey is also the baseline for any reservoir studies or extraction economics. Production 4D/4C seismic will track the extraction process to ensure good sweep efficiencies and locate bypassed reserves. It also validates the economic models used to make forward cash flow models for corporate purposes.
Logging: High definition borehole tools can now tie rock properties to seismic attributes. These will be tied into the earth model providing point control and analogs. Reservoir models and production flow models will be developed from this basic data set to optimize oil and gas extraction from the field. Acoustic tomographic studies within the boreholes will help identify horizontal and vertical heterogeneities and anisotropic seismic responses to fine-tune the flow models.
Modeling: Companies routinely use in-place reserves estimates as collateral for borrowing purposes. By more tightly tying the reservoir and flow models together, companies will have a tool to more tightly control the cash flow stream and more efficiently utilize the funds employed.

The key is linking the respective models to the information available. That information will be the production 4D/4C survey because of the ability to create a bin size small enough to directly tie the production model. Each cell of the model will have a volume meaningful to the reservoir geologist and reservoir engineer.

Blending geophysical tools: In the recent past, geophysical investigations were widely separated. Exploration tools such as gravity, magnetics, and 2D seismic were widely separated from the downhole wireline investigations used for detailed reservoir analysis. This is changing rapidly. New imaging technologies and communication technologies are permitting the unique blending of geophysical tools into a common "earth-model" system that can link all the tools all the time.
This forward vision has been presented many times over the last five years, but the pieces are coming together within the immersive environment of virtual reality imaging. Jeff Hume, President and CEO of Continuum Resources, has stated it most recently.
"As these earth models are populated, they will no longer exist as file folders in an individual's drawer, or on disparate computer installations. Rather they will be accumulated in a central comprehensive, enterprise-wide data model that provides flexibility and security.
In addition, professionals will be able to access their own particular data using familiar software from the desktop. Should team collaboration be required, the same views will be viewable in the team room on the wall-sized projector using the same software and instruction set - no more carrying rolls of maps to a meeting and spending time arranging them on a wall. Finally, larger immersive environments - again, with the same user interface - will be available for large presentations and full-blown immersion."
EXPLORATION TRENDS
Brazilian surveys
PGS do Brasil announced that it began acquisition of its 3D multi-client survey in the Campos Basin offshore Brazil. The first phase will gather 8,500 sq km of data.
TGS-NOPEC announced the halfway point in its 85,000 km 2D program offshore Brazil. In 2000, the program will be expanded to over 150,000 km. The survey is being gathered by the TGS-NOPEC Northern Access, Schlumberger's Akademik Shatskiy and Marlin.
4C GOM survey
The 4Sight Alliance (Schlumberger/Seitel) began an OBC-4C survey in the West Cameron area of the Gulf of Mexico. Three vessels will participate in the 35 block (800 sq km) survey: The Geco Snapper will carry sources, while the Geco Manta and Geco Dolphin will handle ocean-bottom cable placement. The alliance, covers 444 GOM blocks over nine planning areas.
US Gulf expansion
TGS-NOPEC is expanding its Mississippi Canyon survey to cover 600 blocks. The survey will be gathered by Schlumberger's M/V Geco Searcher and CGG's M/V Mistral. Delivery of final data sets will begin in late 1999 and continue into 2000.