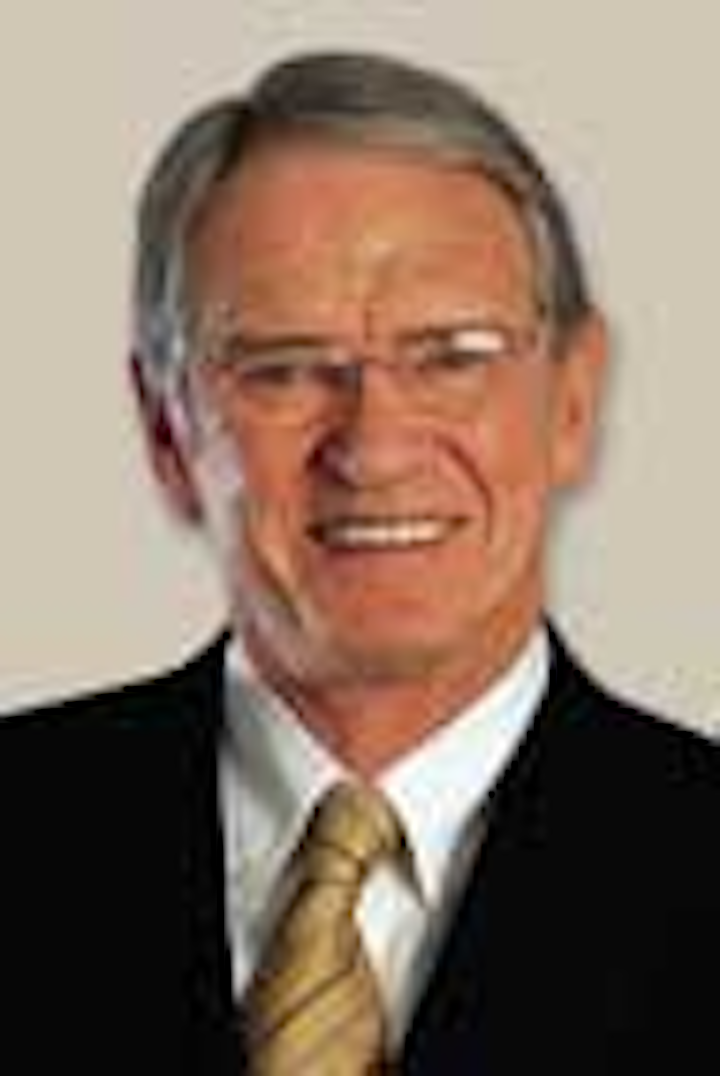 Newfield founder attributes company's success to good timing, teamwork
Russell McCulley
Senior Technical Editor
| | | |
| --- | --- | --- |
| | | Joe B. Foster went to work for Tenneco Oil E&P in 1957, shortly after graduating with a petroleum engineering and business degree from Texas A&M University. He spent the next three decades at the company, during a period of aggressive growth and diversification that pushed Tenneco to the top tier of producers in the Gulf of Mexico. When the company was forced to sell off its exploration and production assets in the late 1980s, Foster, then head of Tenneco's energy operations, and a group of colleagues left to form Newfield Exploration Co. He retired in 1999 as Newfield's CEO, and from the company's board of directors in 2005. He has been the subject of one book – Something From Nothing: Joe B. Foster and the People Who Built Newfield Exploration Co., by Arthur Smith – and co-author of a history of Tenneco's energy companies, the recently published Built From Scratch. He also is a member of an exclusive club of industry pioneers in the Offshore Energy Center (OEC) Hall of Fame. |
Foster spoke recently about his career in the offshore oil and gas industry and the role of independents like Newfield in theGulf of Mexico. The interview was conducted as part of Offshore magazine's collaboration with the OEC and the George Bush Presidential Library and Museum at Texas A&M to develop the library's current exhibit, "Offshore Drilling: The Promise of Discovery." The following excerpt has been edited and condensed for publication.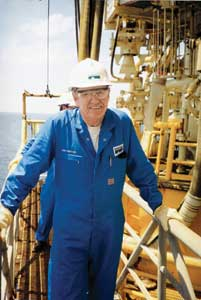 Newfield Exploration founder Joe B. Foster on location in Australia. (Photos courtesy Joe B. Foster)
•••
Offshore: Regarding Tenneco's entry into the Gulf of Mexico, were you early in the game?
Foster: Tenneco entered the Gulf of Mexico in 1957. At that time, Tenneco was called Tennessee Gas Transmission Company. It was created as a pipeline company, delivering gas from south Texas to the east coast of the US. About 1957-58, it decided that a lot of gas and supply was going to be found in the Gulf of Mexico, and that, in order for it to be a long-term competitor in the pipeline business, it needed access to those supplies. So, at that time, it began an effort to contract gas from other producers, and became very active in doing that. As part of that, in about 1959, they created a production arm of the company, which was still part of Tennessee Gas. I was transferred to Lafayette, Louisiana, in 1959, and was one of the initial employees in that organization.
Offshore: What were some of the jobs you performed early on?
Foster: Well, I was a company man. Each of the rigs had a tool pusher, who is the fellow responsible for the crew and for the operation of the rig. And there's usually a company man on the rig who represents the people who are paying the bills and who understand the purpose of the wells. The drilling contractors simply drill the hole they're told to drill. But the company people have to determine where that well is drilled to the bottomhole location, and they have to make the contractors aware of what potential problems we might encounter. If we got in trouble out there, I was the guy that had to call the people in the onshore office and say "Hey, we have a problem," and they had to help me figure out what to do. I was two years out of college with a degree in engineering. I had never really worked on a drilling rig in Louisiana before, when I first went there. I arrived on a Tuesday, and, on Wednesday, I was on a rig in the Gulf representing Tenneco. So, I had a great learning experience. I was right in the middle of where the problems were, and where the solutions were. So I learned a lot.
Tenneco sold its oil and gas assets in 1988. About that time it was the tenth largest oil company in the US, and it was quite a surprise to everybody, including the employees, that the parent company had decided to sell those assets. I left Tenneco at that time, and started a company called Newfield Exploration Company – myself and 19 other employees of Tenneco who had worked together in the Gulf of Mexico. The first three wells we drilled in the Gulf of Mexico were dry holes. So it was not a great start. But, by 1996, we had reached a point where we could take the company public.
Offshore: How had the Gulf of Mexico evolved from the time you started, in shallow water, to where you were when you retired?
Foster: Well, it was a heck of an evolution. And perhaps as an aside, I went through the evolution at Tenneco, which started out as a pipeline company, and ultimately became a producer. It was one of the smaller companies in the Gulf to begin with, and, yet, at the time Tenneco was sold, it was the 8th largest operator of production in the Gulf of Mexico. So, there was a tremendous growth taking place, not just for Tenneco but also for the industry at large. And one of the real breakthroughs was the ability to stabilize floating vessels in rough water, so that you could drill in very deep water. We thought it was a miracle when we drilled a well in 300 ft of water.
Offshore: What was it like putting together a new company?
Foster: When Tenneco decided to sell its oil company in 1988 in order to raise cash to stay in business and to deal with the problems they had in the other entities that they owned, they gave me, because at that time I was head of the energy operations in Tenneco, the opportunity to make a bid on what Tenneco was offering for sale. I didn't have the bankroll to do that, but I found some people in New York and other places that would help fund at least some of that. I put together a group of former Tenneco employees. With permission of the Tenneco board, we bid on but failed to buy any of the Tenneco packages. The one that we were most interested in was the Gulf of Mexico, and it was just too expensive for us. But I had learned a lot, in the course of doing that. I had to go out and raise the financing required to make a deal like that. And I had gotten acquainted with a lot of people on Wall Street, and a number of people in private equity funds that were interested in making such investments. We had to raise enough money to buy a number of assets. I thought, we have a bunch of people who know how to find oil and gas in the Gulf of Mexico, so why can't we create our own company? And it turned out we could. And we did. We found backing, and started out with a group of Houston investors, headed by Charles Duncan, that put in $3 million. The former employees and I put in $3 million, and we were able to do that because we all got nice severance packages from Tenneco. In the course of all this, I'd called on the University of Texas Endowment Fund in Austin, and told them about what we thought we could do. And lo and behold, they put in $3 million.
In 1989, we had up to about 21 people – geologists, geophysicists, engineers, an accountant, and my assistant, whose name was Betty Smith, who baked cookies every week and brought them to the office. We focused primarily on having geologists, geophysicists, and engineers, because those are the guys that can find the oil, and then get it to market. I did not have a finance guy involved, so I hired David Trice, who had worked a number of years for Roy Huffington. He was a good financial person, and David and I became the money raisers. Our initial goal was to raise $50 million. We discovered pretty quickly that people weren't going to give us that much money.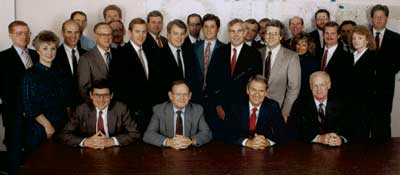 Newfield Exploration Co. employees marked the company's initial funding in 1988 with (seated l-r) David Cook, of Duncan, Cook & Co.; A.A. Wilkinson, managing partner in Newfield's Lafayette, Louisiana office; Joe B. Foster; and Michael Patrick, with the University of Texas Endowment Fund.
Offshore: What was Newfield's business strategy?
Foster: Initially, we talked about having both an exploration and an acquisition effort in the Gulf of Mexico in less than 300 ft of water, because the technology and the rigs were available to do that, and many of the major companies were becoming disenchanted with what we call the shallow-water Gulf. So it was relatively easy to get farm-outs from those guys. They had acreage in those water depths that had good potential, but most of their spending was being directed to properties in deeper water where the potential was even greater. We basically built Newfield by farming in to deals that the major companies had that they did not want to pursue themselves.
The other part of the strategy was to acquire properties that were on their last legs. Other companies would have produced most of the oil that they thought was there, and then they were faced with a salvage or abandonment liability, and they wanted to escape that. We wouldn't have to pay a lot up front, because we were assuming the abandonment liability, and that was really the basis upon which we built the company – some farm-outs and acquisitions of near-abandonment properties.
We ultimately went public in 1993. To get to the point of going public, we had to find a lot of oil, and we found most of it on property that we had acquired from major oil companies that didn't see economic opportunities there for a company their size. But they were very economic opportunities for a company the size of Newfield.
Offshore: Is the Gulf strictly for big players these days?
Foster: I don't think so. There are companies out there now that have loads of operations similar to what Newfield did, and they are better capitalized than Newfield was. You've got a number of independents in the Gulf now, and I think there will always be a place for them. The issue is for the right independent to find the right source of financing.
Offshore: How has the safety culture on the rigs evolved?
Foster: Every organization that works in the Gulf of Mexico has a high regard for safety because you have more inspections in the offshore environment than you do anywhere in a land area. So it's important because the downside consequences of failure in safety are just huge. When I first worked in the Gulf in the early 1960s, the culture of safety was not nearly as strong as it is now.
Offshore: How did you go about building a workforce at Newfield? Was there a strategy for staffing?
Foster: One of Newfield's competitive advantages was that we set up teams of geologists, geophysicists, and engineers – not only a petroleum reservoir engineer, but also a drilling engineer. So every operation we undertook or every idea we pursued was followed up by a team, and the teams got bonuses based on the performances they achieved.
If you were to look at organizations as they are run today, that uniqueness would not be apparent. But at the time we were building Newfield, our teams and the way they worked together was something that I think was copied by a number of the bigger companies. There has been a move toward integrated teams – that's the name for it throughout the industry now – and we at least played a part in that movement.
One of our key business principles was to have integrated teams. I wanted to have geologists, geophysicists, and engineers, and even accountants talking to one another, because every one of those people has an influence on the kind of results you achieve, and every one of those disciplines needs to know what the other one is thinking. And we need the input of all those disciplines. So teamwork was, and still is, a strong mantra at Newfield.
Offshore: How has the workforce changed in the industry?
Foster: Without exception, you have much more cooperation between the disciplines and many fewer silos in the way the businesses are conducted We recruited people right out of college, and today, Newfield still does that. I think that building an organization with guys that come with you when they're first starting in the business is the most effective way to do it. I've seen organizations that hired only experienced people, and you don't get the kind of interaction among the people that you would like.
Offshore: What kind of advice would you give to someone who is coming out of school and considering a career in the oil and gas industry?
Foster: I'd tell them there's still a future for them in oil and gas, and that they need to go to work for a company that will give them good training and expose them to all the disciplines that are required to find oil and gas – an organization where there is a free flow of information, where there are no silos.
Offshore: What was a highlight of your own career?
Foster: One highlight was when [Newfield] made our first significant discovery [Ship Shoal 157, in 1990 – ed.]. We felt that it was a keeper. And it turned out that it was. It was an important property. Everybody was happy. Once we made that discovery, we knew that we had our overhead covered for the next three years.
Offshore: How do you reflect on your career?
Foster: I was fortunate to work for a company that was just building an exploration and production effort in the Gulf of Mexico. I learned a lot from that, and climbed up the corporate ladder of a big company, which Tenneco was. And then I had the opportunity to start a new company.
We wrote a book about starting our company, called Something From Nothing. That's literally what we did, and there's no greater joy in life than starting with nothing and ending up with something.
With respect to Newfield, our timing was very good, and one of the things I have learned about business is that timing is critical. Most success stories have a strong element of timing in them – it may have been just pure good fortune, or it may have been something that was really thought through, but they got the timing right.