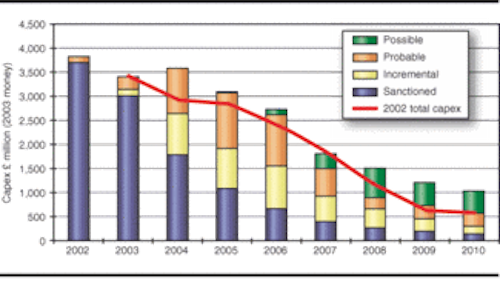 Jeremy Beckman • London
Frigg/MCP studies under way
Total has started a consultation process concerning the planned decommissioning of its MCP-01 manifold compression platform. The 386,000-metric-ton facility is a concrete gravity platform, located in 94 m of water in UK Northern North Sea block 14/9, midway between the Norwegian Frigg field and the St Fergus gas terminal in eastern Scotland.
MCP-01 entered service in September 1977, and was designed initially to function as a pigging station controlling pressure in the Frigg trunkline system, comprising separate 32-in. lines in the UK and Norwegian sectors. Later, it served as a compression facility for gas from heading from Frigg to St Fergus, and latterly, it has also functioned as an interconnection station for other gas fields in the area.
It was originally due to be decommissioned around 2024, when the pipelines were assumed to be redundant. However, a recent technical review raised doubts over whether safety standards could be maintained for this normally unmanned platform, which by that point would be nearly 50 years old.
The facility, which is operated remotely from St Fergus, has not been used for production or storage of oil, and there are no associated drill cuttings, as it has never been used for drilling wells. In the run-up to decommissioning, pipe-in-pipe bundles will be installed by Subsea 7 on each of the Frigg lines. This work, scheduled to finish by summer 2005, will allow Frigg's gas to bypass both MCP-01 and the Frigg TP-1 platform, which is also due to be taken out of service. Work will include a new connection for the Total-operated, 24-in. North Alwyn line on the British side into the Frigg UK trunkline.
At the moment, Total looks like sharing the abandonment costs with nine major partners. Small and mid-size independents taking on the running of mature UK fields may be less lucky. At a recent UK North Sea conference in Aberdeen, Derek Leith of Ernst & Young pointed out that decommissioning costs in the sector have already scaled £9 billion, and look to be escalating at around £500 million a year. If the majors speed up their withdrawal from North Sea operations, this could put added strain on the borrowing facilities of the smaller companies, he said, potentially hampering deals.
"Whereas major oil companies have the credit ratings to avoid any impact on their ability to borrow, less established players are not in such a favorable position," Leith says. He has called on the UK government to revise tax relief on provisions made for decommissioning, to avoid deterring others from late field life investments.
UKOOA seeks further relief
Extended tax allowances for independents exploring the UK shelf have been welcomed by the UK Offshore Operators Association. However, UKOOA has called on the government to phase in wider-ranging incentives, to secure the sector's long-term future.
UKOOA's latest survey of its members' investment intentions suggests that UK capital and operating expenditure will stay constant in the short term, totaling over £7 billion/yr through 2006. During this period, production should dip, but not disastrously, from 4 MMboe/d in 2003. The decline gets steeper, however, in the second part of the decade, with output in 2010 dropping below 2.5 MMboe/d. Over the same period, development costs are projected to rise by 15%, with operating costs soaring by 60%, based on currently sanctioned development plans. In other words, the industry will spend a lot more to produce less. Unit costs will only be held down, UKOOA says, if future marginal field developments can be made economic.
null
Last year, the survey found, exploration drilling proved up 138 MMboe of new reserves on the UKCS. Forward planning intentions suggest up to 14 Bboe could be developed by 2030, out of an estimated remaining total across the shelf of 22-31 Bboe. There is an implicit swing factor, however, if new, punitive legislation comes into force.
Earlier this year, UKOOA held talks with the government environmental agen-cy, Defra, over the European Union's Emissions Trading Scheme. The allocation plan proposed for the UK threatens numerous offshore installations with cuts in emissions of 30-45%. These are incon- sistent, UKOOA says, with the overall 16.3% reduction in CO2 targeted by Britain's government. It also points out that numerous British onshore installations seem to have been included in the "offshore" calculations, while some genuine offshore installations may have been overlooked.
Industry consultant David Odling suggested a logical way out of the impasse during the survey briefing. Enhancing recovery from mature fields could be stepped up by putting in more power, he said, which would in turn generate more emissions. On the other hand, if governments took a longer-term view, numerous platforms would be decommissioned over the same period, and this would lower emissions overall.
Talisman eyes Gyda satellites
Talisman Energy is replicating its UK North Sea business model in the Norwegian sector. Last summer, it became Norway's most significant new entrant of a long while when it acquired operatorship of the Gyda field from BP. Last month it was awarded two new exploration licenses, one of which includes part of block 2/1, adjacent to Gyda. Talisman has already identified several exploration targets that, if successful, could be tied back as subsea developments to the Gyda platform.
Separately, the company picked up ConocoPhillips' 35% interests in two licenses in block 1/2, operated by UK-based independent Paladin. The latter plans to drill the Hummer prospect on this acreage later this year. The partners are already thinking of a joint development with Blane, a field straddling the UK/Norwegian sides of the median line, again to be tied back to Gyda. With or without these satellites, Talisman plans to drill at least three new production wells on Gyda, where current output is around 11,000 b/d.