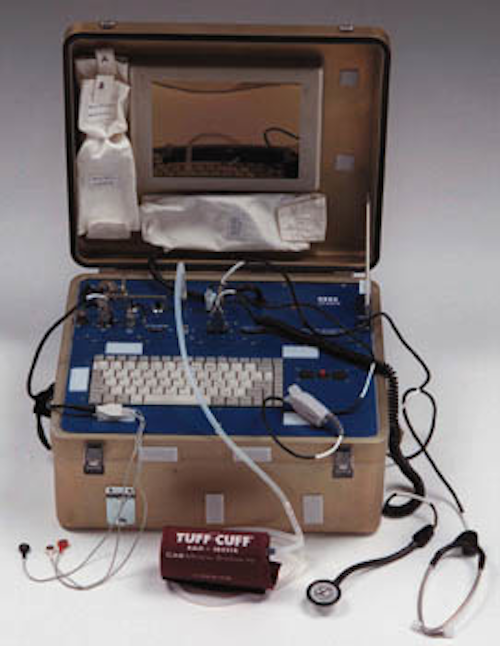 Jennifer E. Smith
Houston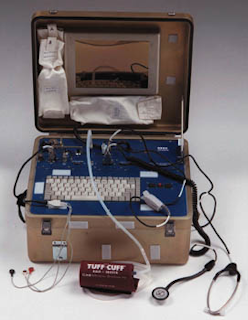 The Krug telemedicine instrumentation pack with biomedical attachments.
Glomar Explorer to drill deepest well
The Glomar Explorer will begin work in Atwater 119 in the Gulf of Mexico this month under a five-year, $260 million contract to Chevron and Texaco. The rig will drill at a depth of 7,719 ft in Atwater 119 - the deepest ever drilled.
The 618-ft-long DP ship was designed and built by Global Marine in 1970 for the US Navy to recover a sunken Golf-class Soviet submarine (see page 86 for complete history). The ship was originally said to be a deepsea mining vessel, intended to recover manganese nodules from the sea floor. The Glomar Explorer, with the help of the purpose-built HMB-1 barge, located the submarine and raised portions of it.
In 1996, Global Marine entered into an agreement to lease the ship for 30 years from the Navy, and then performed upgrades on the vessel, which were completed at the beginning of February. The nearly 30-year old vessel will continue its work in record-breaking depths, though without the subterfuge that surrounded its early life.
Telemedicine systems expand offshore
Offshore platforms are necessarily remote facilities. On those occasions when more than first aid is necessary, and a physician should be consulted, the process often involves a long boat ride or an expensive helicopter ride. Telemedicine is the answer to all but the worst medical situations.
Telemedicine is the transfer of still photographs or live video, sound, and biomedical information to a doctor when there are none close by. This may be by e-mail or real-time teleconferencing.
The Hibernia platform off Newfoundland acquired a telemedicine system, similar to one deployed on some platforms in the Gulf of Mexico and linked to the Houston Medical Center. Unlike the Gulf of Mexico, however, there are registered nurses on the Hibernia platform. The Hibernia telemedicine system involves:
Direct telephone service from the platform to an onshore, on-call physician at any time
General camera made by Andries Tek and an ear, nose, and throat probe made by American Medical Development
A videoconferencing system for emergencies.
Photographs of external medical conditions, such as a rash, eye infection, or skin laceration are taken with special lenses on a digital camera, and are then e-mailed, along with audio commentary, if desired, to a physician for review. A basic system, suitable to most emergency room needs, would cost about $45,000, before communication equipment, according to Ron Williams, Vice-President, Sales, for Andries Tek. However, telemedicine packs can often be integrated into existing communications systems.
Another telemedicine provider, Krug Life Sciences, recently flew its own system with the US space shuttle Endeavor. Krug's system is about the size of a large overnight bag. Astronauts conducted medical exams, including video of the eye, ear, nose, mouth, throat, and skin; biomedical feedback including electrocardiogram, blood pressure measurement, and percent oxygen saturation; and audio of the heart and lung. The system was designed for minimally trained operators.
Blowout, post-event response insurance
The insurance industry is linking up with blowout control specialists in providing preventative and post-event response coverage packages for operators in the Gulf of Mexico. Recently, Boots & Coots International Well Control announced an alliance with Global Special Risks to provide a specialized insurance program that provides contingency planning, preventative work, personnel training, safety inspection, and engineering consultancy, plus insurance underwritten by a London company for blowouts and even post-event response from Boots & Coots IWC. The firm contends this is the first time all components are covered, a needed step in order to unify all parties in solving a problem.
E&P Update:
Exxon applied to the US Corps of Engineers for permission to drill a third gas well in Block 112, south of Dauphin Island in the Gulf of Mexico. Exxon proposes to use a jackup to drill the well 30-50 ft from an existing platform associated with the Tract 111, No. 4 well, and to connect the new well to this existing platform. If stability of the jackup is a problem, Exxon wants to install concrete mats and sand bags for the duration of the drilling.
The Geco Searcher survey vessel achieved the highest survey rate ever attained in the Gulf of Mexico by a single vessel. It covered 50 offshore concession survey blocks of seismic data a month throughout 1997 on a nonexclusive proprietary survey. Geco Searcher used an 800-meter wide spread and a 4.8-sq km footprint, one of the largest currently available from a single vessel.
Coastal Oil & Gas completed six development wells in West Cameron Block 498, which are producing collectively 52 MMcf/d of gas and 7,800 b/d of oil. The wells feature net pays ranging from 236 ft up to 723 ft in multiple reservoirs. Future development plans include four additional wells. Coastal owns a 68.7% working interest; Energy Development holds 8.2%; and IMC Global holds 23.1%.
Apache completed a discovery with Goodyear No. 3 well in the Pecan Island Field. The well flowed 10.7 MMcf/d of gas and 2,000 b/d of oil from a 18/64-in. choke with 7,548 psi of flowing tubing pressure. The well hit 77 ft of net pay in the Miocene-age A-6 sand at the 15,224-15,242 ft interval. A 50-ft pay interval in the Miocene A-5 sand will be tested at a later date. Apache holds 55% working interest; XPLOR Energy, 21%; Key Production, 17%; and Eland Energy, 5%.
Mariner Energy has a natural gas discovery on its Dulcimer prospect, located on Garden Banks Block 367. The test well, in 1,120 ft of water, logged 150 net ft of gas pay in two productive intervals at TVDs of 9,900 ft and 10,500 ft. After production casing has been run, the discovery well may be deepened by as much as 1,000 ft to test additional sands. Initial production is expected in the first quarter of 1999 from a single subsea well tied back to a host platform. Mariner owns a 42% working interest in Garden Banks Block 367; Spinnaker Exploration has 33%; Pogo Producing has 25%.
Copyright 1998 Oil & Gas Journal. All Rights Reserved.