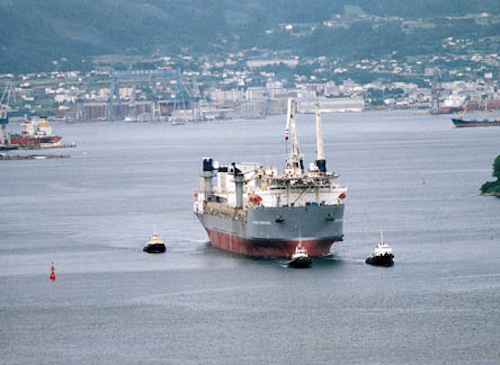 Jennifer E. Smith
Houston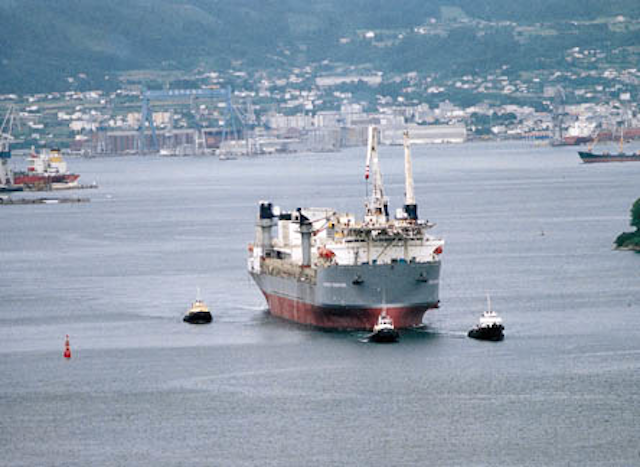 The Discoverer Enterprise was due to arrive at Ingalls Shipyard in Pascagoula, Miss., in mid-August for the finishing phase of construction.
A silver lining in price downturn
Among all the concern about the price of oil, some are taking advantage of the fringe benefits. While most operators are cutting their capital budgets to deal with low oil prices (at press time WTI was at $13.23), Houston Exploration is raising its budget to $130 million from about $100 million. The company said it will drill more wells than previously budgeted, to take advantage of current lower drilling costs.
This may be a good opportunity for those who are thinking in the long term, though in the short term Houston Exploration and others with like intentions may suffer a loss. However, Salomon Smith Barney is predicting that the recent weakness in the offshore drilling and service sector will probably turn around in fall, predicting that oil prices will rebound, causing a rebound in rig demand and a firming of day rates.
Royalty relief granted for third time
The US Minerals Management Service awarded deepwater royalty relief for the third time in July. Royalties will be suspended on the first 87.5 MMboe produced from the Amoco-operated King's Peak gas field, located on Desoto Canyon 133 and 137 and partially on Mississippi Canyon 217 offshore Louisiana. The MMS said the royalty relief provided could be worth as much as $143 million.
King's Peak is near Amoco's King Field, located on Mississippi Canyon Blocks 84, 85, 129, which was awarded deepwater royalty relief in May. Before that, the first field to be awarded royalty relief was Sunday Silence Field in Ewing Bank 958. That was granted in June of 1997.
Despite the fact that this relief has only been awarded three times, the Deepwater Royalty Relief Act of 1995 has been credited with causing the surge in Gulf of Mexico activity, and giving courage to those who would otherwise be deterred by low oil prices. These three instances, which demonstrate willingness to grant royalty relief, may be the saving of the industry in the US Gulf of Mexico.
Enterprise near ready for Gulf of Mexico
The fifth-generation drillship Discoverer Enterprise left the Astano shipyard in Spain in early August to travel to Ingalls Shipyard in Pascagoula, Miss. There, the vessel will undergo final outfitting and sea trials. It is expected that Discoverer Enterprise will begin its five-year contract to work in the Gulf of Mexico for Amoco at around the end of December. This dual-activity drillship will be capable of working in water depths up to 3,000 meters.
---
E&P Briefs
West Cameron 172 No. 16 ST well tested at 10.2 MMcf/d of gas and 90 b/d of oil on a 28/64-in. choke with flowing tubing pressure of 2,034 psi. Two more wells are scheduled, with production planned for early 1999. IP operates the well; Panaco holds 7.5%; and American Resources of Delaware owns 28.72% working interest.
American Resources of Delaware said that its Galveston 213 well is producing 13 MMcf/d of gas and 230 b/d of condensate. The company owns 33.3%.
West Cameron 45 No. 21 well logged an estimated 86 ft of combined net pay in three primary-objective Miocene-aged sands below TVD of 9,600 ft. It and the No. 20 well, which found 80 ft of combined net pay, should be onstream in the fourth quarter. Basin said it holds 100% of the block, and plans to drill another well to test a separate fault block.
Vermilion 309 No. A-3 well was drilled to 9,385 ft and logged 170 net ft of gas in four zones, and the A-5 well was drilled to 10,666 ft and logged 150 ft of net gas in four zones. Seneca holds 100% of the block.
Ship Shoal 59 No. 2 well was drilled to 12,650 ft and logged 46 net ft of gas in two zones. Murphy Exploration & Production operates the block.
High Island A-354 No. 1 well was drilled to 9,090 ft and logged 214 ft of gas in multiple zones. Another well is being drilled to appraise the reservoirs. Seneca owns 91.25%.
East Cameron 157 well A-7 found new reserves that were fault-separated from the main field reservoir. That well flowed 40 MMcf/d of gas and 1,129 b/d of condensate with flowing tubing pressure of 2,235 psi. Anadarko holds 100%.
Lucky Seven No. 1 well on Ship Shoal 67 was drilled to 11,300 ft and encountered about 35 ft of net pay in four major zones and additional shows in other sands. Operator Comstock Resources (99.8% working interest) said it plans to drill a No. 2 well updip of the first in September. Comstock said it estimates the prospect at 2.4 MMboe.
Copyright 1998 Oil & Gas Journal. All Rights Reserved.