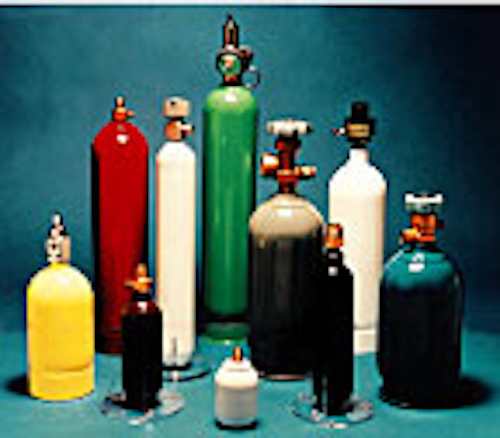 Leslie Bellfore
Houston
High-pressure cylinders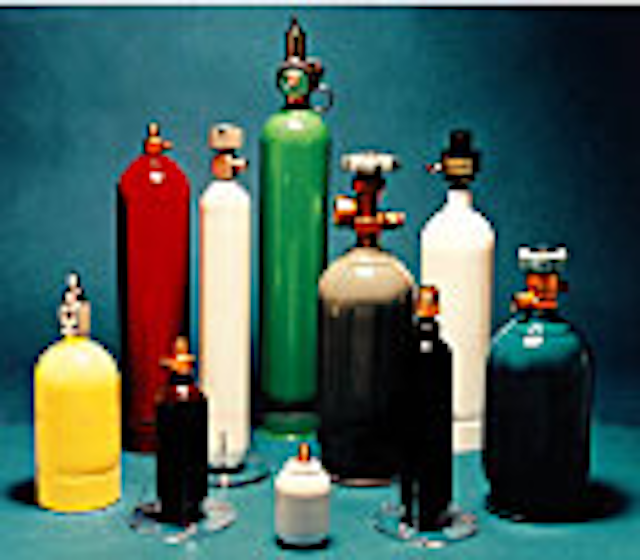 Scott Specialty Gases (Plumsteadville, Pennsylvania), an international supplier of gas and liquid mixtures, high-purity gases and high-performance gas handling equipment for industrial, medical and scientific applications, is now distributing and selling high-pressure steel cylinders. Scott High Pressure Technology specializes in the innovative design and manufacture of high-pressure disposable and refillable cylinders, 1100-2200 psi or 74-148 bar. Scott also provides just-in-time delivery and custom cylinder design services. Permit numbers TC-SU5140 for non-refillable cylinders, and TC-SU5248 for refillable cylinders appear on the labeling of all Scott High Pressure Technology products.
Circle 50 on Reader Service Card.
Inspection instruments
EPD Technology (Elmsford, New York), is releasing a new full-color, 36-page catalog, EPD Instruments for Industry, Volume 6. Included in EPD's brochure, are a laser alignment system for under $5,000, non-contact and contact digital tachometers, portable eddy current testers, a hand-held stroboscope, computer-powered electrical motor testers, ultrasonic detection instruments, boroscopes, laser distance measurement devices and a new intelligent laser thermometer with target size identification and data logging capability. Produced as a series of single page brochures, this edition of the EPD catalog can provide answers a potential buyer will need to make a purchasing decision. Each product page contains complete details including specifications and pricing. The catalog also features a new color-coded index for convenient product location.
Circle 51 on Reader Service Card.
Closed-loop control system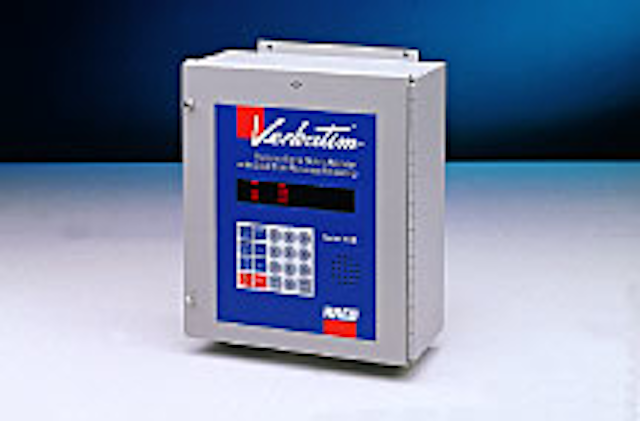 RACO Manufacturing & Engineering (Emeryville, California), is offering a new closed-loop control system designed to permit remote actuation of control relays upon receipt of alarm signals. The control system utilizes two RACO Verbatim Alarm Autodialing, Remote Monitoring, Reporting and Control Systems operating over standard dial-up landline or wireless telephone networks. Upon detection of an alarm signal, such as low water level in a tank being monitored, the master Verbatim calls the remote Verbatim to cause activation of a control output relay, which turns on a pump motor. Similarly, a following high water level alarm would initiate an action to turn the pump off. After each control command, the remote Verbatim acknowledges that the instruction was received. If the master Verbatim does not receive an acknowledgement from the remote Verbatim, it begins an alarm calling sequence, calling a list of emergency phone numbers until it gets an answer, where the system then reports the alarm location and trouble.
Circle 52 on Reader Service Card.
Well control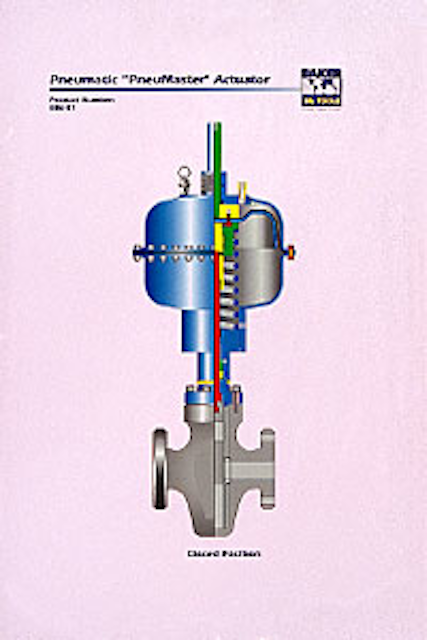 Baker Oil Tools (Houston), has developed what it claims to be a fail-safe pneumatic actuator that helps ensure well control without cost of additional features.

The PneuMaster Actuator was developed to compliment Baker Oil's GateMaster Hydraulic Actuator and is designed for applications where the patented Quick Disconnect or other features in their standard actuator line are not required. The PneuMaster Actuator is used to open and close a reverse-acting or direct-acting gate valve through pneumatic pressure applied to a closed cylinder. Fail-safe return occurs through a coil spring that provides a return stroke in the absence of flowline pressure. PneuMaster provides a wide range of standard accessories such as electric limit switches, clear stem protectors and heat sensitive lock-out caps. Its flexibility eliminates the need to purchase special accessories by providing interchangeability with tools the customer already owns.
Circle 53 on Reader Service Card.
Rotary unions
Aqua-Dyne(Houston), a manufacture of Water Energytrademark pumps, systems and accessories rated to 40,000 psi, offers several models of its stainless steel rotary union. These In-Line Flow Swivels permit the rotation of water hoses at speeds of 500 RPM, pressures to 20,000 psi and fluid flow rates to 200 gpm. Rotation can be achieved by air, hydraulic or electric motor. Applications include waterjet tools, jet assisted drilling, articulation joints, rotary lancing, and hydro-demolition.
Circle 54 on Reader Service Card.
Exploration data sets
PI (ERICO) (Twickenham, United Kingdom), a division of IHS Energy Group, now provides focused exploration data sets and associated IT services for direct loading into Landmark Graphics OpenWorks. PI (ERICO) provides Landmark output of well attribute data from the company's P2000 Exploration & Production Data Management system and also of digital well log data. Extensive tests are carried out on the data sets on the company's in-house Landmark OpenWorks system prior to delivery to the customer.
Circle 55 on Reader Service Card.
Wellhead systems
Cameron (Houston), is releasing new literature on its Standard Snapring Modular Compact (SSMCtrademark) Wellhead Systems. The systems were designed to accommodate a wide variety of casing programs and working pressures, while maximizing the use of interchangeable components. The result is a compact wellhead system that decreases costs, reduces overall height and enhance a safety rig time savings. The SSMC Wellhead System is available in all nominal connection sizes from 7 1/16-in. to 20 3/4-in. and working pressures up to 15,000 psi. Design and manufacture meets API 6A standards. Features of the SSMC Wellhead System include the BOP connected one time only, lockscrews and unnecessary leakpaths eliminated, compact design, thus, earlier handling, API studded outlets and retrievable casing hanger seal version for more critical services.
Circle 56 on Reader Service Card.
Shaped charges
Schlumberger (Houston), announces what it believes to be the next generation of high-performance shaped charges for perforating oil wells. The first of the charges, HTX charges, have greater performance at higher shot densities and better jet quality. For example, 2 1/8-in. Enerjet HTX charge penetrates 24.7 in. into an API target at 6 spf, compared with the previous generation high-temperature charge that perforates 21.6 in. at only 4 spf. Better performance at higher shot densities translates into higher productivity- the crucial difference making costly high-pressure, high-temperature wells more viable. The second of the new charges is designed for the through-tubing market, where performance is key to enhancing well production. For example, the PowerJet charge for the 1 11/16-in. Pivot Gun service penetrates 32.8 in. into an API target, providing casing gun performance from a through-tubing system.
Circle 57 on Reader Service Card.
Drilling fluid additives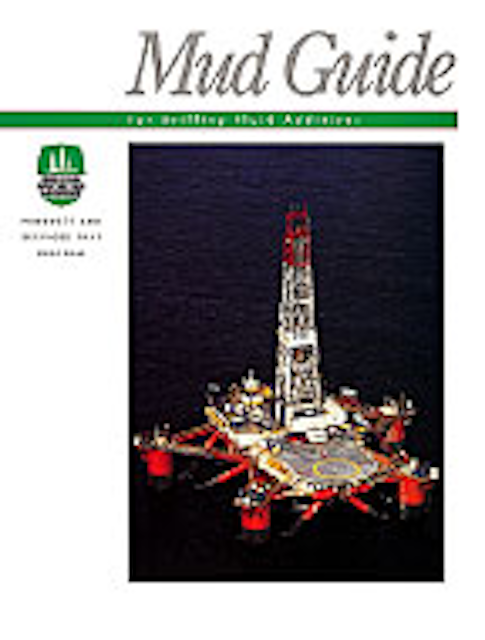 Drilling Specialties Company (DSCo)(Houston), is offering a technical brochure providing information and guidelines for the effective application of drilling specialty fluid additives for oil field use. Mud Guide for Drilling Fluid Additives, a catalog, discusses product descriptions and base system applications such as water-base, oil-base or synthetic compatibilities, specific advantages, applications, mixing requirements and handling details. DSCo specialty products, with registered tradenames like SoltexRegistered, DescoRegistered, DrispacRegistered, Diaseal MRegistered, Drill-ThinRegistered, Driscal DRegistered and Flowzantrademark are standards in the drilling mud industry. DSCo supplies products and professional field service to go with them.
Circle 58 on Reader Service Card.
Generator sets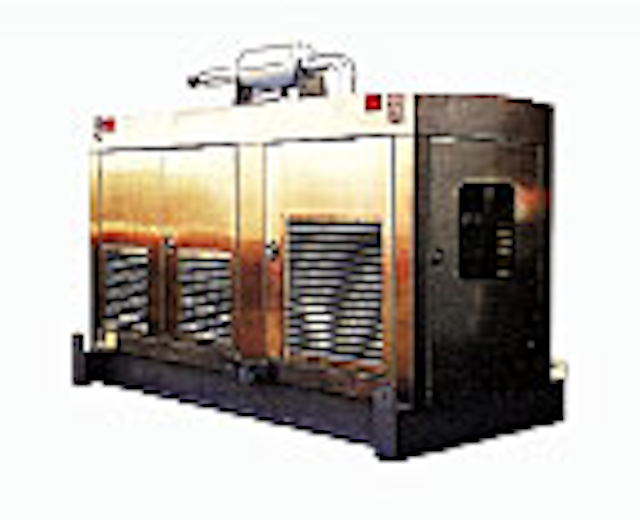 Reagan Equipment (Gretna, Louisiana), a producer of industry-specific power generation equipment, introduces Ready Paktrademark and Dynamotrademark generator sets. Ready Pak offshore gensets are a pre-engineered natural gas package available for immediate delivery and suitable for Class 1, Group D, Division II areas. Ready Pakstrademark are constructed in standard sizes from 40 kW to 1000 kW. The system reduces equipment delivery time, and is built with the same proven quality control methods and procedures as Reagan's custom designed packages. All equipment is secured to a heavy-duty steel skid base, which has been seal welded, sandblasted and coated with an Ameron paint system. Ready Paktrademark is the only pre-engineered generator set available today meeting Class 1, Group D, Division II specifications. Dynamotrademark heavy-duty gensets are available in standby power ratings of 17 kW to 550 kW. The product line is available with an array of diesel engine and component options, including engines such as Isuzu, Cummins, Perkins, Deere, Detroit Diesel, MAN and Deutz diesels, along with Arrow Specialty natural gas engines.
Circle 59 on Reader Service Card.
Line blind valves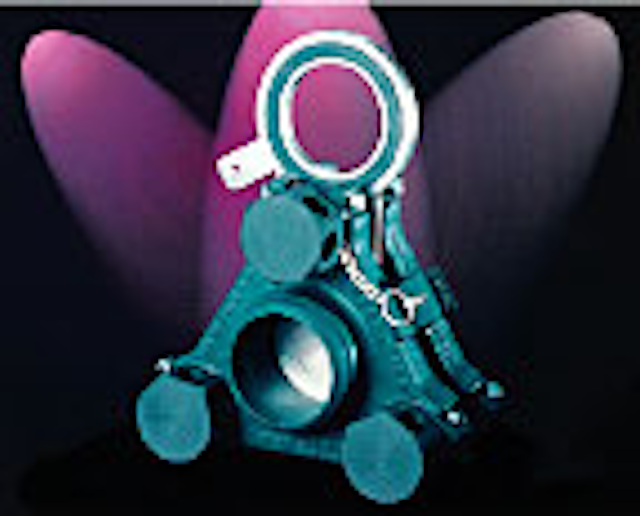 R&M Energy Systems (Houston), is introducing HamerRegistered Line Blind Valves. R&M claims The Line Blind Valves afford shut-off integrity in pipelines where line blinding is a frequent requirement and safety is a primary concern. Their designs provide service life with minimal maintenance requirements. R&M also claim HamerRegistered Line Blind Valves provide superior, cost-effective performance when compared to alternative blinding methods including blanking flanges and removable spools; standard valves, double block and bleed arrangements; and skillet plates. The spectacle plate system allows HamerRegistered Line Blind Valves to provide a visual indication of the valve's open or closed status. The line blind valves are ideal for positive shut-off and offer absolute assurance of no downstream leakage even in harsh applications including production and refining, carbon dioxide shutoff in well injection applications, gas gathering (including sour gas service), and pipeline transfer.
Circle 60 on Reader Service Card.
Structure-to-pile connections
Oil States MCS (Houston), is a full-service, single-source provider of structure-to-pile connections for platform jackets and subsea templates, including both grouting and Hydra-LokRegistered pile swaging. MCS can provide a complete package of equipment and onsite services for both types of connections. Grouting and Hydra-LokRegistered provide structural connections in thousands of applications, according to Oil States. The choice of which technique is most economical for a project is based on the operational and equipment differences between the two and how these interact with the structure design and installation operation. Water depth is also a consideration because it affects grouting system type and cost; for Hydra-LokRegistered pile swaging, however, depth does not affect the operations. Hydra-LokRegistered advantages include a minimum of expendable equipment, it works at any depth, connections are immediate full strength and the integrity of each connection is verified as it is made. Oil States claims primary advantages for grouting include more economical for certain types of jackets, can be used when the pile to structure sleeve annulus is too large for swaging and when pile sizes are larger than 84 in.
Circle 61 on Reader Service Card
Copyright 1998 Oil & Gas Journal. All Rights Reserved.