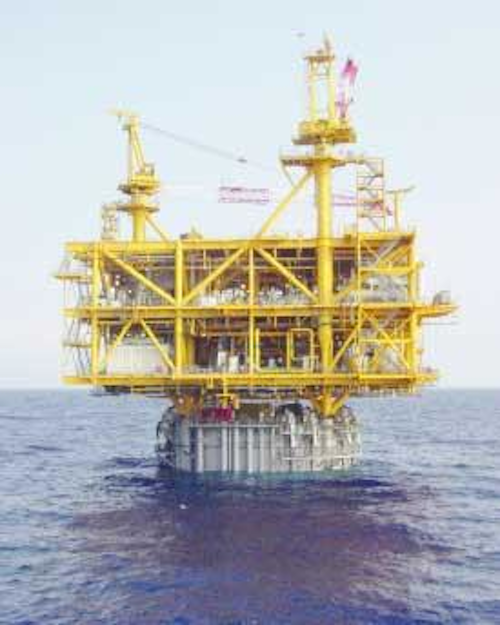 Jennifer Pallanich Hull • Houston
McDermott International Inc. subsidiary J. Ray McDermott completed the Medusa spar project, delivered on a full scope engineering, procurement, installation, and construction (EPIC) basis. J. Ray subsidiary SparTEC provided overall project management for the design engineering, procurement, fabrication, installation, and commissioning of the offshore production facility, which is located in Mississippi Canyon block 582 in more than 2,200 ft of water in the Gulf of Mexico.
The Medusa field, which is operated by Murphy Oil Corp., is capable of producing 40,000 b/d.
SparTEC led design of the spar facility, consisting of hull, mooring system, topsides, and production facilities. The hull, constructed at J. Ray's facility in Jebel Ali, United Arab Emirates, is 586-ft long, has a 94-ft diameter, and weighs more than 12,800 tons.
The company's Veracruz, Mexico, facility prefabricated the topside in subassemblies. The topside, which weighs over 6,000 tons, was assembled and outfitted at the Harbor Island facility near Corpus Christi, Texas.
null
J. Ray's facility in Mexico also fabricated the buoyancy can system and mooring piles. J. Ray installed the spar platform using Derrick Barge 50 and the Shearleg crane. The company was also responsible for hookup and commissioning of the platform.
"Utilization of J. Ray's worldwide facilities and engineering capabilities to complete this project is an important milestone for us. While we faced a number of significant challenges, we have been able to use the lessons learned from the Medusa project on the other two EPIC spar projects currently in our backlog," said Bob Deason, president and COO of J. Ray.
Riskex one factor in DP operations
In weighing the options for shuttle tankers and pipelines, Ernst Meyer of DNV Consulting urged Dynamic Positioning (DP) Conference attendees in Houston to consider risk expenditures (riskex).
"What may appear to be the best solution with regard to capex and opex may not appear to be the best solution when you take riskex into account," he said during the annual Marine Technology Society event.
Only by looking at a complete risk picture can a fully informed decision be made, Meyer said.
"The only way to achieve that is to make an integrated assessment of all the risk factors."
Oynstein Huglen of Navion said his company has devised the separate storage shuttling (S-S-S) system, which involves a spar or similar structure, an FSO, the shuttle tanker, and a hose.
"This is really how we operate in the North Sea. At this point, we also have a storage unit on DP," he said.
Huglen said the S-S-S solution is economically viable for deepwater operations in the Gulf of Mexico but that a more comprehensive study will need to be completed to reduce risk aversion.
And Izar Fene has designed an FPSO that it believes will stand up to the rigors of operating in the Gulf, said Joaquin Lopez-Cortijo. The design has been model tested, with good results, he said.
"Dynamic positioning (for FPSOs) may start to be competitive beyond certain water depths," he said.
Forest buys Unocal properties
Unocal Corp. is selling 70 of its Gulf of Mexico area properties to Forest Oil Corp. in a $260-295 million deal that was expected to close by the end of October.
Forest said that following the purchase of the south Louisiana and offshore GoM properties, the independent will have estimated proved reserves of 150 bcf of equivalent.
The properties cover 273,000 net acres, of which 95,000 are net undeveloped acres, in 128 blocks offshore and in three fields onshore Louisiana. Forest will operate 70% of the prod-uction associated with these assets and expects to spend about $60 million of capital on the properties over the next two years.
Forest has granted Unocal farm-in deep rights on 41 of the purchased blocks at predetermined terms for three years.
"This transaction is the type of acquisition that we intend to continue to pursue," said Forrest Hoglund, who recently became Forest's new chairman.
Unocal said it would use net proceeds to reduce debt and increase capacity to fund development projects and discoveries. The estimated reserves on July 1, 2003, the effective date of the sale, were 34 MMboe, and net production was about 18,000 boe/d. Unocal said about 20 more GoM properties are earmarked for divestment, expected to be sold by year end. Following all GoM divestments, Unocal said, the Gulf Region business unit portfolio will include about 25 fields with production of 67,000 boe/d, along with an option to initiate deep exploration on many of the fields being sold to Forest.
Regulatory notes
The US Department of the Interior's Minerals Management Service has updated its guidance on preparing exploration plans (EPs) and development operations coordina-tion documents (DOCDs).
The changes, provided in a recent notice to lessees (NTL), streamline the guides for submitting the documents.
"This NTL provides details on all the required information that lessees and operators must provide, and furnishes format examples, thereby reducing the need for additional plan filings or costly delays," MMS Gulf of Mexico Regional Director Chris Oynes said.
Under the revisions, shallow hazards assessments are required only for locations not previously approved, oil characteristics information are exempted from EPs, the coastal zone management (CZM) consistency information required by the state of Louisiana is further limited, and the CZM consistency information required by the state of Florida is modified.
Lessees must file EPs and DOCDs for MMS approval for all proposed exploration, devel-opment, and production activities under the OCS Lands Act. The MMS submits the plans to state and federal agencies for regulatory review.
The new guidelines are now in effect.