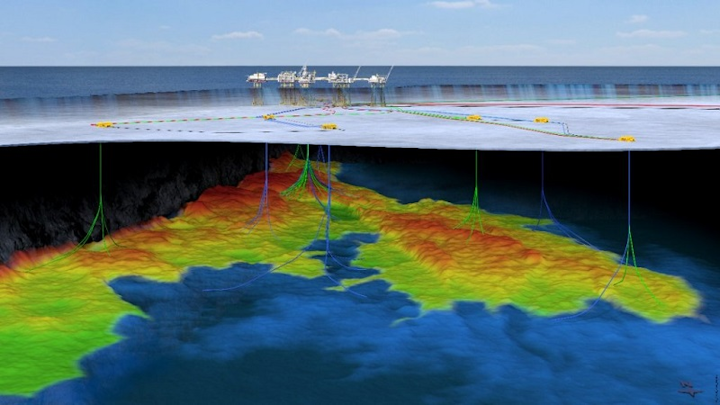 Offshore staff
STAVANGER, Norway – Statoil has contracted Alcatel Submarine Networks to provide permanent reservoir monitoring (PRM) at the Johan Sverdrup field in the Norwegian North Sea.
This should help Statoil achieve its goal of a 70% recovery rate from Sverdrup.
Alcatel will install 380 km (236 mi) of fiber-optic seismic cables on the seafloor and more than 6,500 acoustic sensors covering an area of more than 120 sq km (393 sq mi), making this one of the largest fiber-opticseismic systems of its kind anywhere, Statoil claimed.
And for the first time offshore Norway, the seismic spread will be in place to optimize production at start-up. The seismic cables will be installed in 2019.
With PRM, seismic sensors are permanently embedded into the seabed to achieve more frequent and improved seismic images of changes in the reservoir over the course of production.
Sverdrup's system will employ optical fiber technology that allows for continuous recording of changes in the subsurface.
"We see great potential with PRM on Johan Sverdrup in terms of improved visualization, modelling, and eventually also predictive analytics," said Eli Eikje, head of Petroleum technology for Johan Sverdrup.
"This should give us improved precision in our well locations, help us better control production and injection, but should also contribute with information about the condition of wells and subsea infrastructure – which is critical for a field with a 50-year lifespan."
The initiative should also serve as a basis for future recovery initiatives on the field such as infill wells, water and gas injection, and digitalization.
Statoil has awarded Alcatel Submarine Networks a frame agreement that also includes opportunities for future collaboration on technology development, other solutions to maximize the potential from the PRM system, and an option to extend seismic coverage to include the southernmost part of the Johan Sverdrup field.
PRM was also stipulated by the Norwegian authorities for the Sverdrup plan for development and operation.
Statoil has previous experience with PRM on the Snorre and Grane fields in the North Sea.
01/17/2018