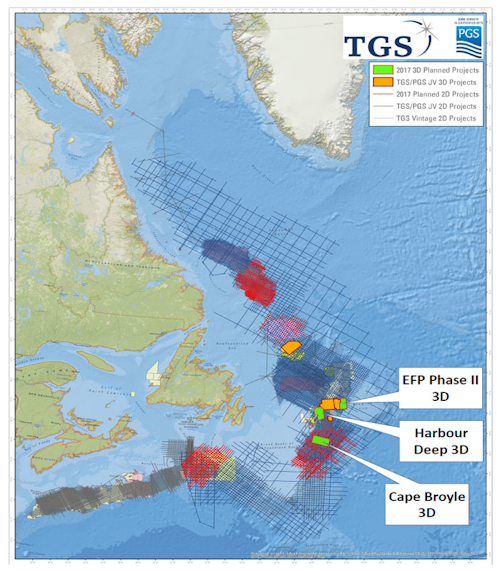 Offshore staff
ASKER, Norway – TGS and Petroleum Geo-Services (PGS) have committed to two further multi-client 3D seismic projects offshore Eastern Canada.
East Flemish Pass 3D Phase II will be a 1,950-sq km (753-sq mi) extension of a 3D survey the joint venture acquired last year over the eastern Newfoundland offshore region.
The new survey will extend eastwards into block EL1150 where there will likely be drilling activity in the future.
Harbour Deep 3D will comprise at least 2,700 sq km (1,042 sq mi) of 3D GeoStreamer data in the eastern Newfoundland region. It will cover already held and open acreage to be included in the November 2018 licensing round underNewfoundland Labrador's Scheduled Land Tenure system.
Following completion of these surveys the venture's jointly-owned library will have more than 175,000 km (108,740 mi) of 2D GeoStreamer data and 19,400 sq km (7,490 sq mi) of 3D GeoStreamer data.
An expansive well log library is also available in the region, along with advanced multi-client interpretation products that will improve play, trend, and prospect delineation.
Jon Erik Reinhardsen, president and CEO of PGS, said: "This will be our most active season in theNewfoundland Labrador region to date, reflecting high customer interest."
Earlier this month the two companies announced plans for this summer'sCape Broyle 3D survey, involving acquisition of roughly 3,500 sq km (1,351 sq mi) of 3D GeoStreamer data over the southeastern Newfoundland offshore region.
PGS will perform pre-processing of the initial GeoStreamer signal with TGS managing data processing. They expect to release the final data to clients next year, ahead of the 2019 licensing round.
05/23/2017