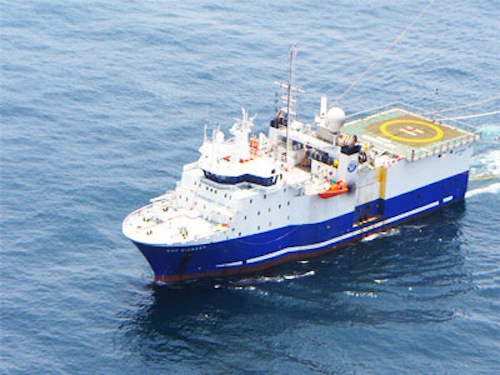 Offshore staff
ZHUOZHOU HEBEI, China – BGP has completed a 1,500-sq km (579-sq mi) 3D offshore seismic acquisition program for Perenco Oil & Gas Gabon.
The work involved complex undershoot operations between platforms and water depths from 15 to 55 m (49 to180 ft).
Severalvessels participated, the Pioneer, Explorer, and Prospector along with the BGP Supply 2 boat and the "chase boats" M/V Maria and Admiraal de Ruiter.
The shallow survey area (around 130 sq km/50 sq mi) of 15-20 m (49-65 ft) bathymetry depth contour required use of a smaller towed array of 3 x 6 km (3 x 3.7 mi).
BGP Pioneer acquired this data and also worked the larger survey area of around 1,370 sq km (529 sq mi) in 20-55 m (66-180 ft) of water, trailing a 6 x 6-km cable spread. For undershoot operations and close approaches to obstructions, BGP Prospector served as source vessel and BGP Pioneer as recording vessel.
07/31/2014