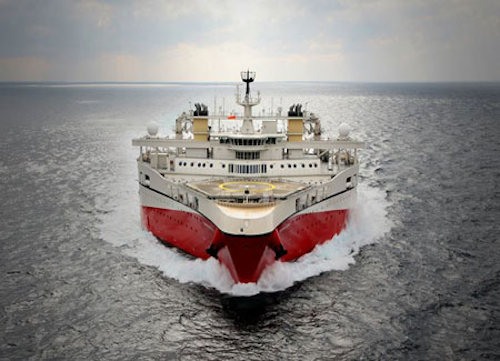 Offshore staff
LYSAKER, Norway – PGS' latest Titan-class vessel Ramform Tethys has embarked on its maiden project, drawing what the company claims is the world's largest seismic spread. 
This is for amulti-client survey over the Aasta Hansteen area of the Norwegian Sea, with a configuration of 16 streamers, each 8.1 km (5 mi) long, and streamer separation of 75 m (246 ft).
Ramform Tethys, launched in March, is recording high-density 3D broadband seismic data from what is said to be the largest amount of streamer ever towed behind a single vessel, comprising up to 129.6 km (80.5 mi) of GeoStreamer equipment.
The previous record was set by sister shipRamform Titan last December when it towed around 127 km (79 mi) of GeoStreamer during the first ever 18-streamer deployment in the Bay of Bengal.
The current 4,400-sq km (1,699-sq mi) 3D survey over theAasta Hansteen area is expected to be completed in August, with fasttrack data available four months after the final shot. 
Ramform Tethys is said to provide the flexibility to encompass virtually any acquisition design.
PGS has also announced an agreement with Rock Solid Images concerning the integration of seismic, electromagnetic (EM), well log, and rock physics data.
The company claims its towed streamer EM system improves acquisition efficiency and generates richer datasets that are of higher density than those produced using traditional node-based methods.
The combination of the data density and richness in both offsets and frequencies are said to make the EM data easier to integrate with seismic, especially for reservoir characterization.
PGS can now employ results from EM inversion, allied to the well log, rock physics, and pre-stack broadband seismic data, to produce better interpretation results, the company claims.
06/16/2016
Share your news withOffshore at news@offshore-mag.com