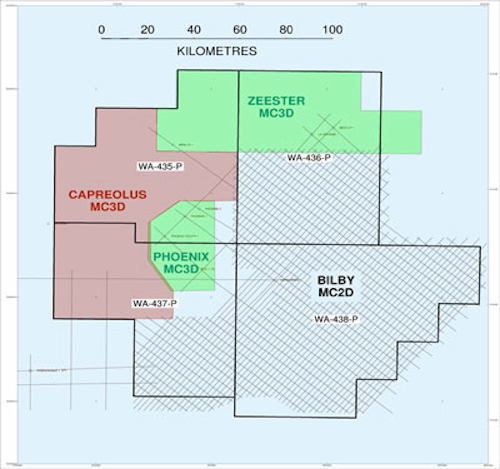 Offshore staff
PERTH, Australia – Carnarvon Petroleum says modern seismic will be acquired this year over the four exploration permits taking in the Phoenix area offshore Western Australia.
The four concessions are WA-435-P, WA-436-P, WA-437-P, and WA-438-P. Last year Apache unexpectedly proved oil in the Phoenix South structure, in an area previously thought to be gas-prone.
Yesterday thePolarcus Asima started acquisition of a large 3D multi-client program "Capreolus MC3D." The Phoenix joint venture partners will license around 5,100 sq km (1,969 sq mi) from this survey.
Carnarvon and Finder Exploration were the first to license3D seismic data in the Phoenix area containing the Phoenix South-1 discovery. First 3D activity (the Phoenix MC3D), acquired late in 2010/early 2011, covered 1,100 sq km (425 sq mi).
This was followed in late 2011/early 2012 by Zeester MC3D, which covered an additional 3,854 sq km (1,488 sq mi). The joint venture partners have agreed to license this data following the success of the Phoenix South-1 well.
With the Capreolus MC3D they will have modern 3D seismic data over 10,000 sq km (3,861 sq mi) of the roughly 22,000 sq km (8,494 sq mi) covered by the four contiguous Phoenix area permits. They will use the data for future exploration of the primary Triassic and Jurassic reservoirs.
Additionally, the new Bilby MC2D campaign will acquire modern 2D seismic over most of the remaining acreage.
Carnarvon CEO and managing director Adrian Cook said "The Phoenix South-1 oil discovery last year is important in terms of the potential for the Phoenix South structure but on a larger scale it provides significant encouragement regarding the hydrocarbon prospectivity within the Phoenix area. To refine our understanding of this prospectivity we need to further build our regional understanding and these data sets will be integral to that.
"The decision by the joint venture partners to acquire such a large data set was driven by the current assessment of prospectivity and the current timing is based on significant cost efficiencies and consideration of the timeframes necessary to prepare future drill ready prospects. This initiative will become particularly important, and valuable, if the outcome of the Roc-1 well is as we hope later this year."
01/13/2015