OBC, digital telemetry, dual-sensor acquisition and processing,
in-field quality control now producing seamless 3D coverage
Dev George
Managing Editor
International
The rapid development of new seismic acquisition technology is not limited to the glamorous environs of deepwater prospects and trendy subsalt plays. Rather, there are equally exciting innovations occurring nearshore in shallow water and transition zones. Innovations such as ocean bottom cable, digital bay cable, digital telemetry, dual-sensor acquisition and processing, and in-field quality control.
In the words of Thierry Binetruy of Companie Generale de Geophysique (CGG), "Transition zones remain some of the least explored areas on earth, because they lie between the navigable offshore survey areas and dry land. They offer one of the most severe challenges for exploration-production departments, representing a new frontier in every sense - geographically, technologically, and in terms of frontier exploration. Yet, they are where oil may still be found or where production from known reservoirs may be dramatically raised by improving information."
CGG has established a transition zone niche for itself. Although the company conducts traditional 2D-3D seismic surveys, it has contrived new methods and equipment to handle inaccessible and ecologically sensitive shallow water zones. "Seismic vessels cannot navigate in shallow water, and light craft are subject to numerous constraints, such as having to pick their way through small mangrove islands, to work in narrow tide windows, and to respect numerous ecological considerations," said Binetruy. CGG solves many of these problems by designing irregular 3D surveys, dispensing with the requirement to record parallel lines which are inevitably straddled by obstacles.
"There is no longer such a thing as a standard seismic survey," said Jean-Paul Voglimacci, CGG's executive VP, "Each geographical area, each geological formation, and even each oil company presents its own challenge."
By employing light hydrojet craft that are custom designed for laying out seismic traces in water as shallow as 30 cm, CGG has successfully carried out such surveys recently in France, Netherlands, Tunisia, Venezuela, and the Caribbean.
Radio telemetry
Typically, transition zones are swamps, tidal mudflats, estuaries, surf, harbors, and coral reefs, and often these areas are associated with shipping, fishing, and other activities, or are the subject of ecological preservation. To disturb the areas the least and still acquire the highest quality seismic data possible, technology had to be adapted from the early OBC (ocean bottom cable) systems to less invasive acquisition forms. To that end, the first digital radio telemetric seismic survey was conducted in 1978, using a recording system developed by Opseis Geophysical Systems, equipment that has become more sophisticated in its technology over the years and continues to be in currency for many transition zone applications.
Fairfield Industries, with its strictly radio telemetry Telseis Star system, specializes in difficult shallow water and transition zone acquisitions. Complex sea bottom conditions, ecological situations, and essentially inaccessible areas from jungle swamps to arctic ice flows are regions where seismic is acquired for merger into land or deepwater data.
Another similar unit, the Digiseis-FLX, from Geco-Prakla, is a high-channel count radio telemetric seismic acquisition system for transition zone surveys, which has been tailored specifically for complex spread layout designs, including roll-along, swath, patch, and circular spreads, that are displayed on a graphic screen. In addition, the Digiseis-FLX has a unique data relay system which allows data to be retrieved in remarkably obstructed areas and/or at long range, as was the case in the recent Long Beach, California 3D acquisition conducted by Geco-Prakla.
One other company, Digicon Geophysical, solves such obstructed area problems differently, having developed a system of multiboat techniques for precise undershooting of obstructions and operation in water as shallow as 10 ft.

Flotilla of CGG cable boats in France's Arcachon Basin.
OBC started it all
OBC has, however, grown during the past five years to be a primary method of choice for transition zone acquisition. Developed simply by stepping out onshore techniques into the transition zone, the OBC method of seismic acquisition began almost 50 years old, in the 1940s, with the work of Geophysical Service, Inc. and its successor, Halliburton Geophysical Services. But OBC didn't last long, and was essentially replaced by towed streamer methods from the mid-1960s to the mid-1980s.
The picture began to change, however, in 1984, when HGS developed a more efficient bottom cable operation composed of larger work vessels for cable laying and recording operations, with conventional marine seismic vessels acting as the source. In 1985, a method was developed for precisely placing the receivers on the ocean bottom at pre-determined locations. In 1989, dual sensor technology began to be employed, which enormously increased OBC accuracy by recording both pressure and particle velocity signals simultaneously and then combining the signals to remove the effects of the water layer on the seismic sensors.
Finally, in 1991, digital telemetry, digital cables, and digital in-water electronics replaced their analog counterparts, greatly improving the efficiency of acquisition and enabling multi-line recording and unique patch geometries.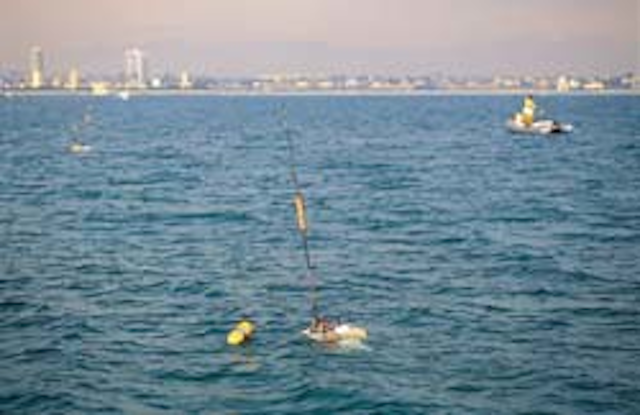 The first seismic shoot on California's coast in 10 years, Geco-Prakla used the Digiseis-FLX, environmentally friendly data acquisition unit in Long Beach Harbor.


Western Geophysical
Western Geophysical guaranteed its position as the unrivaled leader of a select few international seismic surveyors employing ocean bottom cable, when it bought Halliburton Geophysical Services in 1993. As a consequence, Western now owns the largest bottom-cable fleet in the world - approximately 30 vessels in OBC operation in the Gulf of Mexico, South America, North Sea, Persian Gulf, Caspian Sea, and West Africa.
To handle any type of transition zone problem it might encounter, Western has developed a full range of special technologies to improve its OBC system, including RF digibuoys, multi-channel recording systems, dual sensor acquisition and processing, GPS positioning, and in-field QC workstations.
These components come into particular play when confronted with a mature offshore field in which production platforms, drilling rigs, and pipelines block survey lines. To acquire a tightly spaced 3D survey, a crew of four or more self-contained vessels is the usual solution - a recording boat that takes a stationary position on the prospect, and cable boats that reel out up to 24 km of cable with up to 1,920 active channels, digital telemetry cable with dual sensor receivers connected at regular intervals. Special bottom-cable deployment and retrieval systems position the receiver stations precisely in and around the obstructions on the ocean floor. A boat towing a gun array serves as the energy source.
A wide array of acquisition geometries are possible, due to the stationary nature of the receivers, including patch, swatch, and numerous radical designs with the shot lines parallel or orthogonal to the receiver lines.
Western OBC surveys, which are conducted around the clock, are currently carried out to water depths of 110 meters. A new generation of OBC will extend that range to 180 meters, and the new SUMIC system from Statoil has the potential of extending that to an unlimited depth, since the ocean bottom sensors are put in place by ROVs.
The typical OBC system's 24-km cables produce 12-km source-receiver offsets. This because the longer offset data are retained on tape for reprocessing to enhance selected targets, even though the data are processed at six-km offsets. The system records up to 1,920 channels at a two-ms sampling interval.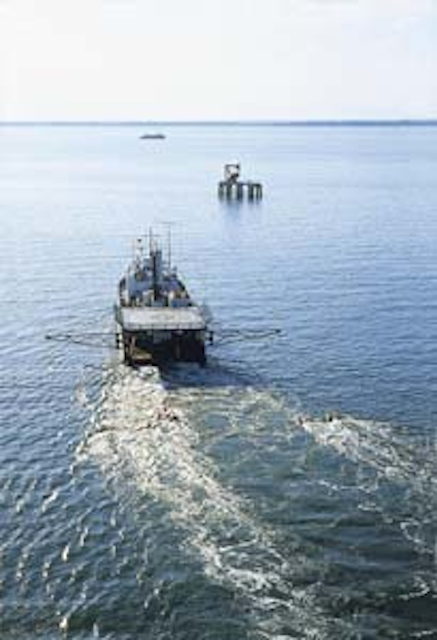 A Western Geophysical OBC acquisition in obstructed area.
---

Ocean bottom cable being readied for placement.
---

Dual sensor arrays and digital telemetry in-water electronic units.
---
Changing technology
Tim Rigsby, president of PGS Ocean Bottom Seismic, a new entry in the OBC field, says there's now much more acceptance of bottom cable around the world. "It is becoming much more reliable than it used to be, and that's because the equipment is getting better. There's more in-the-water equipment, more use of dual sensors for both pressure waves and shear waves, excellent acoustics on the cables to position them more effectively, larger and more capable crews, and a willingness to use 3D designs more efficiently. And, there's getting to be more of a selection in cable systems - from Western, Syntron, Sercel, and the latest, from Input/Output."
Input/Output has long been one of the leading manufacturers of high technology onshore seismic recording equipment, but has recently entered the offshore acquisition arena with a new bottom cable system centered on the company's I/O System Two - BCX.
George Shields, president of Input/Output, says the new generation of digital OBC equipment virtually eliminates problems that are common with analog cables, such as leakage, phase distortion, and crosstalk. "The data quality (from ocean bottom cable acquisition) is higher since the receivers are stationary. Inherent noises generated by towed streamers or the wave-action noise associated with floating buoy systems are avoided. Less noise means less contamination of the signal and ultimately higher signal quality. Furthermore, the dual sensor technique commonly utilized in bottom cable acquisition enhances the data by reducing the spectral notching effect caused by reverberations from the water surface. The bottom cable method of orthogon source-to-receiver line acquisition yields true multi-azimuth data resulting in superior 3D seismic images."
With these developments occurring so rapidly, the stage is set for a new era of high resolution seismic surveys.
Copyright 1995 Offshore. All Rights Reserved.