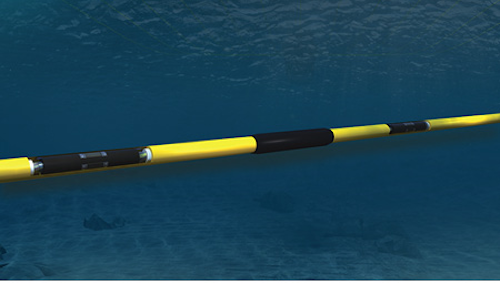 Sercel has added a new high-resolution solid streamer, the SentinelHR, to its Sentinel streamer range for seismic survey acquisition. To date, the company has supplied over 6,000 km (3,728 mi) of Sentinel streamers to more than 80 seismic vessels, in the process equipping more than 60% of the worldwide fleet. Over time the system has undergone numerous upgrades and improvements to increase its flexibility.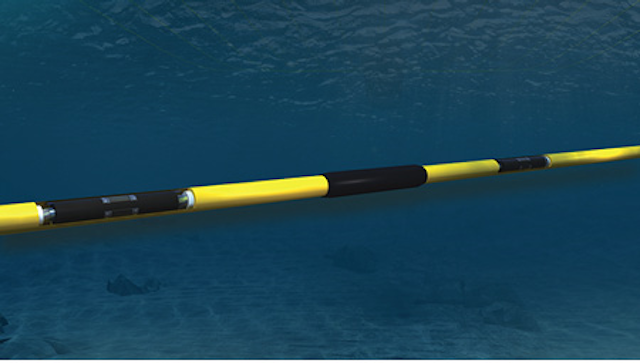 The new SentinelHR streamer. (Image courtesy Sercel)
The true solid technology, manufactured with an internal foam layer (not a gel) is said to make the streamers more stable, robust and safe, ensuring an extended lifespan. The hydrophone is isolated from the stress member to reduce noise, especially at low frequencies. The resultant stability and acoustic performance leads to a better signal-to-noise ratio and improved seismic imaging compared to gel solutions, the company adds, while its pure oil-free technology, with no risk of leakage, ensures a low environmental footprint.
SentinelHR is designed to meet the imaging requirements for shallow-target applications such as reservoir characterization and oceanology, and high-resolution 3D (HR3D) seismic surveys for detailed imaging of complex subsurface geology. It provides a close channel separation of 3.125 m (10.25 ft). With the recent enhancements to Sercel's latest Seal 428 marine seismic recorder allowing a higher channel count, up to 6 km (3.7 mi) of Sentinel HR can be deployed with full data and power redundancy for continuous acquisition, opening up new possibilities for HR3D survey configurations, the company adds.
The new streamer can be adapted to all types of survey spreads, from comb deployment to larger configurations integrating the Nautilus steering system. In addition, the SentinelHR can be used for marine mammal monitoring when combined with QuietSea, Sercel's Passive Acoustic Monitoring (PAM) system, which is integrated into the seismic streamers.
Another product range, the SentinelMS, provides multi-sensor acquisition to complement the low frequency, low noise, and reliability capabilities of the Sentinel range. Two acceleration components facilitate directional measurements for both cross-line and vertical wave fronts, in addition to the pressure measurement delivered by its Sentinel hydrophone sensor. This combination helps achieve receiver ghost-free acquisition, adding to Sercel's broadband toolbox.
Deployed last summer on a large 3D survey, the Sentinel MS proved to be the state-of-the-art technology streamer for high-end multi-sensor acquisition. Despite the added number of sensors (24k channels compared to 8k channels for a conventional system), the vessel provided the same productivity as equivalent hydrophone-only Sentinel systems.