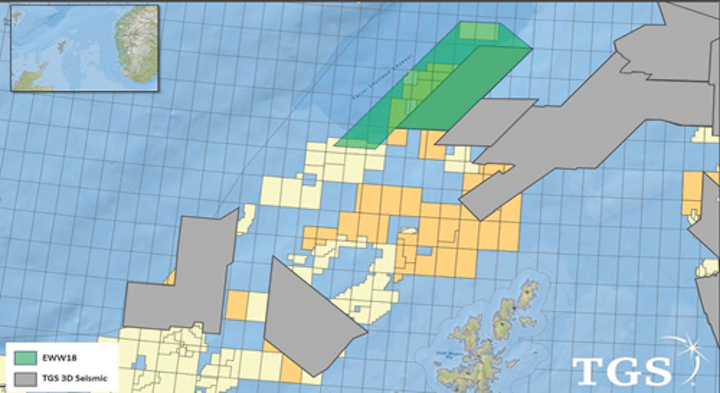 TGS increasing seismic library offshore eastern Canada, the UK, Australia
TGS and PGS have started the Lewis Hills 3D Geostreamer survey in the Flemish Pass basin offshore Newfoundland. The survey will cover about 3,400 sq km (1,313 sq mi), and data will be acquired using PGS' Ramform Sterling. This project is supported by industry funding.
As previously announced, this vessel will also acquire approximately 2,700 sq km (1,042 sq mi) of additional data on the 2017 Harbour Deep and Cape Broyle 3D survey outlines. Acquisition is expected to conclude in late 3Q to early 4Q 2018.
Pre-processing of the initial GeoStreamer signal will be performed by PGS onboard the Ramform Sterling, following which TGS will perform data processing using its Clari-Fi broadband technology. Fasttrack data will be available in 1Q 2019 with final data in 2Q 2019.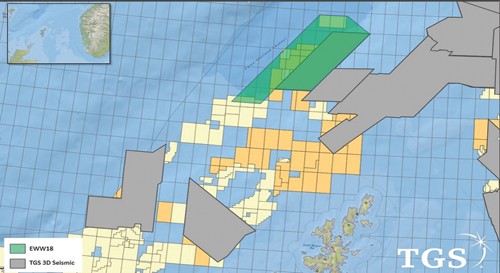 The Erlend Wild West multi-client 3D seismic survey west of Shetland will cover at least 1,000 sq km. (Map courtesy TGS)
The survey area will be merged with the southern border of the Long Range 3D project acquired in 2017.
Following this eighth consecutive season of data acquisition offshore eastern Canada, the jointly-owned library will have more than 175,000 km (108,740 mi) of 2D GeoStreamer data and approximately 43,000 km (16,602 sq mi) of 3D GeoStreamer data.
West of Shetland, TGS has started the Erlend Wild West multi-client 3D seismic survey. This will cover a minimum of 1,000 sq km (386 sq mi) and tie into TGS' existing EW12 3D data. The company will use its Clari-Fi broadband technology to deliver high fidelity imaging of the subsurface.
CEO Kristian Johansen said: "Erlend Wild West 3D will expand TGS' data coverage, including open acreage and existing discoveries, in the west of Shetlands region, where high potential prospects have been identified. This project will provide modern, high quality seismic data to an area that is highly relevant for exploration in the newly awarded acreage for the UK 30th Offshore Licensing Round."
Offshore Australia, TGS has completed the purchase of the Capreolus 3D seismic survey from Polarcus.
The Capreolus, full broadband 3D seismic survey is 22,130 sq km (8,544 sq mi) and covers two hydrocarbon provinces with proven, but underexplored, oil and gas plays both in the Beagle and Bedout sub-basins offshore northwest Australia. The survey includes modern 3D coverage over the Phoenix South and Roc oil and gas discoveries. It also spans the Dorado-1 exploration well and Phoenix South-3 appraisal well, currently being drilled. Dorado-1 has encountered light oil in the Caley Member and gas/condensate in the Baxter Member and as of today, light oil has been confirmed at the deeper Crespin and Milne Members.
The company also has started reprocessing the Australian Polly 3D seismic survey and neighboring open file data. Acquired in 2013, the Polly 3D covers 7,970 sq km (3,077 sq mi) and ties into the adjacent Capreolus 3D survey. The Polly 3D is being reprocessed using the latest broadband PSDM techniques with reprocessed products available from November 2018.
Polarcus completes Beehive 3D seismic survey offshore Australia
The Polarcus Naila has completed the Beehive 3D seismic survey over the WA-488-P permit in the Joseph Bonaparte Gulf, 60 km (37 mi) from Yelcher Beach in Australia's Northern Territory.
According to license partner Melbana Energy, a new lead was identified during planning of the survey, the main aim of which had been to improve definition of the 1.6-Bboe Beehive prospect. Water depths in the acquisition area range from around 30-50 m (98-164 ft). The survey area was subsequently extended by around 100 sq km (38.6 sq mi) to provide coverage over the new lead – Egret – which is partially within the boundary of the permit.
Santos and Total are fully funding the survey.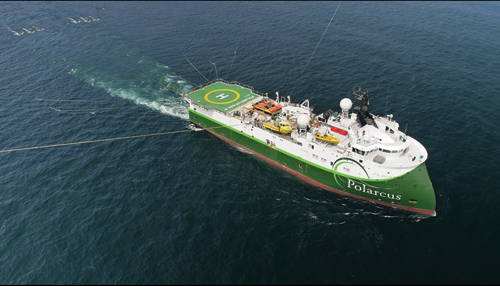 The Polarcus Naila completed the Beehive 3D seismic survey in the Joseph Bonaparte Gulf offshore northwest Australia. (Image courtesy Polarcus)
ADNOC signs BGP for giant offshore/onshore seismic survey
Abu Dhabi National Oil Co. (ADNOC) has awarded contracts worth $1.6 billion for what it claims will be the world's largest continuous 3D offshore and onshore seismic survey. This will cover an area up to 53,000 sq km (20,463 sq mi), as the company seeks to identify new opportunities and maximize value from its hydrocarbon resources and fulfil its 2030 'smart growth' strategy.
BGP, a subsidiary of China National Petroleum Co. (CNPC), will acquire up to 30,000 sq km (11,583 sq mi) offshore and 23,000 sq km (8,880 sq mi) onshore.
The agreement was signed on the eve of a state visit to the UAE by China's President Xi Jinping, and witnessed by Dr. Sultan Ahmed Al Jaber, UAE Minister of State, who said:
"The scale of the project shows ADNOC's commitment to upstream investment and to bolstering our oil and gas reserves and production for the long term."
BGP will deploy industry-leading technologies, ADNOC said, to provide survey data density up to five times that of existing industry standards, capturing high-resolution 3D images of the complex subsurface structure, up to 25,000 ft (7,620 m) below the surface.
Use of advanced technologies and methodologies should improve efficiency and reduce operational time, ADNOC added, helping to mitigate against the impact on marine life, or other users of Abu Dhabi waters.
The survey will employ seismic streaming vessels and ocean bottom nodes to acquire the offshore data and vibrator trucks to survey the onshore desert areas and should be completed by 2024.
ADNOC recently announced Abu Dhabi's first ever block licensing round with six geographical oil and gas blocks opened for bidding, and the seismic project will include areas within these blocks with the data made available at a fee to the successful bidders.
Geoscientists will use the resources of ADNOC's Thamama Subsurface Collaboration Center to interpret the results and to characterize and model potential hydrocarbon reservoirs. This will help ADNOC identify untapped reservoirs and future oil and gas development and production opportunities. •