Gene Kliewer
Technology Editor, Subsea & Seismic
Arctic regions make a strong showing among the plans
A review of recent and planned geophysical surveys around the world shows some interesting promise for future exploration drilling.
As the calendar year draws to a close, there is a lot of activity in far northern waters.
Petroleum Geo-Services has acquired 8,840 line km (5,493 mi) of 2D data in the Russian Barents and Kara seas in partnership with Geology Without Limits. The scientific research project is part of a multi-year program of long-offset data using the vessel Akademik Lazarev that began in 2012.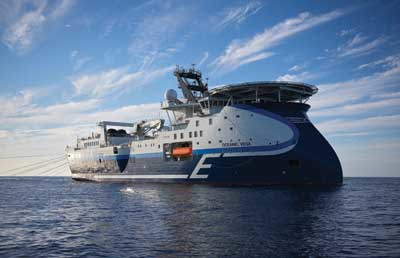 TheOcean Vega making a survey run. (Photo courtesy CGG)
The area is ice-bound most of the year, which makes it one of the least explored areas of the Barents-Kara shelf. The first data show a complex set of basins and platforms with many-kilometer thick Palaeozoic carbonate complexes. This makes the Kara plate similar to the Timan-Pechora plate, one of Russia's main oil producing regions.
The Kara plate also has additional promising features, including the thickness of carbonate cover and diversity of facies settings. Deposits of deepwater back-reef depressions are potential oil source rocks, while reefs themselves are promising reservoirs.
PGS says there are a lot of promising structures in deposits of all Palaeozoic systems, with potential anticlinal and stratigraphic and lithological traps.
In the Barents offshore Norway, CGG has completed a second BroadSeis multi-client survey covering 2,300 sq km (888 sq mi). The company expects to make final processing products available by August 2014.
CGG acquired the data in the southeastern part of the Norwegian sector, adjacent to the recent eastward extension of Norwegian territory which followed the maritime border agreement with Russia.
The previous BroadSeis multi-client survey was over the Halten Terrace in the Norwegian Sea. CGG says that initial results reveal a marked improvement in the imaging of deeper targets.
Dolphin Geophysical and Searcher Seismic have started acquiring a new seismic survey in the Norwegian sector of the Barents Sea. ThePolar Duchessis performing the 3,300-sq km (2,050-sq mi) 3D Sharp BroadBand multi-client seismic survey over the Maud basin south area.
Work originally was to begin next April, but industry interest in the region has heightened following OMV's recent Wisting oil discovery, to which the survey will tie.
Dolphin says that 3D coverage is needed to map and evaluate structures and features as well as deeper geological targets and plays, possibly down to the Permian.
The Norwegian Petroleum Directorate (NPD) says its 2D seismic acquisition program in the northeastern part of the Barents Sea is more than two-thirds complete.
Since the end of July, theArtemis Atlantic vessel had shot 8,800 km (5,468 mi) of 2D data, and planned to acquire the remaining 4,000 km (2,485 mi) by the middle of this past October. Mapping of the area started in 2012.
The NPD is performing the assignment on behalf of Norway's government, as part of a program to derive a better overview of potential petroleum resources on the Norwegian shelf.
ARKeX has started a multi-client full-tensor gravity gradiometry, gravity, and magnetic survey in the southeastern Barents Sea offshore Norway.
The survey will cover 31,920 sq km (12,324 sq mi) of acreage scheduled for inclusion in the 23rd Licensing Round. The industry pre-funded survey is open for participation during the acquisition. The final processed data and qualitative interpretation is expected in 4Q 2013.
The high resolution broadband data will be acquired with ARKeX's FTG technology and is intended to map the subsurface geology in greater detail.
Offshore eastern Canada, in the Labrador Sea Deep basin, a 2D survey covering 3,000 km (1,864 mi) and the Labrador Sea 2D Infill survey covering 7,100 km (4,412 mi) will complement and infill the existing 22,167 km (13,774 mi) of 2D data acquired in 2011 and 2012. These surveys should further define and delineate the Henley, Chidley, and Holton basins.
TGS also has started to expand a 2D multi-client survey off northeast Greenland. The NEG13 survey is in anticipation of the announced Greenland Licensing Round in 2013/2014.
Due to favorable ice conditions earlier in the year, TGS expected to acquire 4,200 km (2,610 mi) of 2D multi-client seismic data.
The data is being acquired by the M/VAkademik Shatskiy supported by the ice breaker M/V Balder Viking. A helicopter is monitoring ice density.
Data processing will be performed by TGS and should be available to clients in 1Q 2014.
Around Alaska, TGS is in the process of acquiring a new 2D multi-client survey in the Chukchi Sea off the northwest coast. The Chukchi Sea 2D 2013 survey covers approximately 8,000 km (4,971 mi) and builds on the existing Chukchi Sea (CSR-06) survey acquired in 2008. Data is being acquired by the M/V GeoArctic. Data processing will be performed by TGS and will be available to clients in 2Q 2014.
The deepwaters of West Africa are on the survey docket, as well. CGG has a letter of award for a large seismic acquisition program offshore West Africa.
The company will mobilize itsGeo Coral, Geo Barents, and Pacific Finder vessels to acquire the 1,484-sq km (573-sq mi) BroadSeis wide-azimuth survey, which was due to start in mid-October and last for nine months.
Electromagnetic Geoservices has a letter of intent for an $8-million 3D EM data acquisition project offshore West Africa. TheEM Leader already is moving to the region in anticipation of the final agreement.
In Latin America, CGX Energy continues to seek partners for its three licenses offshore Guyana, and has made available a technical data room at its Houston office. The company is about to start re-processing part of its 3D seismic data set for the offshore Corentyne block, which is expected to be completed by the end of the year.
In addition, the company has granted Repsol Exploracion permission to acquire seismic in certain portions of the concession while working on a 3D survey in the Kanuku block. Repsol will supply the resultant data to CGX free of charge.
The new Corentyne license, drawn up late last year, applies to the offshore part of the original Corentyne license and comprises 1.5 million acres (6,212 sq km).
Repsol Sinopec Brasil has contracted Fugro for geophysical, geotechnical, and metocean services.
Fugro will supply its newest FSSV65 offshore survey vessel MVFugro Brasilis, and the multi-purpose survey vessel MV Geo Prospector for the campaign, along with an autonomous underwater vehicle.
In the Asia/Pacific region, Electromagnetic Geoservices (EMGS) has a letter of intent for one month of 3D electromagnetic data acquisition offshore Malaysia.
The vesselBOA Thalassa will start the survey in early November, after completing a current work program off Brunei and undergoing a two-week yard stay for routine inspections.
Petronas has awarded CGG a contract to acquire and process 10,000 sq km (3,861 sq mi) of 3D seismic data from offshore Sabah and Sarawak. The offshore Malaysia program is using CGG's BroadSeis technology. TheViking Vision and Geowave Voyager are deploying their respective 12 x 100 x 8,100 m and 8 x 100 x 8,100 m spreads in a BroadSeis configuration using steerable Sercel Sentinel solid streamers with Nautilus streamer controls.
CGG has completed its first BroadSeis/BroadSource survey offshore Australia. Shell Development Australia contracted the deepwater survey on the northwest Australia shelf. The 2,810-sq km (1,085-sq mi) BroadSeis survey was done by theViking Vision with a 12 x 100 x 6,000 m spread of steerable Sercel solid streamers equipped with the BroadSource marine seismic source.
The data is currently being processed in CGG's Singapore Subsurface Imaging center and is expected to be completed in 2Q 2014.
WesternGeco says it had a high vessel utilization rate over its third quarter and included in that was strong activity in Brunei, Malaysia, the Philippines, and Indonesia.
Looking beyond field work, Polarcus has estimated a slow growth in the seismic vessel fleet count through 2015, but a stronger increase in 3D seismic streamer capacity over the same period. By Polarcus' count, the net growth in streamer capacity this year will be 22, while 2014 will see a net of 28, and 2015 a net of 34.
High-capacity vessels are the trend, too. For example, PGS earlier this year launched its new class of vessel with theRamform Titan and is committed to build a total of four such vessels. Her power plant supplies 1.8 MW of power from three variable pitch propellers, each providing 6,000 kW. The ship is fully operational with two of her three propellers, permitting maintenance during production. Redundancy in the propulsion system extends further to dual, fully separated engine rooms. Power generation and auxiliary systems are completely separate, too.
Equipped with two work boats, both stern-launched, theRamform Titan can carry out acute or ongoing maintenance in marginal weather. New maritime inspection features for stern tubes and seals have extended the period between dry dockings from 5 to 7.5 years.
Steerable sources and streamers, and automated gear handling systems, have been augmented with added safety features, such as six independent source array handling booms, for faster equipment recovery.