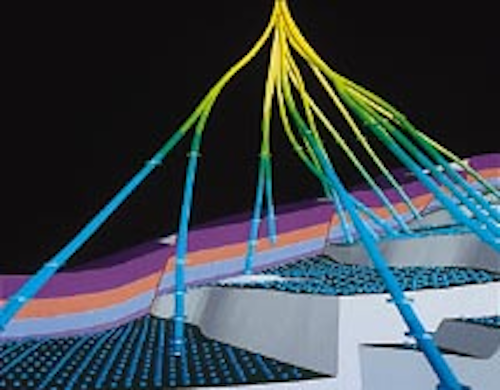 Dev George
Houston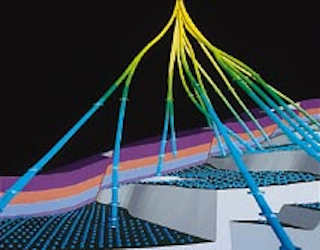 Dynamic Graphics' EarthVision links to Landmark Graphics OpenWorks eases importing interpreted seismic and petrophysical data to EarthVision for enhanced reservoir characterization and 3D well planning activities.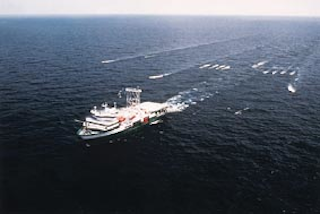 The Western Monarch, one of Western Geophysical's seismic vessels being equipped with Concept Systems' integrated navigation software.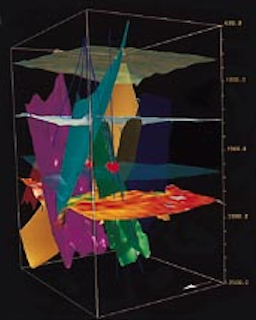 Seven faults and four horizons are visible in GeoQuest's new SurfViz, which were automatically loaded into CPS-3, gridded, truncated, and displayed as a final fault/horizon framework, a process that took only 20 minutes using Framework 3D and CPS-3.
Acquisitions:
PGS in Mexican,
US Gulf of Mexico
PGS Exploration (US) received an extension on its 1,470 sq km 3D acquisition contract with Pemex for an additional 1,300 sq km of 3D seismic acquisition off Tampico, Mexico. Completed early this month, the five-to-six streamer shoot began on December 5.
The PGS Ramform Explorer has also entered the GOM for the first time. It is in the Gulf to carry out a 3D survey for Shell Offshore using its new deepwater continuous long offset acquisition technology, then to acquire high density multi-client 3D in deepwater zones.
Geco-Prakla begins
Asia's largest 3D survey
A 3,500 sq km 3D seismic acquisition, Asia's largest to date, began this month in the Palawan Basin of the Philippines. Geco-Prakla is conducting the survey for Philodrill, a Philippine oil and gas company, and SOCDET, the Australian oil and gas explorer. A multi-streamer, multi-source configuration is being used in conjunction with real-time onboard data processing. Datasets should be available for licensing by the end of the year, with up to 20 companies expected to participate in the survey.
Racal completes
2D Bangladesh survey
Despite strong currents and shallow water, Racal Survey Malaysia has completed a 2D seismic acquisition for Cairn Energy over Block 16 of the Bay of Bengal. The Eastern Explorer, equipped with a 1,500-meter streamer and a 1,280-cu in. seismic source, carried out the survey under Hydrosearch management. Data quality is said to be very good.
Software Systems:
Western gets Lamont

4D tech license
Western Geophysical has been granted the exclusive worldwide license for the 4D software developed by Colombia University's Lamont-Doherty Earth Observatory for the analysis of time-lapse seismic data to monitor fluid changes in reservoirs. Developed with a consortium of seven oil companies, the technology has been tested on 15 oilfields in the North Sea and Gulf of Mexico and is currently in use in half the world's active 4D projects.
VoxelGeo 2.1.5

now available
CogniSeis's advanced 3D volume interpretation system VoxelGeo 2.1.5 has been released. It is said to render data "faster and more accurately than any other interpretation system currently available." Features include formation and reservoir detection, horizon/fault sculpting, opacity controls, and wellbore planning, as well as the ability to render multiple spatially coincident volumes.
Framework 3D
and SurfViz
GeoQuest has released version 4.5 of its CPS-3 surface mapping and modeling system, which includes two new mapping modules designed to help geoscientists reduce project cycle time. Framework 3D is a characterization and interpretation tool for use with complex geologic structural frameworks, and SurfViz supports the visualization and validation of these frameworks. Together, they facilitate improved accuracy in fault and horizon generation, including major-to-minor fault relationships, validate fault framework and permit automatic infill of fault-honored horizons.
EarthVision link
to Landmark OpenWorks
Dynamic Graphics announced at the November SEG annual convention that it had contracted with Landmark Graphics to become an OpenWorks developer, "which should allow us to significantly smooth the process of seismic and petrophysical data integration with EarthVision models," said Art Paradis, DG's president, enabling easy export of data for enhanced reservoir characterization and 3D well planning. (The structure and property modeling software, EarthVision, was most recently licensed to Shell International E&P after an 18-month evaluation period.)
Seismic data compression

technology licensed
Chevron Petroleum Technology Co. has awarded commercial licenses for its seismic data compression technology to Compagnie Galphanalpharale de Geophysique, Petroleum Geo-Services (PGS), and Landmark Graphics. CogniSeis and Western Geophysical are currently evaluating the technology for their own needs.
Last year, Chevron and CGG tested the software in a multi-streamer 3D seismic survey on the North Sea's Ninian Field. Data was compressed by a ratio of 60-to-1, reducing the number of tapes from almost 500 to only one high-capacity tape. Since then, CGG has employed the technology off West Africa and in the North Sea, transmitting the data to shore processing centers via satellite, saving months in project time.
Copyright 1997 Offshore. All Rights Reserved.