Dev George
Houston

A slice of the generated model of a non-manifold geometry filled with tetrahedra.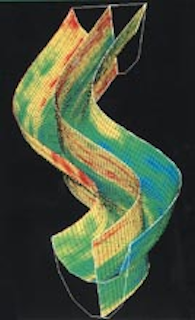 A curvilinear stratigraphic grid constrained by channel and simulated using a non-conditional sequential Gaussian Simul-ation. [Illustrations Courtesy Gocad]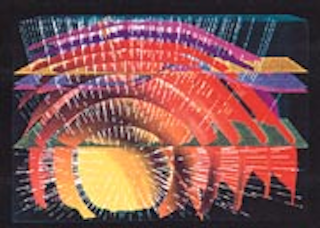 A display of wavefronts emerging from a subsurface source.
Geometry and properties modeling developed in Gocad Program
A new computer-aided approach to modeling both geometry and properties or geological subjects has been developed by The Gocad Research Program at France's Nancy School of Geology, managed by the Association Scientifique pour la Geologie et ses Applications.
The program, which is supported by an international consortium open to all companies and research organizations wishing to be sponsors, is developing a powerful tool designed for interactive 3D modeling of the subsurface in such applications as ray tracing, tomography, 3D migration, reservoir heterogeneities simulation, balanced unfolding, and stratigraphic inversion, to name but a few.
The Gocad Program includes a new interpolation method that facilitates modeling of such complex 3D geological surfaces as reverse faults and salt domes, and of physical properties such as velocities and porosities, a numerically efficient procedure capable of handling control points and geological constraints like 3D-thrown vectors and slopes.
Surfaces in the Gocad program are modeled as sets of adjacent triangles, and regions of the 3D space bound by triangulated surfaces can be filled with regular linear 3D grids, curvilinear stratigraphic grids, and tetrahedras.
Reservoir connectivity mapping
In about six months to a year, a new borehole technique developed by Walter Turpening and Yu Taik Chon will be available from Western Atlas Logging Services to help in maximizing production by better understanding the reservoir. Called reservoir connectivity mapping (RCM), it maps the interwell continuity of geological strata via a cross-well seimic processing method that draws upon conventional cross-well survey techniques and existing downhole source/receiver systems.
Because relatively low velocity layers in reservoirs located between relatively high velocity formations act as wave guides and trap channel waves, reservoir connectivity mapping identifies these low velocity areas and provides a profile of the wave guide reflects the energy and frequency spectra of the channel waves within the area, which are themselves a product of the formation properties and the configuration of the boundaries.
These wave guide properties can then be converted into a model that incorporates well information, which is derived from characteristics of the reservoir areas observed by the source and receiver wells. These properties are then correlated to find the best analogue. Once done, identical spectral indications show that the source and receiver are in the same area.
According to Turpening, even though RCM is an emerging technique, it works and has been proven. It is highly versatile - able to use anything from conventional well logging tools to the drillbit itself as the downhole source. Furthermore, the recording range between two wells can be larger than with any other cross-well seismic method. Full field studies are currently underway. Western Atlas anticipates its connectivity mapping system to be available by yearend.
Predicting the best drillbit route
Phillips Petroleum has developed a new technique called IPT/NUI (incremental pay thickness/non-unique inversion) to determine reservoir characteristics from seismic information and to help ascertain the sectors of the structure that contain the highest quality reserves and that will provide the best route for the drillbit.
It is done by deriving a set of model seismic traces from a suite of possible geological models and then comparing these to the actual seismic, thereby providing a range of potential lithology and pore fluid characteristics for the structure.
Ramform Challenger sets distance record
PGS's latest new seismic vessel, the Ramform Challenger, has set a productivity record offshore Côte d'Ivoire. The record survey, a total of 2,033 sq km in 38 days and monthly record of 1,756 sq km in a single month, was a 3D deepwater acquisition for United Meridian Corp. and Global Natural Resources, using eight streamers and a dual-source configuration. Following the completion of the survey, the vessel proceeded to Angola to undertake the largest proprietary seismic survey ever carried out anywhere in the world, a 6,500 sq km deepwater shoot for Amoco and Elf over Blocks 17 and 18. It is expected to be completed by mid-year.
Geco-Prakla streamer record
The Geco Searcher has set a world record in streamer separation by towing six 6,000-meter streamers with a record 800-meters between the two outermost streamers. The record was set as the Searcher participated in Geco's Deepwater 2000 non-exclusive 3D survey over the Green Canyon Block of the Gulf of Mexico, part of a four-year project to acquire 3D over the most interesting deepwater areas of the US Gulf.
Concurrent with this project, the Geco Beta has been acquiring a conventional 3D seismic cube simultaneously with a high-resolution 3D cube by towing eight streamers configured with four at 8,000 meters length interleaved with four high-resolution streamers of 400 meters length, with an outermost separation of 600 meters, for a Multi-3D project that required resolution of multiple objectives.
Producer formed to license data from GPS
Spinnaker, a new Gulf of Mexico exploration and production company has been formed to license 3D data from PGS through Diamond Geophysical Service Corp and others. All current and future non-proprietary PGS and Diamond data over the next five years will be available. The company will also participate in future non-proprietary data surveys. Roger L. Jarvis is Spinnaker's new CEO.
Copyright 1997 Offshore. All Rights Reserved.