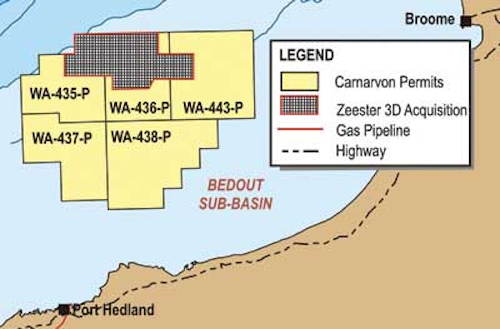 Petrobangla has approved a plan by ConocoPhillips for seismic surveying of Bangladesh's Bay of Bengal offshore blocks in February. ConocoPhilips has hired Chinese contractor BGP to perform the survey.
ConocoPhillips signed a production sharing contract (PSC) with Petrobangla for oil and gas exploration in DS-08-10 and DS-08-11 blocks in the Bay in June 2011. Under the PSC, the company has nine years to conduct exploration, with five years as a primary exploration period and two years each for the first and second extended exploration periods.
Minimum work under the contract includes carrying out a 973 line km (605 mi) seismic survey and drilling one (optional) well during the initial exploration period.
During the first extended exploration period ConocoPhillips will have to carry out 500 sq km (193 sq mi) 3D seismic survey and drill one exploration a minimum of 2,200 m (7,218 ft) beneath the seabed.
Because of a maritime dispute with Myanmar and India, the US firm will have an access to 5,158 sq km (2,002 sq mi) of the bay. It will get another 1,605 sq km (620 sq mi) the maritime dispute is resolved in Bangladesh's favor.
The two blocks are in a water depth of 1,000-1,500 m (3,281-4,921 ft) 280 km (174 mi) off Chittagong.
Petrobangla said the start of the 2D survey would usher in the hunt for oil and gas in the country's deepwater.
Australian oil company Santos now operates the country's lone offshore gas field just off Chittagong with average natural gas production of only around 14 MMcf/d.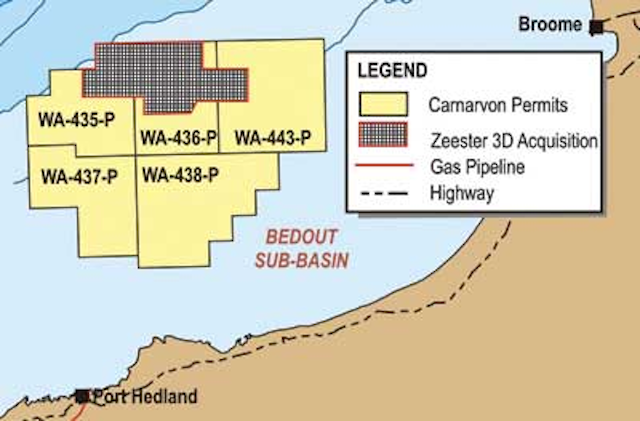 A new ~4,247 sq km (1,640 sq mi) 3D "Zeester" seismic acquisition is under way by Fugro over WA-435-P, WA-436-P, and WA-443-offshore Australia for Carnarvon. The acquisition program is expected to take approximately three months. The new seismic data is expected to advance the prospects and leads identified in this area and the maturing of these assets for farm-out. The acquisition also compliments the 1,100 sq km (435 sq mi) 3D seismic data acquired in 2010/2011 over the WA-435-P and WA-437-P.
MEO plans three seismic surveys offshore Australia
MEO Australia Ltd. has contracted CGGVeritas Services SA to conduct three marine seismic surveys offshore Australia.
The contract calls for 170 line km (106 mi) of long-offset 2D seismic in AC/P53, a 507 sq km (196 sq mi) 3D survey over AC/P50 and AC/P51, plus a 601 sq km (232 sq mi) 3D survey in WA-454-P.
CGGVeritas plans to use theVeritas Viking II on the surveys. The Zeppelin 2D survey in the Ashmore Cartier region of the Timor Sea's Vulcan sub-basin will be first, followed by the Zeppelin 3D survey on AC/P50-51. The Floyd 3D survey will cover the marina discovery and Breakwater prospect in WA 454-P.
These follow the recent Bathurst 3D survey over Blackwood East in NT/P68 and the Ibu Horst 3D survey in Seruway offshore northern Sumatra.
Northern completes 2D work in Adriatic
Northern has completed a 600 km (373 mi) 2D seismic survey in the southern Adriatic covering two licenses – F.R39.NP and F.R40.NP. Acquisition was by theM/V Princess contracted from CGGVeritas S.A. The aim of the program is to obtain more complete and better quality data to upgrade definition of the prospects identified from older seismic surveys.
A further 3D seismic is planned in 2012 once approvals are granted by the authorities.
As announced early in 2011, Northern signed an agreement with Azimuth Ltd involving these Italian permits which contain the Rovesti and Giove oil discoveries and 10 mapped prospects. The objective of the agreement is to work with Azimuth to define and delineate suitable appraisal and exploration drilling targets. Azimuth will become a 15% interest partner in both permits by funding a promoted share of future work program prior to the drilling phase.
RXT is awarded OBC project by Statoil
Reservoir Exploration Technology ASA has received a contract from Statoil for an ocean bottom seismic (OBC) survey for the Kvitebjørn field. The main objective is to improve structural interpretation and achieve better illumination of fault planes to improve fault interpretation. The survey duration is estimated to be minimum 70 days. The survey is scheduled to commence in 2Q 2012.
Elsewhere, Statoil has concluded agreements with Chevron and Repsol related to exploration offshore eastern Canada. Chevron and Statoil also have finalized an agreement in Canadian Beaufort Sea deepwater blocks.
Under a farm-out arrangement, Repsol and Statoil will participate in an exploration well planned this year on license 1074R, operated by Chevron, in the Orphan basin offshore Newfoundland and Labrador.
In the Flemish Pass basin, also off Newfoundland and Labrador, Chevron, Statoil, and Repsol were the successful bidders for exploration parcels NL 11-02-01 and NL 11-02-02. Both are around 400 km (248 mi) east of St. John's in water depths ranging from 700-2,600 m (2,296-8,530 ft). Here Statoil will operate with a 50% interest.
Following another farm-out, Statoil will participate with Chevron in a 3D seismic acquisition program in the Beaufort Sea, provisionally scheduled for this summer.
This will be performed on EL 460, a 2,060-sq km (795-sq mi) block 120 km (74.5 mi) offshore in water depths ranging from 800-1,800 m (2,624-5,905 ft).
Chevron will operate with a 60% equity interest, the remainder held by Statoil.
PGS starts huge seismic survey offshore Angola
Petroleum Geo-Services ASA'sRamform Valiant is underway to acquire 26,000 sq km (10,039 sq mi) of 3D data in five Kwanza/Benguela basin blocks offshore Angola.
In February, thePGS Apollo will join the Ramform Valiant and acquisition will continue with both vessels until 4Q 2012. PGS will start processing data in March. Together, the two vessels will operate 20 vessel months on this project.
BP, Total, and Statoil have been made operators of blocks 24, 25, 38, 39, and 40. Sonangol is a partner in all of the blocks.
More Offshore Issue Articles
Offshore Articles Archives
View Oil and Gas Articles on PennEnergy.com