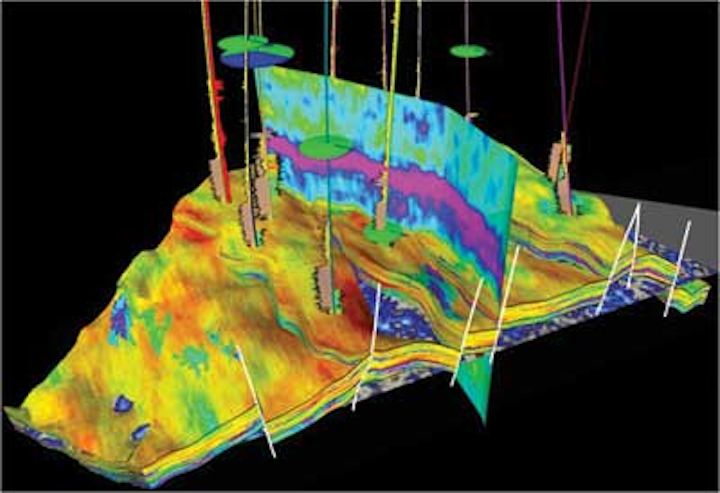 Gene Kliewer • Houston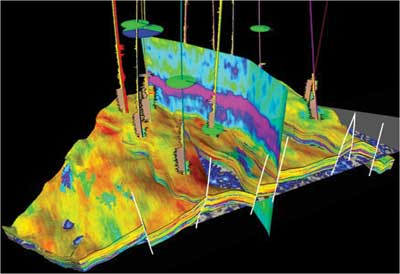 An example of Schlumberger's new release Petrel 2012 E&P.
The trend toward integrated analysis of data collected from operations starting with exploration and running to the end of production got another boost with Schlumberger's release of Petrel 2012 E&P. The software platform extends its functions into drilling and production by contributing to optimizing well placement and providing enhanced production scenario planning, says Schlumberger. Petrel 2012 introduces integrated Play-to-Prospect risk assessment that enables systematic evaluation of trap, reservoir, charge, and seal with associated uncertainties. Geoscientists combine physical property maps to create an overall chance of success map, dynamically incorporating the latest information, in a single platform. Petrel delivers enhanced pre-stack seismic interpretation, simultaneous inversion, reservoir AVO modeling, and new attributes to delineate structural features. In combination with interactive reconstruction and structural analysis, the system helps speed validation of the horizon and fault framework in complex geologies.
•••
Knowledge Reservoir LLC has released the 2012 version of its deepwater knowledge base, ReservoirKB, covering all deepwater productive reservoir sands discovered, in production, sanctioned for development, or bypassed in the Gulf of Mexico, says the company.
Upgrades have been made both in application design and content, which now covers 300 fields, 900 reservoirs, and 1,277 wells.
•••
On the processing side, NVIDIA has launched the second generation Maximus workstation platform that uses Kepler architecture. NVIDIA says the workstation will perform complex analysis and visualization at the same time on one machine.
Computing is done on the new Tesla K20 GPU and that leaves the Quadro K5000 GPU to handle the graphics.
•••
Geomodeling Technology Corp. has released AttributeStudio7.3, its seismic attribute interpretation software. AttributeStudio 7.3 includes features for fractured reservoir characterization using visualization and analysis of AVAZ, VVAZ, Volume Curvature, and other directional attributes. With the new Vector Plot module, anisotropic gradients and velocity differences captured by directional seismic attributes such as AVAZ, VVAZ, and Volume Curvature can be correlated to fracture density and orientation.
Exploration project introductions, updates
CGGVeritas is busy acquiring its first StagSeis dual-vessel, long-offset multi-client full-azimuth survey in the Keathley Canyon area of the US Gulf of Mexico. This 221-block (5,150 sq km) full-fold 3D seismic data survey, known as IBALT, will take up to seven months to acquire and is the first phase in a multi-client program that CGGVeritas plans for the Gulf of Mexico over the next few years. A Fast Track data volume is expected to be available by mid-2013 and TTI RTM data will be the primary deliverable in the second half of 2013. The StagSeis program combines a patented acquisition design, based on a staggered vessel configuration, very long offsets (up to 20 km) and full-azimuth coverage (up to 10 km), with BroadSeis, CGGVeritas' broadband marine solution, to get better deep imaging of presalt plays.
•••
ARKeX recently completed what it says is the largest single offshore full-tensor gravity gradiometry survey offshore Greenland for ION Geophysical. It covered 50,000 sq km (19,305 sq mi). The survey includes areas of the pre-round blocks that are on offer to the KANUMAS group and also the ordinary round blocks that will be offered in Greenland's 2013 license rounds. The FTG data is being integrated and jointly interpreted with ION's 2D Northeast GreenlandSPAN program. The results are expected to be available this September for license on a non-exclusive basis. "Acquiring 3D seismic in the North East Greenland is extremely challenging due to the extensive ice covering," said Phill Houghton, VP New Ventures for ARKeX. "ARKeX's airborne FTG survey can provide a 3D image set that once integrated with ION's 2D GreenlandSPAN, will afford potential operators in the region with the clearest picture to date of the area's potential." The NE Greenland region is estimated to contain 31.4 Bboe resources by the USGS (2008).The extensive NE Greenland continental shelf is the conjugate margin to Norway and the Barents Sea and is expected to contain the same rich Jurassic oil-prone source rocks.
•••
TGS-NOPEC Geophysical Co. continues its Europe 2012 summer season with two multi-client 2D surveys in cooperation with Fugro; North Sea Renaissance 2012 (NSR12) and Norwegian Barents Sea 2012 (NBR12). The NSR12 survey is 8,200 km (5,095 mi) and is a regional infill west of Shetland. The NBR 12 survey is 12,000 km (7,456 mi) and is a regional infill in the Barents Sea. The NSR12 survey is being acquired by theM/V Akademik Shatskyi and will be processed by TGS. The NBR12 survey is being acquired by the M/V Osprey Explorer and will be processed by both TGS and Fugro. Data will be available to clients during 1Q 2013.
•••
Electromagnetic Geoservices ASA has a $7-million contract for 3D EM acquisition and processing in the Asia/Pacific region. It will acquire data from theEM Leader starting next month. EMGS services are another type of data integration within geophysics. EM data is being evaluated along with seismic and other geophysical and geological information in an effort to reach a clearer and more complete understanding of the subsurface.
•••
A new deepwater prospect is being evaluated offshore western Ireland in the Porcupine basin. In about 2,500 m (8,202 ft) of water, mapping of the Lower Cretaceous Drombeg stratigraphic structure reveals a significant seismic amplitude anomaly, low seismic impedance, and pronounced amplitude versus offset response, says Providence Resources. Providence recently contracted Ikon Science for a rock physics modeling and 2D seismic inversion study using various 2D seismic lines and regional well data. Results suggest the mapped seismic anomaly is consistent with a modeled hydrocarbon-bearing sandstone interval with a seismically derived thickness of 200-300 ft (61-91 m).
The anomaly extends more than 240 sq km (92 sq mi) and is interpreted to be the deepwater equivalent of Lower Cretaceous Apto-Albian age shallow-water marine sandstones that BP encountered in its 43/13-1 well, drilled 80 km (49.7 mi) from Drombeg. An underlying second seismic anomaly also has been identified and appears to be consistent with hydrocarbon-bearing sandstone with a seismically derived thickness of 140-200 ft (42-61 m). Both anomalies appear to have a potential common downdip depth termination. A large Jurassic tilted fault block closure covering 150 sq km (58 sq mi) has been mapped beneath the prospect, and a fluid escape feature has been identified at its crest. This "chimney" appears to terminate at the downdip edge of the Drombeg seismic anomaly, providing potential evidence of hydrocarbon sourcing and migration into the prospect.