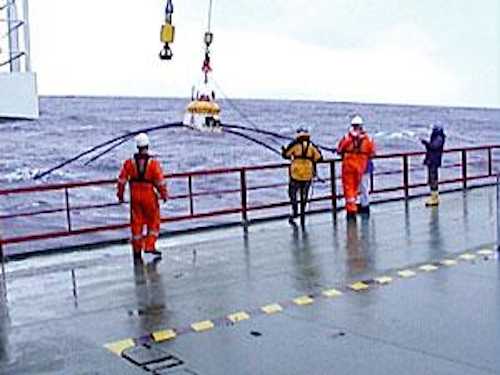 Milestone
This year Landmark Graphics, a division of Halliburton, celebrates 20 years of interpretation and geocomputing software leadership. The company launched on July 15, 1982, introduced the first 3D seismic interpretation workstation in 1984. It has since expanded its software expertise to include production, drilling, business analysis, and data management, while maintaining leadership in exploration interpretation.
In celebration, Landmark opened an executive briefing center that includes advanced teleconferencing and presentation facilities with a 3D visualization lab.
The company's history is one of continuous evolution. Beginning with the Intel 8086-based workstation and 3D seismic interpretation software, the company expanded to the Unix and Linux operating systems. Computer hardware also evolved from RISC PCs to client-server architectures and Decisionarium labs for asset team use.
"Since day one, Landmark Graphics has introduced breakthrough software products and solutions that anticipate our customers' needs," said Andy Lane, Landmark president and CEO. "We are leading the evolution of oil-field asset management and operations software into real-time, remotely accessible systems." Landmark was acquired in 1996 and is now a wholly owned business unit of Halliburton.
Core
A recent article in Science points out a broad problem for the earth sciences - core preservation. The initial value of a 6 in. by 30 ft cylinder of rock is the determination of reservoir properties to aid in field development. It is as close as one can get to the in-place reservoir, a second order truth. Once that goal is achieved, the cost and value of maintaining the core is usually scientific. Oil companies have a long-term view of the reservoir, so they are willing to carry the cost.
Now storage issues are forcing choices on individual companies and threatening the core libraries. Mergers also create the need to review core libraries for their future value. The National Research Council of the US released a report in April recommending the building of three new facilities to store cores to be selected by scientific advisory committees. This may help preserve some US-derived material, but will do little to help the worldwide core storage dilemma.
Many of the cores collected from offshore projects remain in oil company storage at facilities in host country warehouses. Without proper care, these collections could easily be lost in response to more pressing needs. The professional societies can help guide the industry to a solution. We need to preserve the past for the geoscientists of the future.
---
EXPLORATION
Hydrocarbon detection
Electromagnetic Geoservices AS and their acquisition partner Multiwave Geophysical Company ASA are offering a new exploration technique using electromagnetics to determine if a prospect contains hydrocarbons. The new technology, developed by Statoil, relies on the effect hydrocarbons have on electromagnetic fields and uses measurements taken from receivers on the sea floor to map resistivity contrasts below the seabed. It can also be used to map the extent of reservoirs.
Bruce field survey
Multiwave Geophysical Co. ASA will acquire and process a 4C-3D seismic survey this summer for BP over part of the Bruce field in the North Sea. BP operates the Bruce field on behalf of partners TFE, BHP, and Marubeni. Data processing will be performed by CGG under subcontract to Multiwave.
Buzzard field
WesternGeco announced the gathering of a 3D survey over the Buzzard field in the North Sea for EnCana (UK) Ltd and its partners Intrepid Energy North Sea Ltd., BG Group, and Edinburgh Oil & Gas PLC.
The proprietary survey will cover 305 sq km and is expected to become a baseline for future seismic surveys. The Geco Topaz is conducting the survey using Q-Marine single-sensor technology towed in six streamers with 50 m streamer separation.
---
TECHNOLOGY
PC interpretation
Petrel has released a new version of its PC-based 3D geoscience software. Workflow Tools 2002 allows geoscientists to model a complete project within a single application. It enables interpretation of 2D and 3D seismic data, in either 2D windows or 3D spaces.
The software includes the ability to update models, autotrack in 3D, handle large 2D lines, preserve the history of interpretation and make changes, and extract 3D volumes for visualizing connected bodies. The Tensor Upscalor uses a pressure solver designed for large cell-to-cell permeability changes, eliminating permeability smearing in geologic models.
Web collaboration
Petris Technology Inc. launched PetrisWINDS Plan-IT, Internet-based workflow collaboration software. The software helps schedule, organize, and analyze tasks, deadlines, and resources. It also aids collaborative efforts to define goals, projects, timelines, and results. Project team members can upload documents for centralized storage and shared access, creating productive and efficient feedback. The software can be deployed over an intranet or used via the Internet through Petris' ASP service.